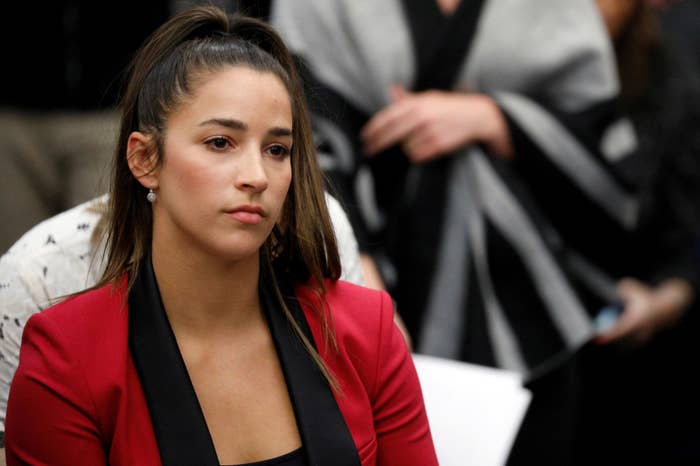 Olympic gold medalist Aly Raisman is suing the United States Olympic Committee and USA Gymnastics, alleging the parties knew or should have known that team doctor Larry Nassar was molesting her and other gymnasts while claiming to medically treat them.
Raisman filed the lawsuit in Santa Clara, California, and it comes weeks after Nassar's sentencing hearing, where she criticized both organizations for not doing more to protect their athletes.
"After all this time, they remain unwilling to conduct a full investigation, and without a solid understanding of how this happened, it is delusional to think sufficient changes can be implemented," Raisman said in a statement to NBC News. "I refuse to wait any longer for these organizations to do the right thing. It is my hope that the legal process will hold them accountable and enable the change that is so desperately needed."

According to the lawsuit, Nassar had unlimited access to Raisman and other athletes while they trained at the Karolyi Ranch, and a USA Gymnastics trainer was sometimes in the room as he digitally penetrated the girls, claiming he was performing "intravaginal therapy." The lawsuit alleges he sometimes had an erection.
The documents further claim that national team member, Maggie Nichols, reported the abuse to USA Gymnastics in 2015, and the organization did not alert the FBI for more than a month. Nor did it inform Michigan State University, where Nassar continued to practice medicine and abuse student athletes.
The USOC has said it only learned of allegations against Nassar when the Indianapolis Star published a story in 2016, but reports have shown USA Gymnastics informed the security chief of the organization of allegations as early as 2015.
USA Gymnastics has said it did not know about Nassar's misconduct and that it did not act on the allegations because it deferred to the FBI, but the lawsuit makes reference to members of the organization complaining about the doctor's taking pictures of the girls, and alleges officials should have known what was going on and taken action.
The USOC has apologized and promised to do more for victims, including conduct an independent third-party investigation, and every member of the board of USA Gymnastics resigned, at their request, in the wake of revelations of the extent of the abuse.
Nassar was sentenced to up to 175 years in prison after having been found to have sexually harassed more than a hundred young women. The first alleged male victim filed a lawsuit alleging abuse Thursday, the Washington Post reported.
Jacob Moore, a freshman at the University of Michigan and a former member of the US Men's Junior National Gymnastics team, alleged that when he was 16 years old, Nassar performed acupuncture on his genitals and exposed them to a girl who was also a minor, when he sought medical treatment.
At Nassar's sentencing hearing, Raisman had pointedly asked why representatives from the US Olympic Committee and USA Gymnastics were not present and had not taken action against the doctor sooner, given what they had known of his behavior.
BuzzFeed News has reached out to Raisman's legal representation, USA Gymnastics, and the US Olympic Committee.

You can read the full complaint here: