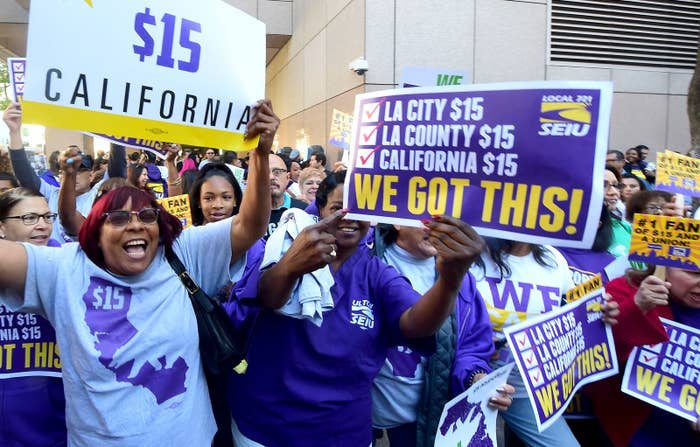 This week, minimum-wage workers in 19 states and 23 cities and counties will be getting a bump in their paycheck. In total, 4.3 million people will be getting a raise, according to an estimate by the Economic Policy Institute.
The increases are largely thanks to a wave of organized protest and activism across the country, led by the Fight for $15 movement, which helped turn the minimum wage into a national political issue. The three largest raises by percentage are in Arizona (24%), Maine (20%), and Washington state (16%), and each is a result of ballot initiatives passed by voters on Election Day. The initiatives only made it onto the ballot after organizers collected thousands of signatures.
Even more ambitious raises are happening on the local level. On New Year's Day, the city of SeaTac, in Washington, became the first locality to exceed $15/hour, with a new minimum of $15.35 an hour. Seattle became the first big city in the country to implement the $15 base wage.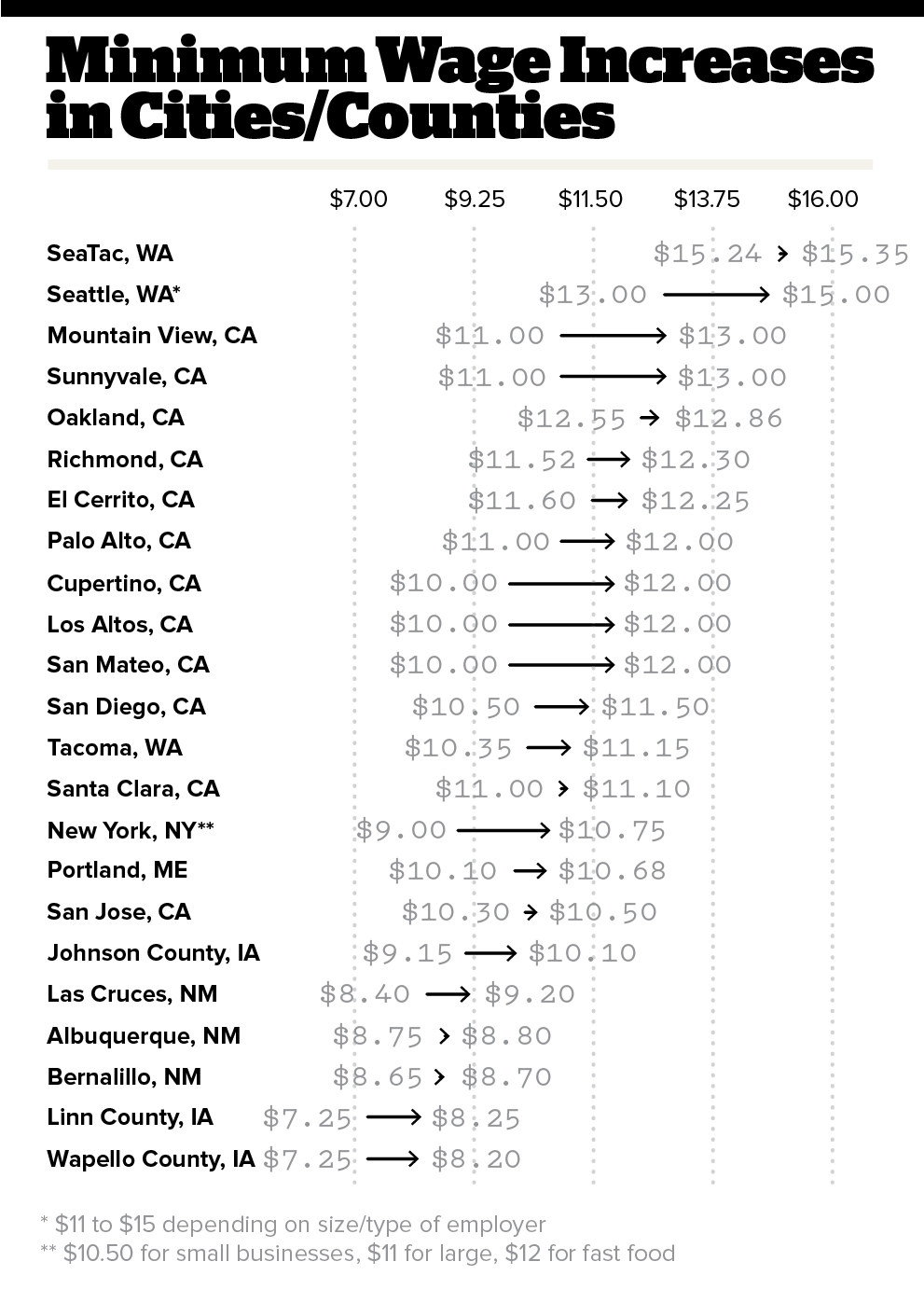 Of the seven states that approved raising their minimum wages to between $12 and $15 per hour, three passed increases through their state legislatures (California, New York, and Oregon) and four through ballot initiatives (Arizona, Maine, Washington, and Colorado).

According to the left-leaning National Employment Law Project, the state of Maine and the city of Flagstaff, Arizona, became the first jurisdictions in more than three decades to eliminate rules allowing tipped workers to be paid less than the minimum wage.
The federal minimum for tipped workers — like servers and manicurists — is $2.13 an hour, and that remains the minimum in 18 states today. Three other localities (Washington, DC, Cook County, Illinois, and Polk County, Iowa) also increased their tipped sub-minimum wage, while not phasing it out entirely.
The right-leaning National Employment Policies Institute criticized the "mind-boggling patchwork" of minimum wages that now vary city-by-city and state-by-state. "Labor unions and their activist allies may be popping the champagne," said Michael Saltsman, research director for the organization, "but businesses and their employees are the ones that will feel the hangover effects of business closures, lost jobs, and reduced hours."
An increasing body of research has shown that minimum-wage raises have negligible, if any, effects on employment, with some exceptions.