Thousands of airport employees in New York and New Jersey have successfully bargained for a minimum wage of $15 an hour and gained union recognition, in an deal with nearly a dozen airport contractors that could offer a roadmap for unionizing sub-contracted workers across the country.
The agreements are modest but symbolically significant wins for about 8,000 airport workers, who have long been a part of the Fight for $15 movement to raise the minimum wage, but had yet to win industry-specific gains. They now join healthcare workers in seeing progress on pay and conditions after linking up with the organizing effort sparked by fast-food workers in 2012.
New York's powerful local branch of the Service Employees International Union — the financial backer of the Fight for $15 — successfully bargained on behalf of baggage handlers, security officers, wheelchair attendants, skycaps, and cleaners in Newark, JFK, and LaGuardia to reach the new agreement. It is expected to be ratified over the next week.
Alongside pay, the contract covers seniority, scheduling, and disciplinary rules, as well as health and safety guidelines for 11 airline subcontractors, who employ more than half of the subcontracted workers at the three airports.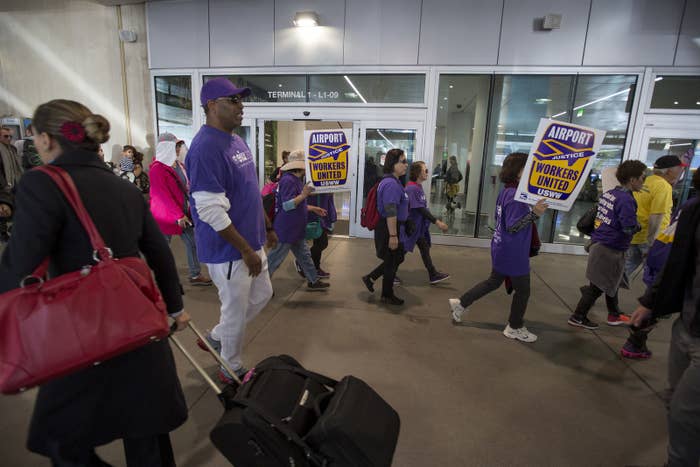 Organizers said the new contract also provides a framework for unionizing subcontracted airport workers nationwide.

"This contract is just one part of a larger strategy to raise wages and win union representation," said Shirley Aldebol, vice president of the SEIU's 32BJ chapter in New York, and a lead negotiator for the airport workers' contract.

Rob Hill, the vice president and organizing director of 32BJ, said in the past, efforts that targeted individual sub-contractors caused a race to the bottom, as airports would open new bidding wars with other contractors, who under-bid one another, driving wages down.
This time, organizers chose to target a different wage-setting authority — in this case the Port Authority of New York — to set a higher wage across the board. Then they gathered contractors to agree to a deal that protects workers' gains, even if contractors should change.

"It's a different approach to how you would normally bargain a contract, but one that allows sub-contracted workers to keep their seniority and rights," Hill told BuzzFeed News. "That way they can't just bring someone in for cheaper."
The SEIU is applying the same tactics to airports in Boston, Fort Lauderdale, Philadelphia, and Chicago.