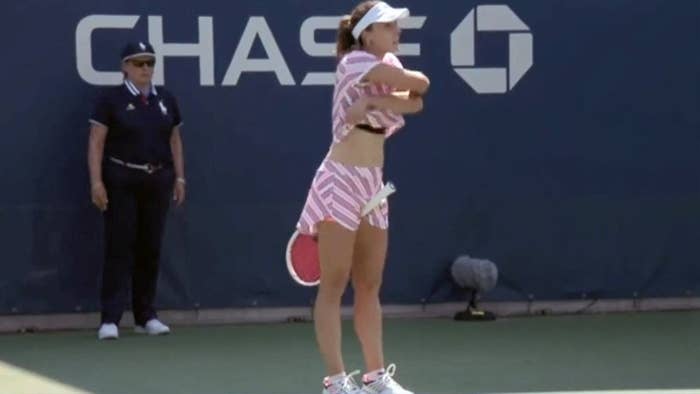 A French tennis player was slapped with a violation at the US Open on Tuesday for taking off her shirt to readjust it while on the court.
The tournament, held in Queens, New York, has been plagued by an unrelenting heat wave with temperatures soaring upward of 96 degrees. Tuesday, a heat index made it feel like over 100 degrees at times.
The players were given a 10-minute break to cool off and rehydrate, during which Alizé Cornet put on a fresh shirt. When she returned to the court, she realized her shirt was on backwards. She quickly took off the shirt and put it back on, prompting umpire Christian Rask to hit her with a code violation.
Women's Tennis Association rules dictate that players may only remove shirts while off-court. No such rules apply to male players, who took their shirts off frequently Tuesday, to deal with the blistering heat.
Cornet, who played Swedish opponent Johanna Larsson, looked surprised at the penalty, which is handed out at the umpire's discretion.
And at a news conference after the match, she said it was unexpected.
"Of course, I was surprised when I just changed (the) T-shirt really quick, and he gave me the code violation," Cornet told reporters. "I didn't expect it, and I told him it was pretty weird."
The decision follows the news from last week that Serena Williams will not be permitted to wear a black catsuit on the court at the French Open. The outfit had been specifically designed to help prevent blood clots and improve her circulation, to help with an ongoing condition she developed following a difficult childbirth.

French Tennis Federation president Bernard Giudicelli said in an interview with Tennis Magazine that a dress code would be implemented at the French Open, disallowing the catsuit.
The US Tennis Association, which puts on the US Open, said in a statement later Wednesday that it had clarified its police "to ensure this will not happen moving forward."
"Fortunately, she was only assessed a warning with no further penalty or fine," the association added.
But by then, fan outrage on Twitter regarding the double standards had already traveled far.
Some said that women just can't win.
Others tweeted photos of shirtless male players.
Some pointed out that while Cornet discreetly removed her top, male players change their tops frequently without penalty.
Cornet subsequently lost the match to Larsson 6–4, 3–6, and 2–6.

Several players retired from matches early due to the heat Tuesday, and more than 20 people in attendance required medical treatment.