Spirit Air Ad Exploits Secret Service Hooker Scandal
They've pulled it, of course, which was the plan all along.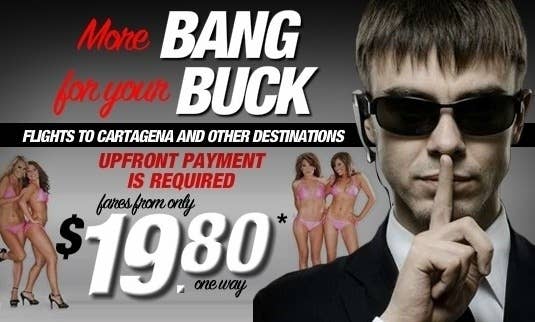 That's too bad, what with all the money the airline spent on that spiffy secret service agent stock photo (Here it is.)
Spirit Airlines released a statement saying that at the Colombian government's request, "Spirit pulled its ad yesterday, and we meant no disrespect to our many friends and valued customers."
Sure sure.
Spirit has a long history of this type of vulture marketing, previously exploiting WeinerGate, the bp oil spill, MILFs, and, uh, muff diving.
The Best Ad Blogger in the World™ (™ pending), which is akin to being the best ice hockey team in Paraguay, but there it is. I rant about ads, good and bad. SEND ME TIPS: copyranter@gmail.com

Contact copyranter at mark.duffy@buzzfeed.com.

Got a confidential tip? Submit it here.