Social Media F&©K-Up Of The Year (So Far)
Facebook is causing so many brands to turn their brains off.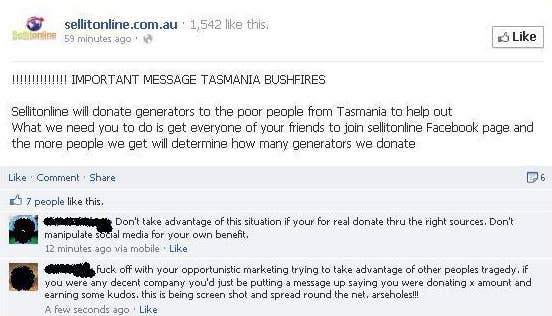 The heat and bush fires are ravaging Australia.
So, what better time to jack up your page's Like count!!!
"..the more people we get will determine how many generators we donate."
Brand people really need to read these statements out-loud before posting.
Sellitonline is a popular online shopping site Down Under.
Maybe not quite as popular now.
The post has since been removed from the brand's Facebook page. A spokesman for Sellitonline says: "We apologise if anyone was offended. We will be making a donation anyway."
Via Mumbrella.
The Best Ad Blogger in the World™ (™ pending), which is akin to being the best ice hockey team in Paraguay, but there it is. I rant about ads, good and bad. SEND ME TIPS: copyranter@gmail.com

Contact copyranter at mark.duffy@buzzfeed.com.

Got a confidential tip? Submit it here.