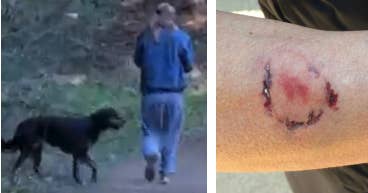 A jogger in Oakland fended off a dog attack, only to be tackled and bitten on the arm by the dog's owner, police said.
The dog owner, identified as 19-year-old Alma Cadwalader, was arrested Friday, a day after the attack as police sought the public's help in tracking her down.
The incident occurred when the woman jogger defended herself from an attacking dog with pepper spray. When the jogger later returned to the location of the attack on Goldenrod Trail between Chabot Equestrian Center and the Oakland City Stables, Cadwalader, who owns two dogs — one a medium-sized tan colored dog, the other resembling a black rottweiler mix — allegedly tackled and punched her multiple times.
When the jogger tried to get away, Cadwalader allegedly bit her forearm, leaving a bloody bite mark and significant wounds, according to East Bay Regional Park District Police Department.
It's not clear which dog had attacked earlier.

Based on the severity of the crime, police had asked for the public's help in locating the suspect and posted photos the victim had taken of her walking away with the dogs. Cadwalader was arrested Friday after a judge issued a warrant for her arrest.
She was booked into the Santa Rita Jail, but it was unclear what charges she faced.
In a statement Sunday, an attorney for Cadwalader, Emily Dahm, said her client was attempting to protect the dogs, after the jogger pepper-sprayed her pets without warning.
"There was no 'dog attack,'" Dahm said, adding that the dogs ran up to the jogger "as she was running on an approved off-leash trail."
"They did not attack or bite" the jogger, Dahm said, but the jogger "assumed the worst, overreacted, and pepper sprayed the pets. My client was merely defending her dogs when Ms. Stainner attacked her."
The attorney said Cadwalader repeatedly asked the jogger to stop spraying the dogs, who were in pain. When the jogger refused, Dahm said, Cadwalader tried to grab the pepper spray to stop her, but the jogger began striking Cadwalader, "pulling her hair and kicking her in the groin."
Dahm said her client had to bite the jogger's arm "in self-defense to free herself."
Cadwalader is scheduled to be arraigned at 2 p.m. Monday, Jan. 7 at the Alameda County Superior Courthouse. She faces felony charges for battery, false imprisonment, and robbery.
"My client is the victim of an unfortunate overreaction," Dahm said. "We can certainly understand if [the jogger] was frightened, but that doesn't warrant her pepper spraying the dogs nor does it call for her violent attack against a 19-year-old girl."