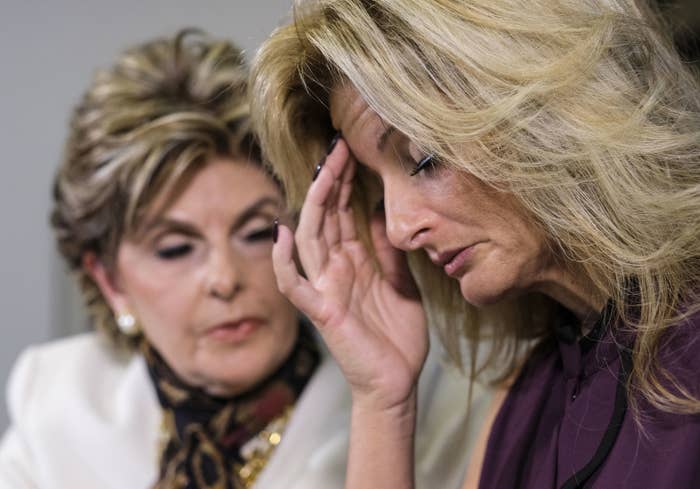 Two more women came forward Friday with allegations that Donald Trump made unwanted and inappropriate sexual advances, from kissing to groping and reaching up one of their skirts.
Summer Zervos, a contestant who was fired on Season 5 of The Apprentice, told reporters at a news conference in Los Angeles that Trump groped and kissed her in his room at the Beverly Hills Hotel in 2007 under the pretense of a job interview.

Kristin Anderson told the Washington Post that she was seated at a crowded Manhattan nightspot in the early 1990s when Trump slid his fingers under her skirt and up her thigh, and touched her vagina through her underwear.

Anderson, an aspiring model in her twenties at the time, told the Post she shoved his hand away and fled the couch.
"It was like just to prove that he could do it, and nothing would happen," Anderson told the Post. "There was zero conversation. We didn't even really look at each other. It was very random, very nonchalant on his part."

Both women recalled how they initially disclosed the encounters to people they knew but ultimately decided to let it go — that is, until Trump's comments about grabbing women "by the pussy," recorded in 2005 at an Access Hollywood shoot, were made public and the Republican presidential nominee entrenched himself for the fallout.
"Mr. Trump, when I met you I was so impressed with your talents that I wanted to be like you. I wanted a job with your organization," Zervos said at the news conference, her attorney Gloria Allred by her side. "However, after hearing the released audio tapes and your denials during the debate, I felt I had to speak out about your behavior. You do not have the right to treat woman as sexual objects just because you are a star."
Zervos and Anderson join a growing list of seven other women who have recently come forward with their own stories of being groped or kissed or having to endure other unwanted sexual advances.
Trump has described his 2005 "pussy" comments as "locker room talk," and in the second presidential debate, insisted he had never physically groped or kissed women without consent.
And in a statement Friday, Trump said he only "vaguely" remembered Zervos as an Apprentice contestant and called her allegations false.
"To be clear, I never met her at a hotel or greeted her inappropriately a decade ago," he said. "That is not who I am as a person, and it is not how I've conducted my life."

He also accused the media of "creating a theater of absurdity" by treating "unfounded accusations" as fact.
His campaign has also dismissed the allegations as false and a bid by the women to either get attention or money, or undermine the Republican nominee's prospects on Election Day.
Many of the women, however, have said they were reluctant to come forward, fearful of Trump's ire.
However, at the end of the day, Zervos said her interest was "to do the right thing, what feels right for me, and not to file a lawsuit."
"I imagine he will be up tweeting that I'm a big-nosed, broke dummy because he can't sleep and deal with who he is at night," she added. "I'll be able to sleep when I'm his age."