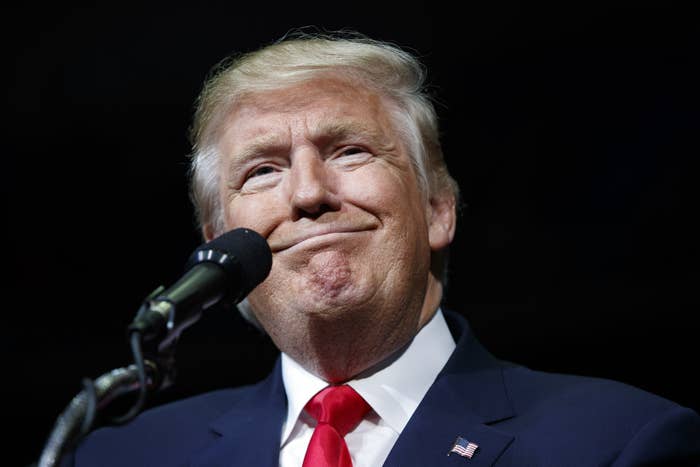 Republican presidential candidate Donald Trump could authorize the release of previously unaired footage from The Apprentice, lawyers say.
After the leak of a 2005 Access Hollywood video on Friday, there has been intense speculation as to whether The Apprentice production archives contain more unreleased footage of Trump's bad behavior. Mark Burnett, who created and produced the series that brought Trump into living rooms nationwide, said on Monday that neither he nor MGM, which owns his production company, has the legal authority to grant such a release of footage, if it even exists.

But there is one person who could hold the key to releasing the recordings: Trump himself.
Stanton "Larry" Stein, head of Liner LLP Entertainment division and University of Southern California professor of entertainment and media law, said it is likely that Trump brought in his own legal team when negotiating his Apprentice contract to include a clause that would protect himself from the release of unflattering footage. "Of course, if Trump wanted it released, he could absolutely do so," said Stein, who is not privy to Trump's Apprentice contract with Mark Burnett and MGM.
"It is possible they negotiated something about behind-the-scenes or outtakes in the contract and that could be what he is relying upon," said Stein, who recently defended Drake and Blake Shelton in libel cases.
If that approval clause on outtakes and behind-the-scenes footage was in his Apprentice contract and tapes were leaked, the extent of damages for this breach of contract would have to be proven in a trial, but could be substantial, considering it could cost him the presidency, said Stein.

"I'm sure Mark Burnett doesn't want to deal with that legal issue," said Stein.
Stein said there is no "news exception" for releasing any unauthorized tapes. Member of news media are protected by the First Amendment for publishing information they receive, but there is no protection for the person who leaks the information.
Brad Small, a partner and entertainment lawyer at Greenberg Glusker with a focus on television, said it is very common for talent of Trump's level to have negotiated an agreement for him to have approval over any outtakes, behind-the-scenes footage, and possibly over all footage in general.
"At that level of talent, that is very common to have," Small told BuzzFeed News. "He would have absolute approval."
Small said Trump could also have negotiated to have approval over how he is portrayed, that he not be depicted in a negative or disparaging fashion, and that the footage only be used in the development of the show.
Small said if MGM released the footage without Trump's approval, they could open themselves up to a lawsuit and "tremendous damages."
MGM would also have to be onboard with Trump's approval and they might also need approval from other people in the footage if they are negatively portrayed, Small said.
"Even if he wanted the footage released, it would be up to MGM because they own the footage," Small said.
A spokesperson for Trump did not respond to BuzzFeed News' request for comment on whether he secured approval of outtakes and behind-the-scenes footage. MGM and Burnett also did not reply to BuzzFeed News' inquiry about what is legally preventing them from releasing footage.