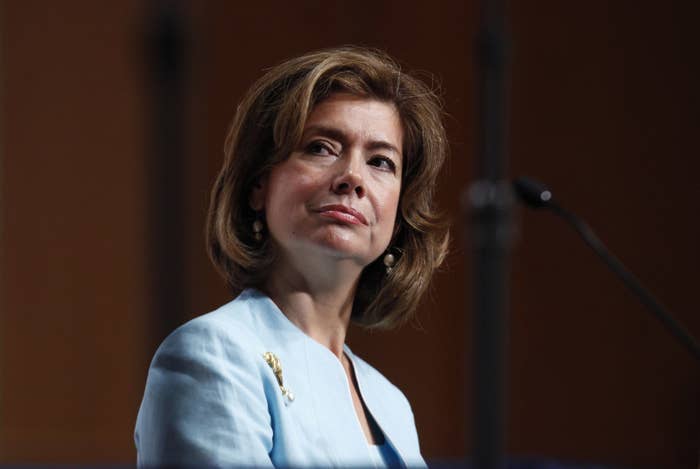 Assets of the company cofounded by disgraced Hollywood mogul Harvey Weinstein are to be sold off to a group of investors who plan to set up a victims' compensation fund and install a majority-women board of directors.
The deal was announced in a statement to the Hollywood Reporter by Maria Contreras-Sweet, the Obama-era leader of the Small Business Administration, and would save the Weinstein Company from having to file for bankruptcy.
Negotiations with Contreras-Sweet and a group of investors led by billionaire Ron Burkle had stalled after New York Attorney General Eric Schneiderman filed a civil rights lawsuit against the Weinstein Company and its founders and questioned the existence of a promised victims' fund. The remaining three-member board then announced that they had no other options but to file for bankruptcy.
Here's the statement from Contreras-Sweet provided to BuzzFeed News:
Our team is pleased to announce that we have taken an important step and have reached an agreement to purchase assets from The Weinstein Company in order to launch a new company, with a new board and a new vision that embodies the principles that we have stood by since we began this process last fall. Those principles have never wavered and have always been to build a movie studio led by a board of directors made up of a majority of independent women, save about 150 jobs, protect the small businesses who are owed money and create a victims' compensation fund that would supplement existing insurance coverage for those who have been harmed. The cornerstone of our plan has been to launch a new company that represents the best practices in corporate governance and transparency.

This next step represents the best possible pathway to support victims and protect employees.

We are grateful to the New York State Attorney General's office for their efforts in helping us reach an agreement and we are grateful to our investors who have believed in this process and in the compelling value of a female-led company. We also want to thank all the parties who returned to the negotiating table to help us reach this development.

I have had a long-standing commitment to fostering women ownership in business. This potential deal is an important step to that end.
Attorney General Eric. T. Schneiderman said having a victims fund set up was crucial priority to him in approving this deal. When the deal was completed, Schneiderman said that "as I made clear from the start, our office will support a deal that ensures victims will be adequately compensated, employees will be protected moving forward, and those who were responsible for misconduct at TWC will not be unjustly rewarded."
He also added that "as part of these negotiations, we are pleased to have received express commitments from the parties that the new company will create a real, well-funded victims compensation fund, implement HR policies that will protect all employees, and will not unjustly reward bad actors. We will work with the parties in the weeks ahead to ensure that the parties honor and memorialize these commitments prior to closing. Our lawsuit remains active and investigation remains ongoing at this time."

The new deal would give the investment group control over the studio's assets in a deal worth about $500 million, according to the Los Angeles Times. It would reportedly give the group a 51% stake in the company, which has been in a tailspin since investigations by the New York Times and the New Yorker revealed decades of sexual harassment and assault allegations against Weinstein, who was once one of Hollywood's most powerful executives.
The Weinstein Company was already in a precarious financial position before the allegations, struggling with a large amount of debt and a lack of hit films in recent years, the LA Times reported.

Weinstein, who founded the company with his brother, Bob, in 2005, was fired in the wake of the allegations. Bob Weinstein remains on the board.
The allegations, which Weinstein has repeatedly denied, sparked a reckoning over workplace sexual misconduct and the #MeToo movement, further damaging the company through its repeated association with news reports about sexual misconduct.