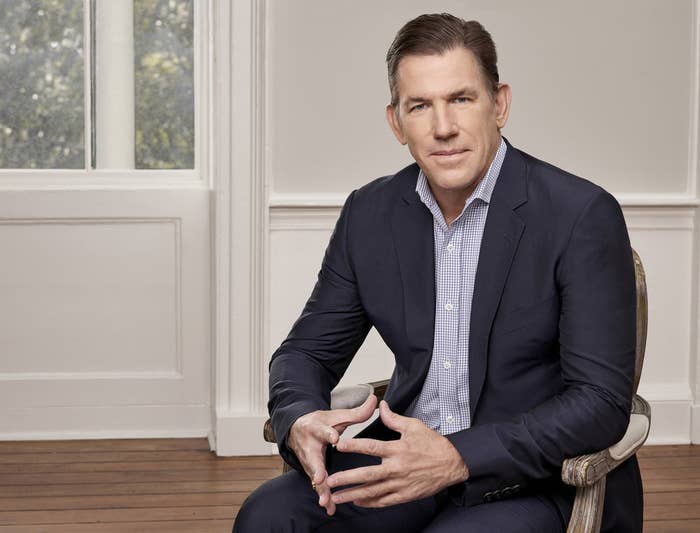 Southern Charm star Thomas Ravenel is being investigated for rape in Charleston, South Carolina, police confirmed Tuesday.
A 43-year-old woman filed a report Monday alleging she was raped by the Bravo reality TV star at his Charleston home in early January 2015, according to the city's police department.
The new allegations against Ravenel, 55, come weeks after real estate agent Ashley Perkins tweeted that her mother, Debbie Holloway Perkins, was sexually assaulted by Ravenel at his home on Dec. 25, 2015. Ashley also tweeted photos that she said were of her mother's bruised and cut wrists, injuries she said her mother suffered during the alleged assault.
Perkins told BuzzFeed that her mother was sexually assaulted by Ravenel after the two met on Tinder and went on a date on Christmas Day.

Ashley said her mother did not report the assault to police, but instead contacted famed attorney Gloria Allred, and subsequently reached a confidential settlement with Ravenel for $200,000 that barred her speaking publicly about the case.
Allred would not comment on the matter, but another attorney, Ashley Strong, confirmed that she conducted the initial in-person screening of Perkins' claims on Allred's behalf. Strong, however, would not discuss any details regarding Perkins' case, citing attorney–client privilege.
Ashley said she began speaking out after she realized she was not covered by her mother's nondisclosure agreement. She added that she was "thrilled" to learn that a woman was brave enough to report her assault to the police.
After learning of the allegations, Bravo began conducting its own investigation into Ravenel. A representative from Bravo confirmed to BuzzFeed News that the company and Southern Charm's production company are currently investigating Ravenel's activities.
Ravenel's attorney, Richard P. Terbrusch, did not immediately respond to BuzzFeed News' request for comment. However, Ravenel's legal team has previously said that, as a celebrity, he has become a target for someone who has "dubious motivations."
Ravenel, a wealthy real estate developer who was once a rising force in South Carolina politics, was the state's treasurer until he was indicted in 2007 for distribution of cocaine. In 2008, he was sentenced to 10 months in federal prison.

Ravenel has primary custody of his two young children with Kathryn Dennis, who is also on Southern Charm. The former couple have engaged in a vicious legal battle over custody, which has partly played out on the show, with Ravenel prevailing because of Dennis's past drug use.
Kate Aurthur contributed reporting.