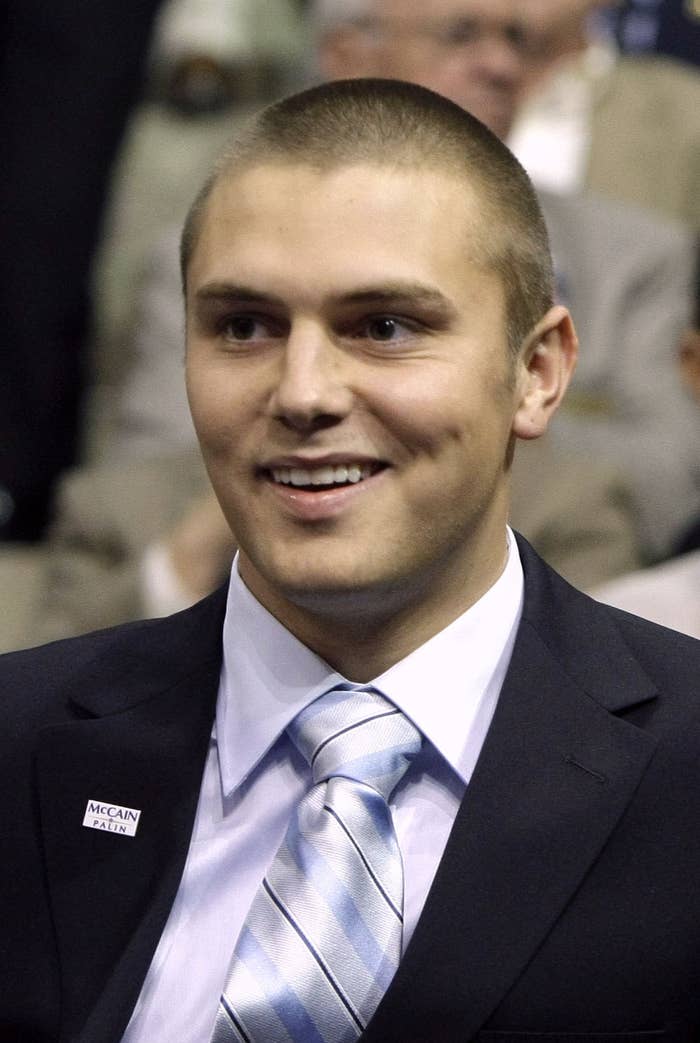 Sarah Palin on Wednesday addressed her son's domestic violence-related arrest at a rally for Donald Trump, linking his alleged behavior to PTSD he suffers from his military tour in Iraq.
Her oldest son, Track, was arrested Monday in Wasilla, Alaska, and charged with domestic assault after police say he struck his girlfriend and handled a gun while drunk.

"I can talk personally about this — I guess it's kind of the elephant in the room because my own family going through what we're going through today — with my son, a combat vet, having served in the striker brigade fighting for you all American in the war zone," Palin told the crowd. "But my son, like so many others, they come back a bit different, they come back hardened.
"So when my own son is going through what he goes through coming back, I can certainly relate with other families who kind of feel these ramifications of some PTSD and some of the woundedness that our soldiers do return with."
The arrest of 26-year-old Track Palin — first reported by Gawker — occurred after Wasilla police responded to a call for domestic disturbance at 10:04 p.m. at the Palin family residence.
"An investigation revealed Track Palin had committed a domestic violence assault on a female, interfered with her ability to report a crime of domestic violence, and possessed a firearm while intoxicated," Wasilla police told BuzzFeed News.
According to the arresting police officer's affidavit filed in court Tuesday, Track Palin and his girlfriend had been arguing over her ex-boyfriend when the fight escalated. Palin reportedly struck his girlfriend in her face with a closed fist. She then fell to the ground, after which Palin allegedly kicked her in her knee before throwing her cellphone across the driveway.
By the time Palin's girlfriend returned to the house with her phone, Palin was already inside holding onto a gun yelling "do you think I'm a pussy?" and "do you think I won't do it?" as he cocked the AR-15 assault rifle he had pointed at his face, according to the police report, which was obtained by BuzzFeed News.
Concerned that he might shoot himself, the girlfriend ran outside, called police, and eventually hid under a bed until retrieved by police.
A breath sample provided by Track Palin showed he had a blood alcohol level of 0.189, the AP reported, with the officer describing him as being "uncooperative, belligerent, and evasive with my initial line of questions."
Palin was charged with domestic assault, interfering with a domestic violence report, and misconduct involving weapons, according to police. He pleaded not guilty at his arraignment Wednesday and was released on $1,500 bail. As a condition of his release, Palin was ordered not to consume alcohol, not to possess firearms and not to contact with the victim without consent of the District Attorney. Palin's trial was set for March 24.
News of his arrest came on the same day his mother and former vice-presidential contender Sarah Palin, endorsed Trump for the Republican presidential nomination.
See the charges against Track Palin here: