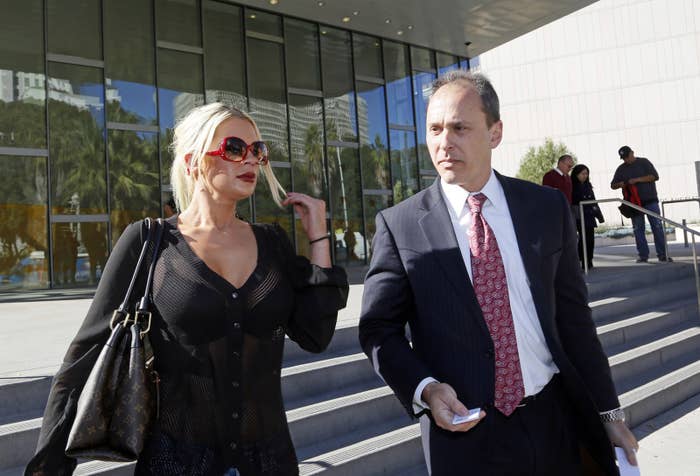 A 25-year-old model filed a civil lawsuit against Bill Cosby on Tuesday accusing the comedian of drugging and sexually assaulting her at the Playboy Mansion in 2008.
Chloe Goins and her attorney Spencer Kuvin announced the federal lawsuit on the steps of headquarters for the Los Angeles Police Department, which has turned over its investigation into the claims to prosecutors for review.
Goins is the only accuser so far whose accusations could fall within California's 10-year statute of limitations for sexual assault.
According to the lawsuit, Goins was at the Playboy Mansion in 2008 when Cosby gave her a drink that made her feel sick and dizzy. Playboy founder Hugh Hefner then offered to let Goins lie down in one of the mansion's rooms.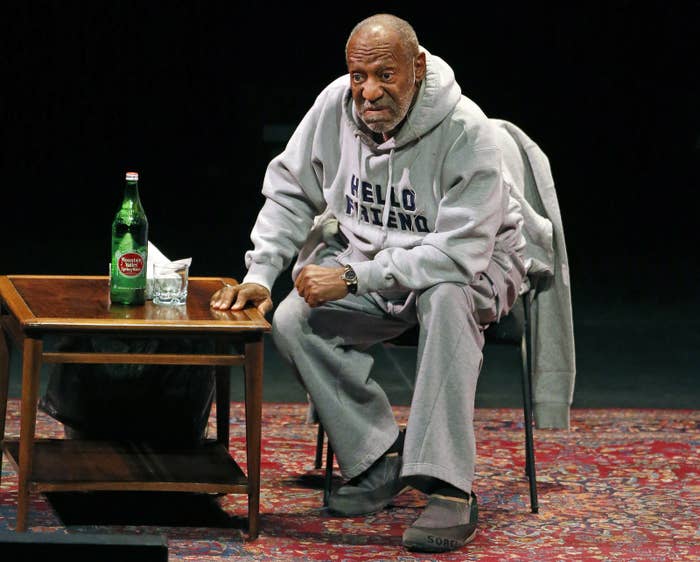 "Mr. Cosby escorted her to the room and, as she was on her way there, (she) blacked out," Kuvin told reporters. "She doesn't remember anything. The next thing she recalls, she was waking up in a bed, naked while Mr. Cosby is biting her toes. She is surprised and shocked. He gets up and leaves."

According to the lawsuit, Goins was "scared, afraid, embarrassed and repulsed at what had just occurred."
At no point did Goins give Cosby consent to touch her body in any way, "let alone in a sexual manner," the lawsuit adds.
Kuvin released additional details, including that Cosby was allegedly licking his client's toes when she regained consciousness.
Kuvin did not clarify what his client's exact age was at the time of the alleged assault, but it's presumed she was under 18 based on the statute cited in the lawsuit.

"I have chosen to relive this horrible and traumatic encounter to expose the truth of Bill Cosby's dark secrets," Goins told reporters. "Today, I recognized that I have taken legal action as many of the other victims of Bill Cosby will never be able to take. For that reason, I offer this message to those brave women: Your experience was just like mine and mine is like yours. You are not alone. We did not ask to be attacked."
Kuvin had previously told reporters that the alleged assault took place Aug. 9, 2008, at Playboy's Midsummer's Night Dream party. However, Cosby's lawyers later released statements saying they have travel documents proving Cosby was in New York at the time.
On Tuesday, Kuvin would say only that he knew the incident took place in 2008 at the mansion, and that Cosby gave Goins the drink. Kuvin also said he was pleased Cosby's attorney acknowledged keeping travel records and planned to seek them as part of his discovery process.
Kuvin added that he also hoped Hefner would cooperate with the investigation to help them get an exact timeline.
"It happened in 2008," Kuvin said. "We know know she was drugged, we know Mr. Cosby was there, we know that he is the one who gave her the drink and he is the one who undressed her in the room and molested her."
Since 2005, more than 40 women have come forward with allegations that Cosby sexually assaulted them over the last 50 years. Many of them have recalled stories in which they were drugged before the comedian allegedly molested or raped them.
However, Goins is the first whose complaint could potentially be tried in a court of law. Under California's statute of limitations, rape, penetration or rape of genital or anal openings by foreign object, or forcible acts of sexual penetration reported within 10 years of occurrence can be prosecuted.
In California, the statute of limitations for childhood sexual abuse lawsuits for damages begins within eight years from the date the individual reaches the age of majority, or within three years from the date the individual discovers the abuse. Goins contends her claim falls within that time period.
Cosby's attorney, Marty Singer, did not immediately respond to BuzzFeed News' request for comment on Tuesday.
Cosby is set to be deposed Oct. 9 in separate civil lawsuit brought against him by Judy Huth, who also alleges that the comedian sexually assaulted her at the Playboy Mansion. Huth claims the assault occurred when she was 15, in 1974.
Cosby's legal team will be in court tomorrow demanding a judge issue a protective order sealing the deposition. Gloria Allred, who is representing Huth in that case, is opposing the request.