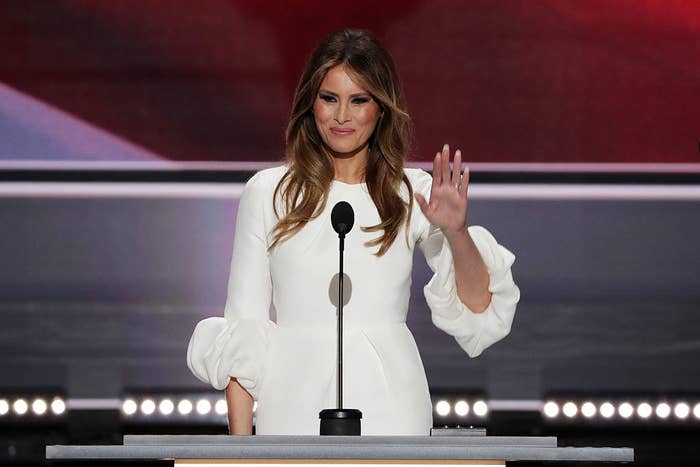 Melania Trump filed a lawsuit Thursday against the Daily Mail and a Maryland political blogger for defamation for publishing what she said are false stories about her past.
Trump is suing the outlets — which include Webster Griffin Tarpley, who runs Tarpley.net, a political website — over stories that claimed she worked as a "high-end escort" and that she suffered from a "full-blown nervous breakdown" due to the stress of the campaigning, according to her complaint. The suit said Trump is suing each outlet for "in excess" of $75,000 — her lawyer said she will seek $150 million.
Trump states in her lawsuit that those accusations are blatantly false.
"[Trump] did legitimate and legal modeling work for legitimate business entities," the complaint states. "[Trump] was not an escort or prostitute. [Trump] did not have an apoplectic fit, apoplectic tantrum, nervous breakdown or mental breakdown, nor is she terrified or obsessed by fear about revelations from her past."
Trump's lawyer, Charles Harder, who recently represented Hulk Hogan in his battle with Gawker, released this statement on behalf of his client:
"These defendants made several statements about Mrs. Trump that are 100% false and tremendously damaging to her personal and professional reputation. Defendants broadcast their lies to millions of people throughout the U.S. and the world—without any justification," he said.
"Their many lies include, among others, that Mrs. Trump supposedly was an "escort" in the 1990s before she met her husband. Defendants' actions are so egregious, malicious and harmful to Mrs. Trump that her damages are estimated at $150 million dollars."

The Daily Mail responded Thursday to the lawsuit publishing a lengthy retraction. In the retraction, the newspaper states their article merely discussed allegations that were made about Trump in a book on Amazon and in an article by a Slovenian magazine. But the newspaper said it did not intend to state that the allegations that Trump worked as an escort or in the sex business were true.
"To the extent that anything in the Daily Mail's article was interpreted as stating or suggesting that Mrs. Trump worked as an 'escort' or in the 'sex business,' that she had a 'composite or presentation card for the sex business,' or that either of the modeling agencies referenced in the article were engaged in these businesses, it is hereby retracted, and the Daily Mail newspaper regrets any such misinterpretation."
Tarpley also responded saying Trump's lawsuit against him is "without merit." Tarpley said he is confident that Trump will not be able to prove the statements about her on his website were defamatory.
He added, "her lawsuit is a blatant attempt to intimidate not only me but journalists of all stripes into remaining silent with regard to public figures. This lawsuit is a direct affront to First Amendment principles and free speech in our democratic society."