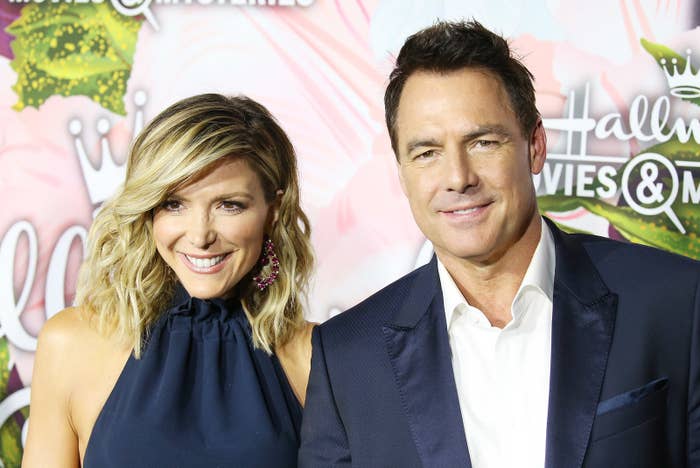 Mark Steines, cohost of the Hallmark Channel's daytime lifestyle show Home & Family, filed a lawsuit Thursday against the network and parent company Crown Media, claiming he was retaliated against and eventually fired for reporting on-the-job sexual harassment and verbal abuse.
Steines, who was fired from the show in May, alleges that he regularly warned and alerted the company that the show's executive producer, Woody Fraser, harassed and verbally abused producers on the show.
Steines alleges in his lawsuit that he personally witnessed Fraser give bear hugs to women coworkers, in addition to sneaking up on them to rub their shoulders. He also alleges that in 2017, a photo circulated on the set showing Fraser "grabbing the face of young female producer and forcing a kiss on her lips as she resisted and grimaced." Steines said he texted the photo to his rep, believing the network would take action.
Steines also alleges Fraser engaged in gender discrimination and made a woman colleague beg for vacation time in a "degrading manner," and that he also admitted in an email to a select group of crew members that he had an anger management and rage problem.
Then in 2017, "two courageous Home & Family female producers asserted claims of sexual harassment against Mr. Fraser and Crown Media," the lawsuit states.
However, Steines alleges that management failed to take action. Instead, his attorney Lisa Bloom said in a statement that "everything changed, with the network taking away his voiceover work, diminishing his role on the network, reducing his profile at industry events, cutting his salary by 25%, and ultimately firing him months before the end of his contract."
"The law protects witnesses and employees who oppose sexual harassment in their workplace, because we know that victims can rarely win their cases alone," Bloom added. "We need male allies like Mark to speak up. Retaliation against those who do is illegal."
Crown Media said in a statement that it has not seen the complaint, but that the decision to let go of Steines was "a measured, strategic and difficult decision" but was necessary given that a ratings decline.
"There is no merit to the legal claims Mr. Steines is asserting against Crown Media," the statement added.
Fraser's attorney did not immediately respond to BuzzFeed News' request for comment. However, Fraser said in a statement in June prior to the lawsuit that he believes the legal action is a "media-driven event" that is part of a "calculated attempt to ruin my reputation" after refusing to agree to a financial settlement.

"Like many others, I would have preferred resolving things quietly, even though I engaged in no actionable conduct," Fraser said in his statement.

He added: "The women who are accusing me remain in their jobs as well-paid television executives. Although I am far from perfect, I am confident that when the facts regarding the nature of the allegations are fully revealed, before a jury if necessary, my reputation will be restored."