TMZ Says Jared Leto Lacks The Right To Sue Over Video Of Him Dissing Taylor Swift
Jared Leto claims the footage of him belittling Taylor Swift was stolen and that he warned TMZ not to post it. TMZ, however, contends Leto doesn't have a right to sue since he isn't the owner of the video.
TMZ responded to Jared Leto's copyright infringement lawsuit this week, arguing the Oscar-winning actor has no claim to video footage of him belittling Taylor Swift.
In court filings Tuesday, the celebrity news website said the rightful owner of the controversial footage is videographer Naeem Munaf, from whom the video was purchased for $2,000. Munaf was not Leto's employee and under no contractual relationship with Leto when he shot the video with his own equipment, TMZ argues.

The footage posted in December shows the Thirty Seconds to Mars frontman making comments like "I don't like this at all" while listening to Swift's album,1989. The video also ends with Leto lashing out at Swift personally.
"Fuck her. I don't give a fuck about her. It's whatever works best for us," he says.
Leto apologized on Twitter after the footage was made public, calling Swift "amazing" and "an incredible example of what's possible."
In his lawsuit, Leto claims the video shot in his private studio was stolen and TMZ published it despite being warned not to.

The videographer even refused to sign a release affirming he had legal right to sell the footage. The website went ahead and posted the footage, according to the federal lawsuit.
The video, titled "Jared Leto SCREW...!! But I'd Love One of Her Hits," remains on TMZ's website despite the legal action.
Leto explained his decision to file the lawsuit in a statement, saying he hoped it would "encourage more people to stop trafficking in stolen goods."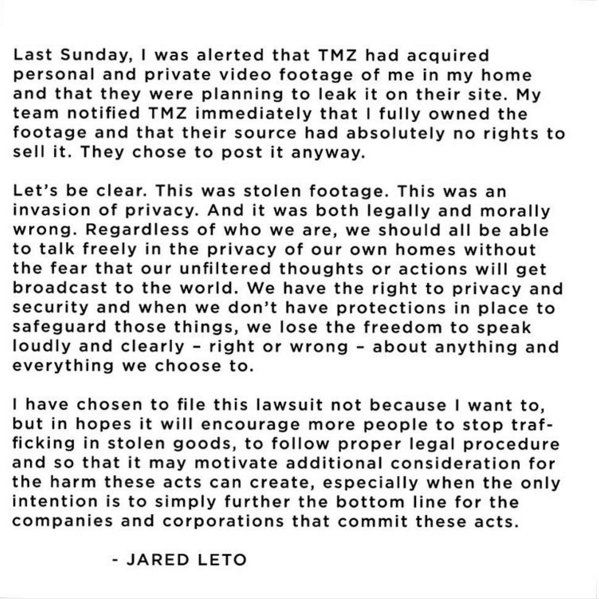 In addition to asking a federal court to order TMZ to take the video down, Leto is seeking damages for copyright infringement.
Read Jared Leto's Lawsuit Here:
Download PDF