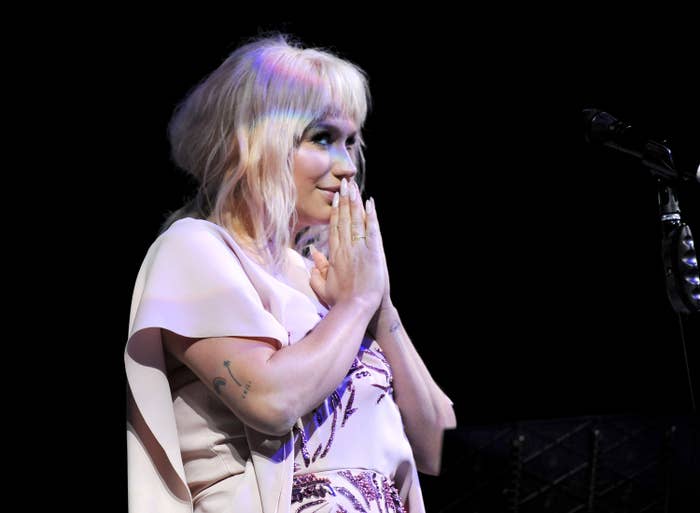 Kesha on Tuesday insisted that she had no plans to reference her legal battle with producer Dr. Luke at the Billboard Music Awards after her performance was canceled by his label.
Kesha has also been locked in a courtroom battle to get out of her exclusive multi-record agreement with Dr. Luke's label, Kemosabe Records, and Sony Music, claiming he sexually assaulted and abused her.
Dick Clark Productions told BuzzFeed News in a statement Tuesday that Dr. Luke's record label rescinded its approval of Kesha's appearance at the Billboard Music Awards following "a media report" on May 11, the same dayTMZ reported the singer planned to make direct references to the ongoing legal battle during the performance.
"Unfortunately, Kesha and Kemosabe have since been unable to come to an agreement for Kesha to perform on the show," Dick Clark Productions said in its statement, noting its "long standing relationship" with the singer. "We hope that the parties can come to an arrangement such that we can continue that long standing relationship with a performance by Kesha on the Billboard Music Awards stage on May 22nd."
Kesha insisted on Instagram Tuesday that the performance was only about taking part in a Bob Dylan tribute and honoring "one of my favorite songwriters of all time."
"I'm very sad and sorry to say I won't be allowed to do this," she wrote. "I just wanted to make very clear that this performance was about me honoring one of my favorite songwriters of all time and has never had anything at all to do with Dr. Luke."
Dr. Luke and Sony declined to comment.
A judge in California on Monday kept Kesha's sex assault case against producer Dr. Luke on hold pending the outcome of breach of contract litigation winding its way through the courts in New York.
That lawsuit was brought by Dr. Luke, who accuses the "Tik Tok" singer of fabricating the sex abuse claims to help her get out of her recording agreement.
She has recently started recording again with another producer with permission from his label.