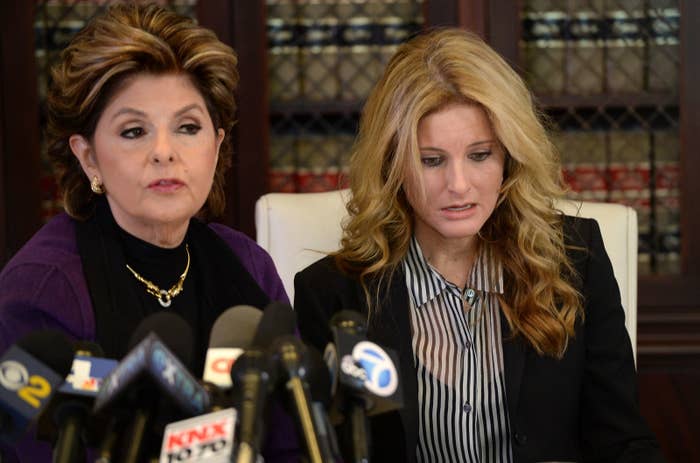 A former contestant on The Apprentice who alleges Donald Trump sexually assaulted her in 2007 says she will continue to speak out until the president-elect retracts earlier statements calling her and other accusers liars.
Summer Zervos, a contestant on Season 5 of The Apprentice, alleges Trump groped and forcibly kissed her at the Beverly Hills Hotel in 2007 during her pursuit of a job at his organization.
Trump has called the allegations lies vowed to sue her and a dozen other women who came forward with allegations of misconduct during his campaign.
Speaking with her attorney, Gloria Allred, in Los Angeles Friday, a visibly upset Zervos said that after coming forward, she and her business were targeted with threats and bullying.
"He now has the largest bully pulpit in the world and he has not yet taken back his threat to sue me and the others who came forward," she said. "I want to make clear that even though it is hard and painful to go up against the world's most powerful man, I will continue to speak the truth and I refuse to be intimidated into silence."
Until he retracts his statements about her, Zervos added, "Will continue to speak out and tell the truth."
More than a dozen women have come forward with allegations of being groped, kissed, or having to endure other unwanted sexual advances from Trump.
Trump's treatment of women came under greater scrutiny during his campaign after the release of a 2005 Access Hollywood tape that recorded him bragging about kissing women, grabbing them "by the pussy," and attempting to have sex with a married woman.
Trump has denied all of the allegations made against him. And in response to the Access Hollywood tape, Trump described his comments as "locker room talk."
Allred told reporters that "we will have to wait in see" if a defamation lawsuit against Trump would proceed while he is in the White House, adding that it depended on whether he made good on his threat to sue his accusers.
"What happened to a good old-fashioned 'I'm sorry!'" Zervos burst out as Allred led her out of the room.