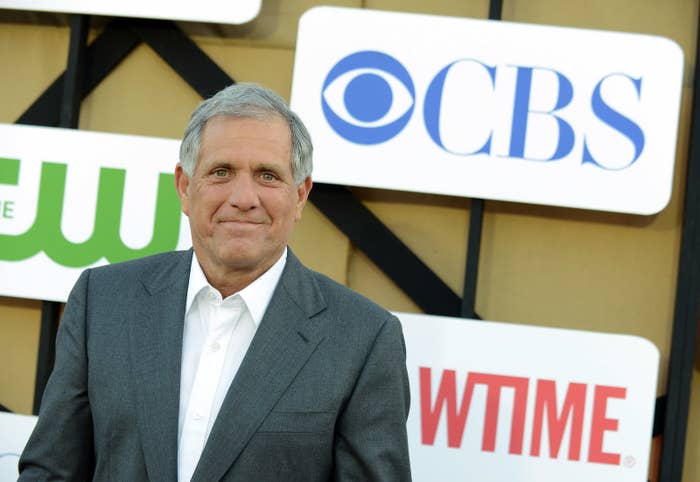 Embattled CBS CEO Leslie Moonves on Thursday did not address the sexual harassment allegations made against him in an otherwise upbeat earnings call with investors.
In opening the conference call, executive vice-president Adam Townsend said the scope of the call would be limited to the quarterly results "in light of pending litigation, and on the advice of counsel."
Six women allege in a New Yorker report that Moonves sexually harassed them and then used his position of power to sideline or threaten to derail their careers if they spoke out. The women said they endured "forcible touching or kissing during business meetings, in what they said appeared to be a practiced routine." Two others allege Moonves physically intimidated or threatened them.
Then on Tuesday, the Los Angeles County District Attorney's Office announced that another woman had accused Moonves of sexually assaulting her in the 1980s. However, prosecutors have declined to pursue the case because it falls outside the statute of limitations.
The CBS board of directors, which has allowed Moonves to stay on in his role, announced Wednesday that two law firms have been hired to investigate the allegations of sexual harassment and misconduct, as well as the broader company culture.
When the New Yorker story published, Moonves, 68, issued a statement acknowledging "there were times decades ago when I may have made some women uncomfortable by making advances," calling them mistakes that he regrets "immensely."

But on a conference call with investors for the company's quarterly earnings report on Thursday, Moonves did not address the scandal, and wasn't asked about it in a question-and-answer with investment firms. He also wasn't asked about his ongoing legal battle with the controlling shareholder of CBS and Viacom, Shari Redstone, in an effort to prevent her from trying to merge the two companies.
CBS declined to comment Thursday, or clarify if the litigation Townsend was referring to was regarding the Redstone fight or another matter.
Moonves has remained a dominant force at CBS after taking the network from last to first place in overall viewers with hits like Everybody Loves Raymond and CSI: Crime Scene Investigation. He also oversaw the launch of the CBS All Access streaming service, which executives say has exceeded expectations.
CBS' continued success was reflected in Thursday's record-setting second quarter financial report. The broadcast company reported revenue of $3.47 billion, up 6% compared to the same period last year, with net earnings of $400 million.

But this is the second high-profile case of sexual misconduct that CBS has had to deal with in as many years. Veteran newscaster Charlie Rose was fired by CBS and PBS last year after the Washington Post reported on eight women whose allegations included groping, unwanted sexual advances, and in some cases, appearing nude in the same room as a colleague.
CBS News later reported on three additional women who had similar allegations.