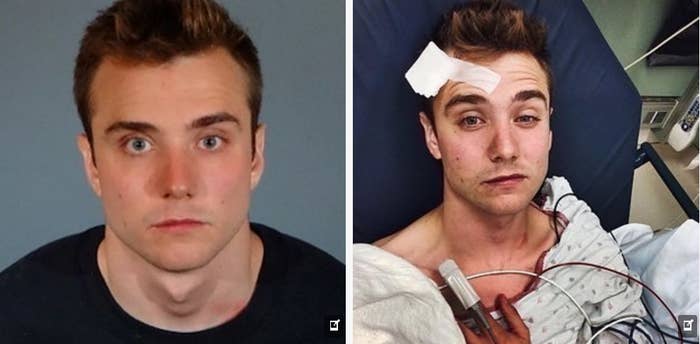 British YouTube personality Calum McSwiggan has pleaded guilty to vandalizing a car during a chase in which he claimed to have been the victim of a hate crime in West Hollywood, prosecutors announced.
McSwiggan, 26, entered the plea Monday to one felony count of vandalism of causing damage over $400, the Los Angeles County District Attorney's Office announced Tuesday. He was sentenced to three years of probation, 52 anger management counseling sessions, and ordered to pay $7,000 in restitution.
As part of the plea deal, the misdemeanor charge of filing a false police report was dropped.
Los Angeles County sheriff deputies arrested McSwiggan on June 27 after he filed a police report claiming he was assaulted by three men after leaving a local nightclub. Responding deputies were unable to substantiate the assault and McSwiggan was subsequently arrested after deputies observed him vandalizing a car in the 8900 block of Santa Monica Boulevard.
After being booked and photographed, McSwiggan was placed into a cell by himself at the West Hollywood station, where he was then observed injuring himself with the handle and receiver to a payphone inside the cell by deputies. McSwiggan was then transported to a local hospital for treatment. Sheriff officials said the booking photo was taken prior to deputies seeing McSwiggan injuring himself.
Despite the plea deal, McSwiggan said he regrets the damage he caused to the car, but maintains he never lied to police.