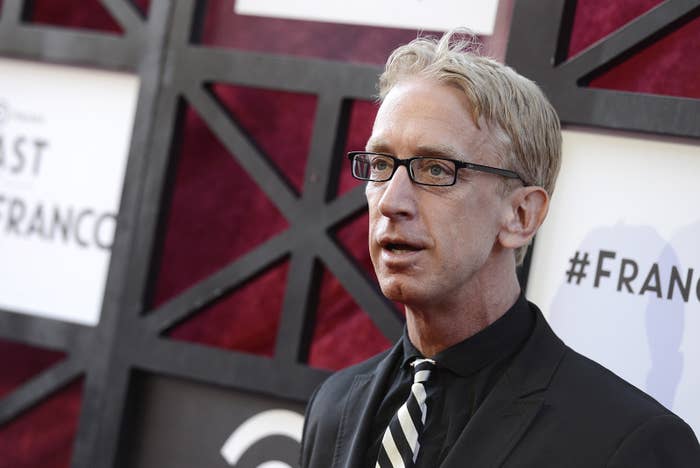 Comedian Andy Dick was charged Monday with sexual battery by the Los Angeles city prosecutors for allegedly groping a woman as she walked past him on a sidewalk in April.
Prosecutors did not elaborate on what the woman told police, but TMZ reported that Dick allegedly grabbed her butt twice.
Dick, however, told BuzzFeed News that he has no knowledge or memory of the alleged encounter and has asked authorities to tell him the identity of the accuser and provide him with a photo so he can identify her. Otherwise, Dick said he feels like he is being accused by a "ghost."
"So I slapped a ghost's ass?" Dick said. "I need to know where was this. What is her name? I have no information."
The woman was not identified in the charging document.
Dick said that while he has been known to slap people's butts, he was adamant that he would never grab a woman without provocation, such as being flirtatious.
"There is no way I would ever do that," he said. "I have a daughter. I have a stepdaughter. I would never do that. It didn't happen."
Dick, who is working on a podcast, said the accusation could be an attempt to shake him down for money. But if that's the case, he said, "she is barking up the wrong tree because I don't have any."
But it's not the first time Dick has been accused of inappropriate behavior. He was arrested in 2014 on suspicion of grand theft for reportedly taking a man's gold chain when they both stopped to talk on Hollywood Boulevard. But prosecutors later dropped the case because the necklace was returned.
In 2011, he was booked on suspicion of public intoxication in Temecula, California, after police responded to reports of a disturbance at a Marie Callender's restaurant. In 2008, he was accused of assaulting a 17-year-old girl by groping her breasts and pulling down her shirt and was arrested for sexual battery and drug possession. He later pleaded guilty to misdemeanor battery and marijuana possession. He was also asked to leave the set of Jimmy Kimmel Live in 2007 for allegedly inappropriately touching Ivanka Trump, who was a guest on the talk show.
Dick's arraignment in the latest case was scheduled for July 18. If convicted, he could face up to six months in jail.