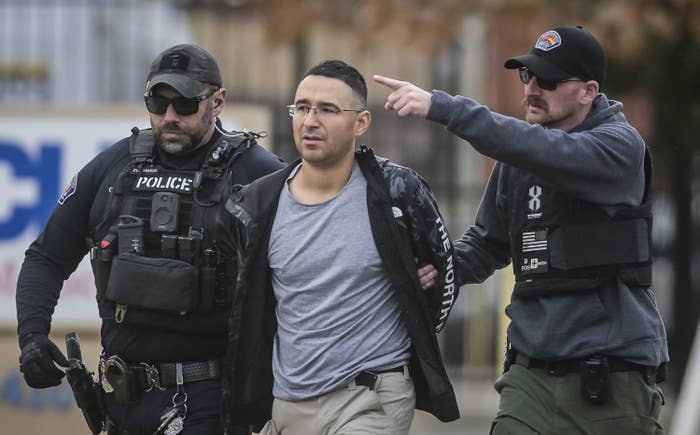 A Republican Statehouse candidate who claimed his failed election was rigged was arrested on Monday for allegedly organizing four drive-by shootings that targeted the homes of elected Democratic officials.
Solomon Peña, who lost his bid for the New Mexico House of Representatives in November, allegedly paid cash for people to carry out at least two of the shootings, Albuquerque Police Deputy Commander Kyle Hartsock said at a news conference.
He also participated in a third shooting, Hartsock said, and had personally "pulled the trigger on at least one of the firearms that was used."
He is charged with four counts of shooting at an occupied dwelling; four counts of shooting at or from a motor vehicle; four counts of conspiracy; and one count each of felon in possession of a firearm, attempted aggravated battery with a deadly weapon, and criminal solicitation, according to an arrest warrant obtained by BuzzFeed News.
He intended to cause "serious injury or cause death to occupants inside their homes," officials said in the warrant.
Peña, a vocal Trump supporter, lost his race to longtime state Rep. Miguel P. Garcia, a Democrat. Investigators said that after the election, Peña approached multiple elected officials, including state Sen. Linda Lopez, claiming the election was rigged and that he would not accept the results.
"So he approached all of these commissioners and the senators at their home with paperwork claiming that they were there was fraud involved in those elections," police spokesperson Gilbert Gallegos Jr. said.
The officials were "puzzled" and "surprised" by Peña's claims, and one of them ended up getting into an argument with him, according to Gallegos. The shootings happened "shortly after," he said.
On Dec. 15, the day Trump announced he was running for the 2024 election, Peña also tweeted that he "never conceded" his race and was "researching [his] options."
Police said they have evidence that Peña sent the addresses of the targeted homes over text messages. According to the arrest warrant, the addresses were searched on Apple Maps before the shootings.
"The addresses of the shootings were communicated over the phone — within hours in one case, the shooting took place at the lawmaker's home," Hartsock said.
A confidential witness cited in the arrest warrant told investigators that Peña was unhappy that the shootings were taking place late at night and that the bullets were striking so high up on the walls of the homes.
"Solomon wanted them to aim lower and shoot around 8PM because occupants would more likely not be laying down," the warrant said.
Peña was taken into custody by a SWAT team on Monday, police chief Harold Medina said. Jail records show he was booked at 12:26 a.m. on Tuesday.
Prosecutors have asked that Peña be held without bond, arguing in a court filing that the former candidate is a danger to the community.
"The defendant's actions show what lengths he is willing to go when he is dissatisfied with reality," prosecutors wrote. "There are no conditions of release that will be able to prevent the defendant from conspiring with others and convincing them to engage in even more violence against those he disagrees with."
During a court hearing Wednesday, a judge said he would remain in custody pending a detention hearing scheduled for next month, according to the Associated Press. Peña appeared via video in red jail clothes with his feet and hands shackled.
Police had warned about a recent string of shootings at the homes of Democratic elected officials in Albuquerque. The first incident took place at the home of Bernalillo County Commissioner Adriann Barboa, when an assailant shot eight rounds at her house on Dec. 4. Barboa said she came home from Christmas shopping to find four shots in her front door and windows, where she and her grandbaby were playing in the living room hours earlier.
Days later, state Rep. Javier Martínez's home was struck by gunfire, and a neighbor saw a light-colored pickup truck speeding away, the warrant said.
On Dec. 11, the home of another county commissioner, Debbie O'Malley, was shot at more than a dozen times. O'Malley — whose term as commission chair ended in January — told police responding to the shooting at her home that Peña went to her house a day or two prior, "upset that he had not won the election," the warrant said.
In the early hours of Jan. 3, at least eight shots were fired at state Sen. Linda Lopez's home, three of which went through her 10-year-old daughter's bedroom, she told the Albuquerque Journal. Police believe that Peña participated in the shooting at Lopez's home.
According to the arrest document, Lopez told investigators that she thought the loud bangs were fireworks, but her daughter asked why it felt like there was sand in her bed. Lopez awoke to find "holes in her house, apparently from gunfire," the warrant said.
Two more shootings targeting local elected officials have taken place since, one at a law office of state Sen. Moe Maestas, and another at Attorney General Raúl Torrez's former campaign office.
No one was injured in the shootings.
Police said they believe Peña is connected to at least four of these incidents. "It is believed that he is the mastermind that was behind this and that was organizing this," Medina said.
Investigators have not yet determined if the people who carried out the shootings were aware of who the targets were, or if they were just following orders.
"At the end of the day, this was about a right-wing radical, an election denier who was arrested today," Mayor Tim Keller said. "And someone who did the worst imaginable thing you can do when you have a political disagreement, which is turn that to violence. That should never be the case."
Police announced last week that they arrested a suspect connected to the shootings during a traffic stop. No details about the investigation were released at the time, but officials said on Monday that the traffic stop took place about 40 minutes after the shooting at Lopez's home on Jan. 3.
While searching the car, police found 800 fentanyl pills, "a lot of cash," and two guns — one of which matched the shooting at Lopez's residence, officials said.
The suspect, who was driving the car, was identified as José Trujillo. The car was registered under Peña's name.