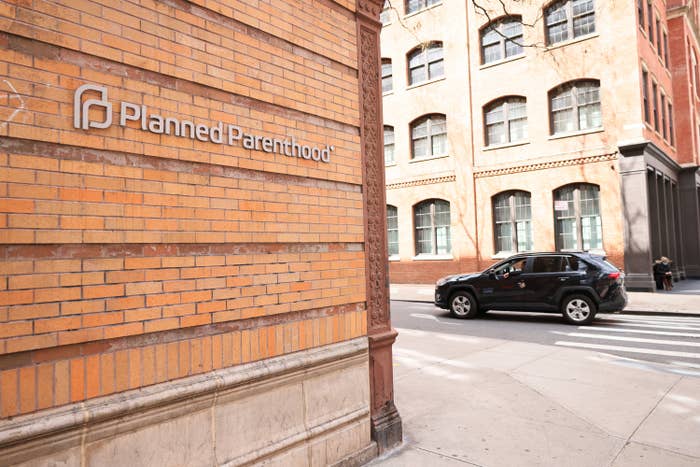 Planned Parenthood is facing yet another racial discrimination lawsuit, this time by a current top executive at its New York chapter.
Samuel Mitchell Jr., a Black man who is chief operating officer at the Planned Parenthood of Greater New York, alleges in the suit that he was subjected to disproportionately frequent background checks and stereotypically racist terms like "angry" and "out of control." Mitchell, who has a "disabling neurological condition which causes him to stutter and stammer" in stressful situations, according to the complaint, also accused the defendants of mocking his Southern accent and referring to his disability in a discriminatory way.
Filed in the Southern District of New York on Tuesday, the lawsuit names PPGNY and four white women who hold executive and board positions — Wendy Stark, Andrea Hagan, Anne Davis, and Gillian Dean — as defendants.
Since he was hired as interim COO in September 2021, Mitchell was subjected to a "campaign of discrimination" to undermine his authority at work and his ability to perform his job, the lawsuit claims. The alleged conduct laid out in the complaint was "spearheaded and orchestrated" by Hagan, an executive board member, and "encouraged" by chief medical officer Dean and associate chief medical officer Davis. The discrimination, according to the lawsuit, "intensified" when Stark was appointed president and CEO in August 2022.
Mitchell also accused PPGNY of failing to take any action after repeated complaints about their alleged behavior.
Jacquelyn Marrero, a spokesperson for Planned Parenthood of Greater New York, said the organization "categorically denies the spurious allegations" from Mitchell, calling him a "recent addition to our executive team." (Mitchell moved into a permanent COO role in April 2022.) "Our top priority for our team members is a safe, diverse and equitable workplace that supports our mission to provide access to reproductive health for all," Marrero said.
Hagan, Dean, Davis, and Stark did not respond to separate requests for comment.
Mitchell, whom the lawsuit says is the only Black man in the organization's executive leadership team, says that he was forced to undergo more background checks than younger, white women employees.
In October 2021, when Hagan, the board treasurer, found out that Mitchell was an ordained pastor, several board members allegedly insinuated that Christians and pastors like Mitchell "were not welcome to work for PPGNY" and attempted to paint his church as anti-abortion "in a particularly invasive attempt to terminate plaintiff's employment," the lawsuit states. The lawsuit did not name Mitchell's church or denomination, and his lawyer did not respond to a request for clarification.
After Mitchell complained about their alleged conduct, he says the organization failed to reprimand them, further emboldening their behavior, according to the complaint. Instead, the suit says, Mitchell was "disproportionately and excessively" monitored and micromanaged, and mocked for his Southern drawl and pronunciation in a meeting.
The lawsuit also states that as COO, Mitchell was passed over for the role of interim CEO, causing him to lose out on a $13,000 bonus.
During a September 2022 meeting, Mitchell's subordinate, a younger white woman, presented a report on his behalf as he was "unable to do so due to the effects of plaintiff's disabling condition," the lawsuit states. His colleagues later allegedly said that the woman was a "much better communicator" than him. "These comments were in direct, discriminatory reference to the symptoms of Plaintiff's disabling condition," the complaint says.
Mitchell's experience at the organization is not unique, the lawsuit claims, citing previous reporting about allegations of racism at Planned Parenthood, including from a story published by BuzzFeed News.
The complaint also mentions another lawsuit filed by Nicole Moore, Planned Parenthood's former director of multicultural brand engagement, who alleged a pattern of anti-Black racism and attempts to silence her for raising concerns about the treatment of Black employees, which then led to her firing. The Southern District of New York has referred the case to mediation, which is required by the court.