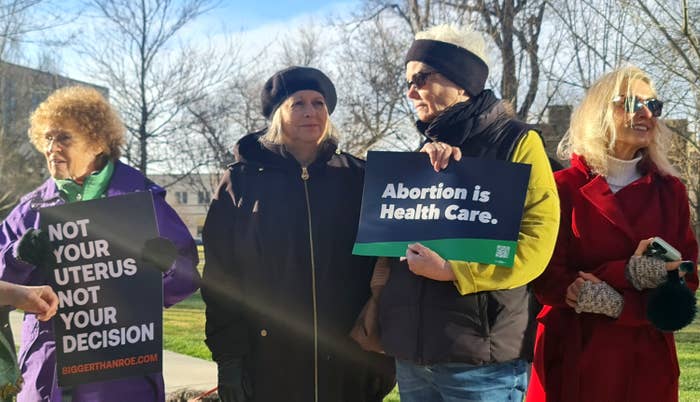 The Department of Justice has asked an appeals court to block a federal judge's decision to overturn the FDA's approval of mifepristone, a medication abortion pill, and keep the drug on the market as the courts debate the issue.
In a motion filed Monday, the DOJ asked the 5th Circuit Court of Appeals to issue a stay pending appeal on a district court's suspension of mifepristone on Friday. The "abrupt and sweeping nationwide order" would "irreparably harm" patients, it argued.
"If allowed to take effect, the court's order would thwart FDA's scientific judgment and severely harm women, particularly those for whom mifepristone is a medical or practical necessity," the DOJ said in its filing. "This harm would be felt throughout the country, given that mifepristone has lawful uses in every State. The order would undermine healthcare systems and the reliance interests of businesses and medical providers."
US District Judge Matthew Kacsmaryk issued an order halting the FDA's approval of mifepristone on Friday as a lawsuit challenging the drug's safety from an anti-abortion group makes its way through the courts.
Kacsmaryk, a Trump appointee, put his order on hold for seven days to give the Biden administration a chance to appeal.
Almost at the same time on Friday, US District Judge Thomas Owen Rice, an Obama appointee, issued a competing ruling barring the FDA from pulling the drug off the market in 17 states and the District of Columbia, where attorneys general have sued to maintain access.
The dueling rulings caused confusion among medical experts and providers, and it was not clear at the time what the contradictory orders meant for access to mifepristone.
But it means the Supreme Court will likely have to intervene sooner rather than later. And the DOJ is now asking the appeals court to continue allowing access to mifepristone as the lawsuits play out.
Mifepristone is one of two drugs used for medication abortion and miscarriage treatment. First approved by the FDA in 2000, mifepristone is recognized as a safe and effective drug.
Kacsmaryk's order has been widely condemned by abortion rights advocates, as well as legal and medical experts. More than 250 pharmaceutical executives denounced the ruling in a letter on Monday, calling it an "act of judicial interference."
"The decision ignores decades of scientific evidence and legal precedent," they said. "If courts can overturn drug approvals without regard for science or evidence, or for the complexity required to fully vet the safety and efficacy of new drugs, any medicine is at risk for the same outcome as mifepristone."
Multiple lawmakers have also called on the FDA to ignore Kacsmaryk's ruling, saying the federal agency has the authority to dismiss the court's decision.