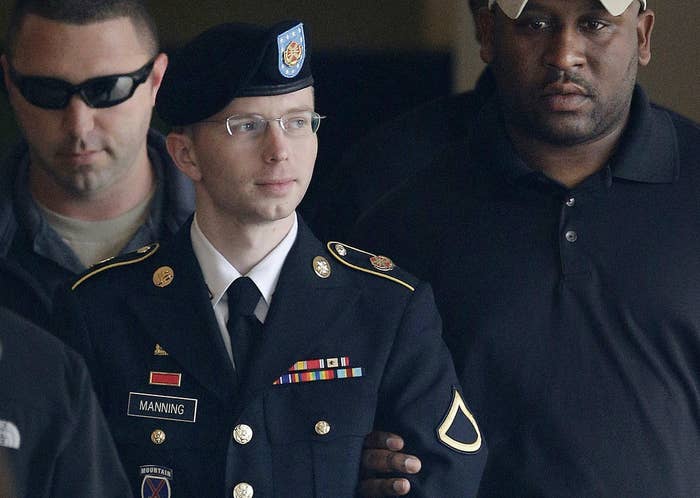 Military officials at the U.S. Disciplinary Barracks (USDB) at Fort Leavenworth blocked a mail packet of articles about prisoner issues, including a BuzzFeed News story, from reaching Chelsea Manning, the Electronic Frontier Foundation said in a blog post Monday.

Manning was sentenced to 35 years in prison in 2013 for providing classified and sensitive military documents to Wikileaks. USDB officials recently blocked a packet of materials mailed to Manning because they contained "printed Internet materials, including email, of a volume exceeding five pages per day or the distribution of which may violate U.S. copyright laws," according to the EFF, a digital rights advocacy group.
However, EFF investigative researcher Dave Maass said in the blog post that he does not believe the page-limit was the issue, "since the documents [the USDB] did deliver were far longer than any of the other materials and exceeded five pages. That means that it was potentially copyright concerns that resulted in Manning's mail being censored."
The packet of material, sent by a member of Manning's support network, included several EFF blog posts on the issue of prisoners' digital rights, as well as a BuzzFeed News article on a group of South Carolina inmates who received years in solitary confinement for filming a music video while behind bars.
In a letter to the U.S. Disciplinary Barracks, EFF executive director Cindy Cohn said all of EFF's articles are released under Creative Commons and asked "that you provide these materials to Ms. Manning without delay."

The military has also blocked Manning from receiving a copy of artist Molly Crabapple's book, Drawing Blood, because of its "objectionable" content, according to a letter received by Crabapple.
Maass said "prisoners do not lose all rights when they step behind bars."
"Not only are prisoners allowed to access a wide range of news articles, legal documents, and other education materials, but as a society we should actively encourage prisoners to access materials that help them better understand their rights and the legal system," he wrote. "Prisoners like Manning who want to stay up on events that can directly impact them and others should be supported, not prevented, from accessing information."
The U.S. Disciplinary Barracks did not immediately respond to a request for comment.