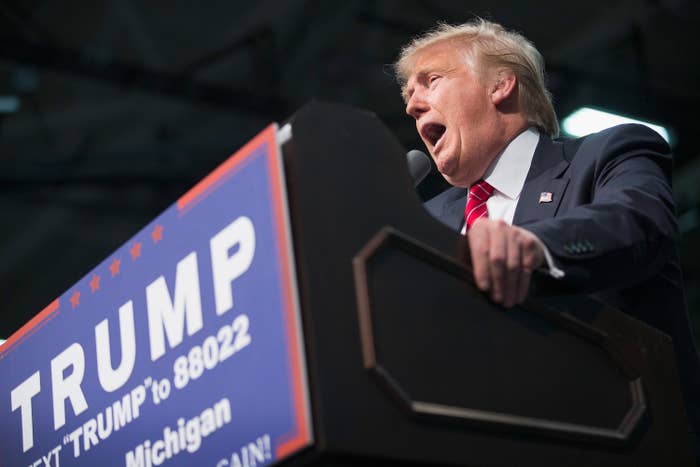 Donald Trump on Friday lent credence to a rumor being circulated online by his supporters that Marco Rubio took a prescription pill while on stage at CNN's debate in Texas.
In recent weeks, Trump supporters have shared video online of Rubio at the debate taking something from his pocket and putting it in his mouth — and insinuating that he abuses prescription drugs. A Rubio campaign spokesperson told BuzzFeed News that Rubio was taking an Advil during the debate.
Here's one instance of someone on Twitter spreading the rumor:
Asked about the rumors by radio host Howie Carr, Trump said "there's something going on" with Rubio.
CARR: Is Rubio—have you seen him put a pill in his mouth during the debate? We've seen some stuff on the internet.

TRUMP: There's something going on with him. There's something going on with him. I'll tell you what, when I've sat next to him and I've stood next to him and there's some strange things going with him. You know, he can't get elected dogcatcher in Florida. He's got a 67% voting miss and he can't get elected by anything, but there's something strange with him. That's what you're saying I think, right?"

CARR: Yeah, there's pictures of him on the internet putting something into his mouth in the middle of the debate when he thinks the camera's off him, but in that kind of situation the camera's really never off. I just wondered if you saw anything.

TRUMP: Yeah. I'm telling you. I was standing next to him during the debate with Christie where Christie put him down and I want to say that that was the worst meltdown I've ever seen, Howie. It was crazy.
Trump, of course, is notorious for fueling rumors and conspiracy theories, from his skepticism that Barack Obama was born in the United States to his allegation that thousands of New Jersey Muslims cheered the World Trade Center attacks of 9/11.