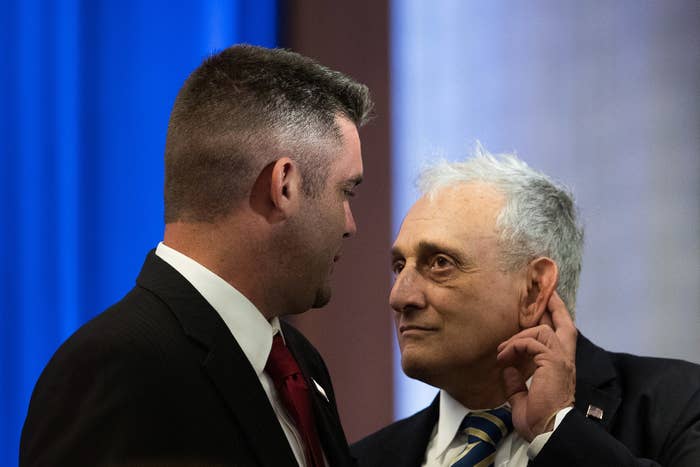 Carl Paladino, the co-chair for Donald Trump's campaign in New York, defended the Republican nominee's attacks on Khizr Khan, whose son died in Iraq in 2004, saying Khan doesn't deserve the title of a Gold Star parent because he's shown himself to be "anti-American" and may be a supporter of "the ISIS-type of attitude against America."

"We've got an un-indicted felon as his opponent and you're talking about Khan, about him making a remark about this man," Paladino, a former New York gubernatorial candidate, told interviewer Connell McShane on Imus in the Morning. "All right, I don't care if he's a Gold Star parent. He certainly doesn't deserve that title, OK, if he's as anti-American as he's illustrated in his speeches and in his discussion. I mean, if he's a member of the Muslim Brotherhood or supporting, you know, the ISIS-type of attitude against America, there's no reason for Donald Trump to have to honor this man."
Khan, a lawyer and longtime critic of Trump, has said that "is the time for us American Muslims to rat out any traitor who walks amongst us. This is high time for Muslims to stand firm [against terrorists]." In his DNC speech, Khan praised American democracy and the "hard work and goodness of this country"; then criticized Trump on the grounds of his rhetoric toward religious and ethnic minorities, as well as women; he then asked Trump if he had read the U.S. Constitution, and then held up his pocket-sized copy. His son, an Army captain, was killed by a car bomb in Iraq.
Paladino also fueled conspiracy theories that Hillary Clinton is hiding health problems, calling her "devious" for doing so.
"If you sit there and just dissect Donald Trump, you may feel that way," Paladino said of criticisms of Trump. "But if you're really looking at what's been exposed about Hillary and Hillary's demeanor. I mean, just look at the deviousness, if it is true about her health problems. I mean, how devious can a woman possibly be? And not telling the American people that she's got some sickness, she's definitely impaired."
In the interview, Paladino also reiterated his belief that President Obama is Muslim, a comment first noted by Mediaite.