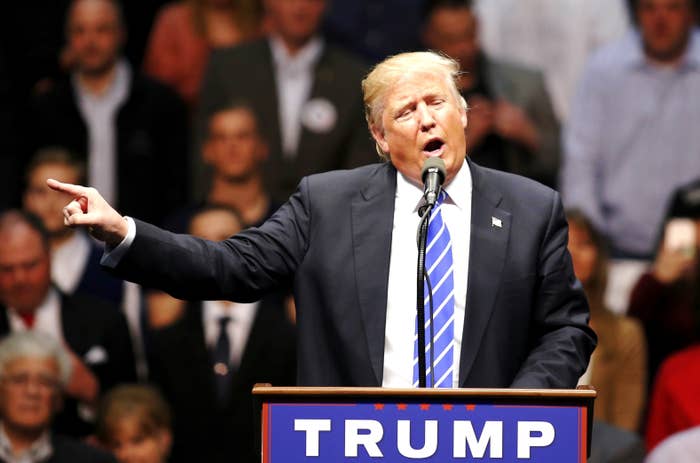 Donald Trump said on Wednesday that many people thought that his widely criticized comment — if abortion were illegal, women who get them should be punished — in a March interview with Chris Mathews was a "very good answer" "from a religious standpoint."
In a March 30 town hall with MSNBC's Chris Mathews, Trump said, "There has to be some form of punishment" for women who get abortions, garnering immediate criticism from all sides of the political debate, including strong objections from a wide array of pro-life groups.
Trump's campaign later released a statement saying that the Republican frontrunner did not believe that women should be punished for getting abortions, part of a three-day period where Trump articulated several positions on the issue.
On Wednesday on The Tom Bauerle Show on New York radio, the host asked why Trump agreed to be interview by Mathews and why he did not have a "better answer ready for the inevitable question on abortion."
"First of all, from a religious standpoint, you know — and as you know, I redefined that answer — but many people, very religious people, thought that, because it was a hypothetical question, and they thought that answer was a very good answer," Trump replied. "Because from a religious standpoint and as a hypothetical question, posed the way it was posed, a lot of people thought that was a very good, a very good answer."
"I wanted to pull it back, because I thought it was too strong an answer actually. And I did pull it back. And it's been, I haven't heard about, frankly, since you mentioned it right now," he continued, adding that he has "never had a problem with Chris Mathews."
In the interview, Trump also commented on his propensity for tweeting controversial things, saying that "every once in a while you hit a clinker."
"You know, I've been good at social media," Trump said. "Now, you give out hundreds of tweets and some retweets and every once in a while you hit a clinker. And that can happen. But that can happen with life."