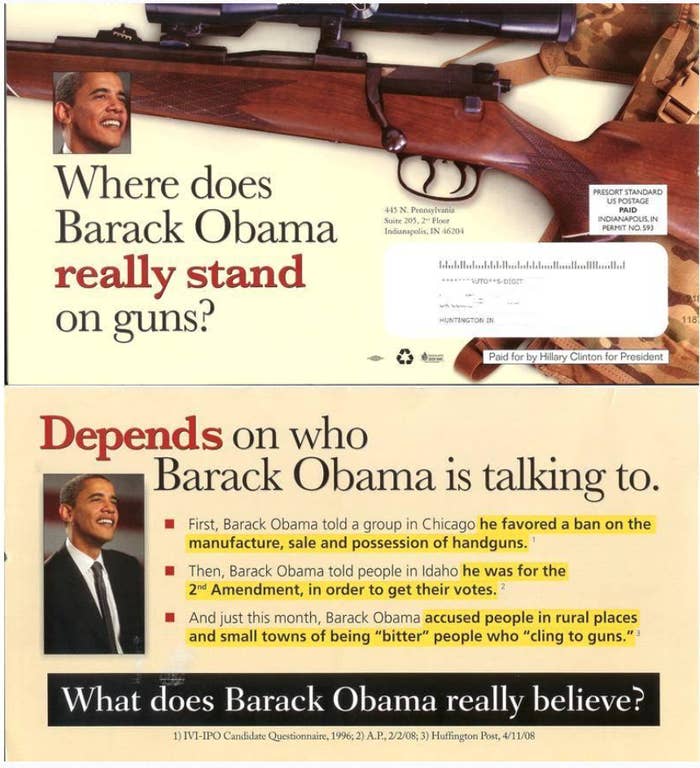 "What does Barack Obama really believe?" a mail ad from Hillary Clinton's 2008 presidential campaign asked of her Democratic primary opponent's position on guns.
The mailer attacked Obama for first--according to the ad--telling a group in Chicago he supported a ban on handguns. The ad references a candidate questionnaire from 1996, when Obama was running for State Senate, in which he was listed as supporting a ban on 'the manufacture, sale, and possession of handguns.' It then notes he told an Idaho crowd that he supported the Second Amendment and finally hits him for a comment he made about about people in "small towns in Pennsylvania" who "cling to guns or religion."
The campaign sent out the mailer in May, a month after Clinton called Obama's "cling to guns" remark "elitist," saying that guns were "part of culture," and telling the story of how her father taught her to shoot in her childhood. Obama shot back, accusing her of "talking like she's Annie Oakley."
Clinton has been a strong proponent of gun control this election cycle, calling for a "national movement" to take on the National Rifle Association and universal background checks for gun-buyers. She has alluded to her support for the gun control policies of her husband Bill Clinton's presidential administration, from the federal assault weapons ban to the Brady Bill, which mandated federal background checks on firearm purchases.
The 2008 mailer prominently displays a picture of a gun, which, according to Politico, was a nonexistent left-handed model of an expensive German rifle.
The Clinton campaign declined a request for comment.
UPDATE: This post has been updated to clarify what the ad says about Obama and handguns.