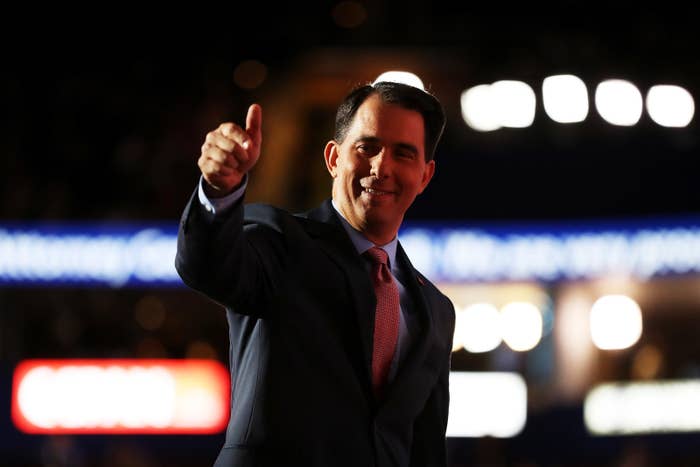 Wisconsin Gov. Scott Walker said on Thursday that he is frustrated with Donald Trump for attacking the family of Humayun Khan instead of Hillary Clinton.
"Even though I don't embrace or endorse everything Donald Trump has said, I certainly don't embrace or endorse every way that he's done it, I've differed with him on things," Walker said on the Jay Weber Show on 1130 WISN Wisconsin radio. "I pointed out the other day when I showed the bracelet on my arm for a Gold Star family that I will never question a Gold Star family on anything. I just think they deserve our respect far beyond politics."
He continued, "So I disagree here or there on things, but I just fundamentally—what's frustrating to me is, I wish Donald Trump would just talk about Hillary Clinton and what he's going to do to make everyday American's lives better."
Walker went on to call the Democratic nominee "fundamentally unfit to be president of the United States" and lamented that Trump had not focused on that.
"This is a woman who's just fundamentally unfit to be president of the United States," he said. "We should be talking about that contrast but instead we keep talking about these other things. I think there a clear difference out there and I just fundamentally still believe that Hillary Clinton is unfit to be president and I'm not gonna be party to seeing her get elected."
Walker also addressed reports that he will not appear at Trump's rally on Friday in Wisconsin, saying that he had already committed to being in northern Wisconsin and would campaign alongside Trump in the future.