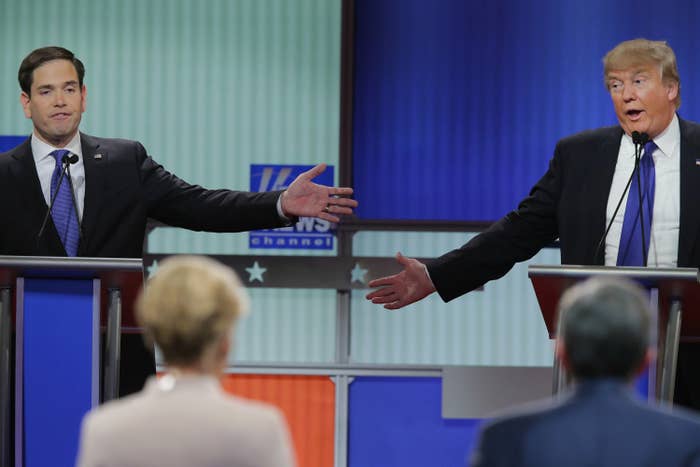 A day after committing to support Donald Trump as the Republican nominee, Marco Rubio says Trump will not be the nominee and voting for him would be a "bridge you don't ever want to have to cross."
During the debate on Thursday, Rubio said, "I'll support the Republican nominee. I'll support Donald if he's the Republican nominee," arguing that Trump was preferable to Hillary Clinton or Bernie Sanders.
Asked on Friday in an interview with Kentucky Sports Radio about the apparent contradiction between Rubio's support for the growing "#NeverTrump" movement among Republicans and his answer at the debate, Rubio said, "Well, I mean, for me, I'm never voting for Donald Trump in the Republican primary."
Pressed further, Rubio said the question itself was a reflection of how Trump has divided the Republican party.
"I get it, what you're asking me, I get the question," the Florida senator said. "What it opens our eyes to is think about that. If it was anybody else in first place right now, we would not be asked this question. I mean, you don't see Bernie Sanders being asked if he would vote for Hillary Clinton. You know, if the frontrunner was me or anybody else in this race, you wouldn't have people asking that question. They're asking it about Trump for a reason. And that is, he is fracturing the Republican Party and the conservative movement."
He added, "Now, if— I think my answer's a reflection of how bad I think Hillary Clinton is. I don't want us to reach this choice here, where it's Donald Trump or Hillary Clinton. I don't want people to have to have a choice between two people they don't like or a choice of staying home. I want them to have a choice they can be excited about."
The host then asked him directly whether he would vote for Trump or stay home if the nominees are Clinton and Trump. Rubio replied that he didn't "even want to imagine that right now."
"Nah, I mean, you're--I get it," he said. "I get the question you're asking me. I've said it last—I'm gonna vote for the nominee. It's not gonna be Donald Trump. I can't even imagine that. I don't even want to imagine that right now to be honest with you. I don't believe it's gonna happen. I think there are enough people like your mom, in Kentucky, and around the country to keep this from happening. It's one of those bridges you don't ever want to have to cross. And so I don't even want to think about it right now. Other than to say to you, 'It's not going to happen.'"