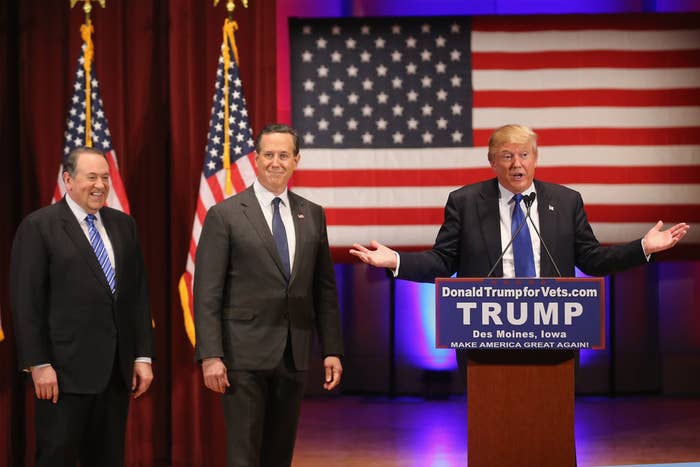 Rick Santorum said on Wednesday that he would not endorse Donald Trump yet, saying that he would "sit on sidelines" of the presidential race for the time being.
In an interview on the Dom Giordano Program on Pennsylvania radio the morning after Trump became the presumptive Republican nominee, the former presidential candidate and Marco Rubio supporter claimed that he did not want to be a "kiss of death for anybody."
"You know, at this point, I sort of have made the decision after I ran myself and lost and endorsed another guy and lost," Santorum said. "I don't want to be a kiss of death for anybody at this point so I'm gonna sit on the sidelines."
In the interview, Santorum also said there were concerns about whether Trump could be trusted to hold the presidency, though he did not say they were the reason he was withholding his endorsement.
"The question is, is Donald Trump someone that you can have confidence in and trust to be in the position that he's running for?" he said. "And I think there's a concern there. But I don't think it's an insurmountable concern. But I think there is a concern there."
Still, Santorum, a former Pennsylvania senator, said that, with Trump as the nominee, Pennsylvania was in play.
"It's absolutely in play. Absolutely. As someone who's won the state twice and delivered a message that, you know, much more economically populist than the typical Republican candidate, it's a message that very much, it sells very, very well," Santorum said, citing various regions of the state where the message could succeed.
Asked what he would do instead of formally stumping for the GOP candidate, Santorum said he would focus on making sure that "we maintain the party platform and that we have a conservative, you know, a person who's running as a conservative for president."