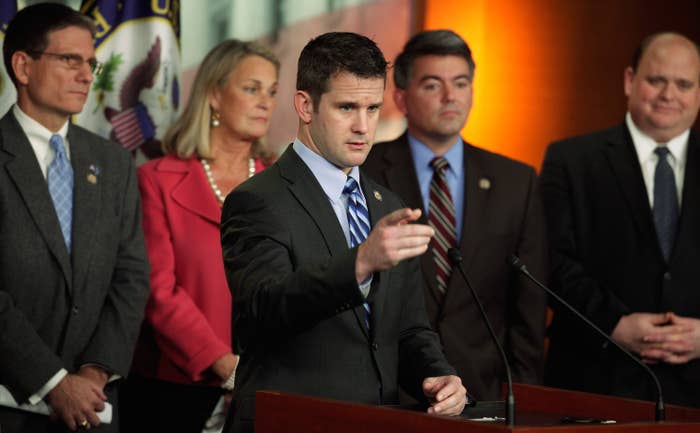 Rep. Adam Kinzinger of Illinois, a former Air Force pilot who served in Iraq and Afghanistan, said on Thursday that Donald Trump is openly advocating war crimes that would cause the soldiers who obeyed his orders to be jailed.
"If you're a private in the field and your major or your colonel orders you to do something that is a war crime, you actually bear responsibility, you can't say that the colonel made me do it," said Kinzinger, who is supporting Marco Rubio. "What Donald Trump, as wanting to be president of the United States is advocating, is a war crime that would force every soldier that did, i.e. killed the relatives of terrorists, tortured regardless of whether it not it works, the things that he's advocating would force all of these people in jail."
Speaking on the Steve Cochran Show on Chicago radio, Kinzinger argued that Trump was either "all bluster" or comparable to Italian fascist dictator Benito Mussolini.
"Now, you have to do one of two things," he said. "You either believe that Donald trump is all bluster which most people do but for some reason they like that, or you take him at his word in which case he is advocating, like what Benito Mussolini did, war crimes."
Kinzinger also said that what Trump was calling for "makes me sick."
"For the leading Republican presidential candidate to advocate war crimes, which he does openly, just advocates war crimes, doesn't matter, makes me sick really," he said. "Especially as somebody that's defended the country. It's just terrible."
Later in the interview, Kinzinger said, "I can't see myself supporting Donald Trump. I never say definitively because who knows in the future. But I have no intention of supporting Donald Trump."
As for his preferred candidate, Rubio, Kinzinger said he felt "pretty good" about the Florida senator's chances of winning his home state's primary, but that "I'd definitely rather be in Trump's position politically."