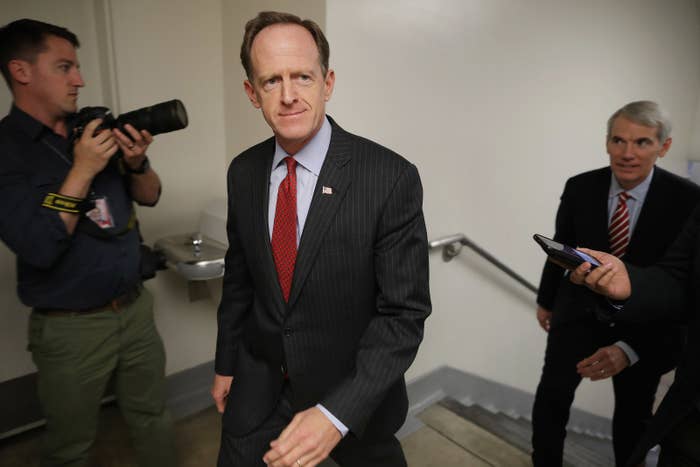 Pennsylvania Sen. Pat Toomey blasted the White House on Wednesday after the Wall Street Journal reported that the Obama administration sent $400 million in cash to Iran that coincided roughly with the release of four detained Americans.

"This is a very big deal, a very big change in longstanding US policy," said Toomey, a Republican. "When you pay ransoms to people who kidnap Americans, you put a price on all Americans. This administration has created an incentive for people to kidnap Americans. And by the way, the Iranians continue to take prisoners, why should we be surprised."
Speaking on the Dom Giordano Program on 1210 WPHT Philadelphia radio, Toomey, who has been a staunch critic of the nuclear deal with Iran, also said that the timing of the transaction suggests that the White House takes the public "for idiots."
"It's just unbelievable, Dom," he said. "They take us for idiots, I guess, right? I mean, the idea that this is all a big coincidence. That all of this money being handed over to Ayatollah's and their release of four American hostages, that's just a coincidence, Dom. Why should you believe anything to the contrary? It's unbelievable."
In the interview, Toomey also further commented on Republican presidential nominee Donald Trump's attacks on the family of Humayun Khan, a soldier who died in 2004 in Iraq.
"When a family loses a child in the service of this country, when a young man loses his life on the battlefield in an attempt to save the lives of his fellow soldiers and in service to all of us, the only thing you can say to that family is we are enormously grateful for your sacrifice and we understand your grief," he said. "Period. I don't think it makes any sense to criticize the family."
"Yeah, I mean, that's gonna happen," Toomey added when asked if Trump had a right to respond to Khizr Khan's criticisms. "I think rather than getting into an argument with Mr. Khan, I would rather observe the incredible failings of Hillary Clinton. What sacrifice has Hillary Clinton ever made?"