Owner Of Brooklyn Kids Store Where Clinton Bought Dress Supports Sanders
"Hillary Clinton is, you know, more in the game with all of the corporations, which I'm against."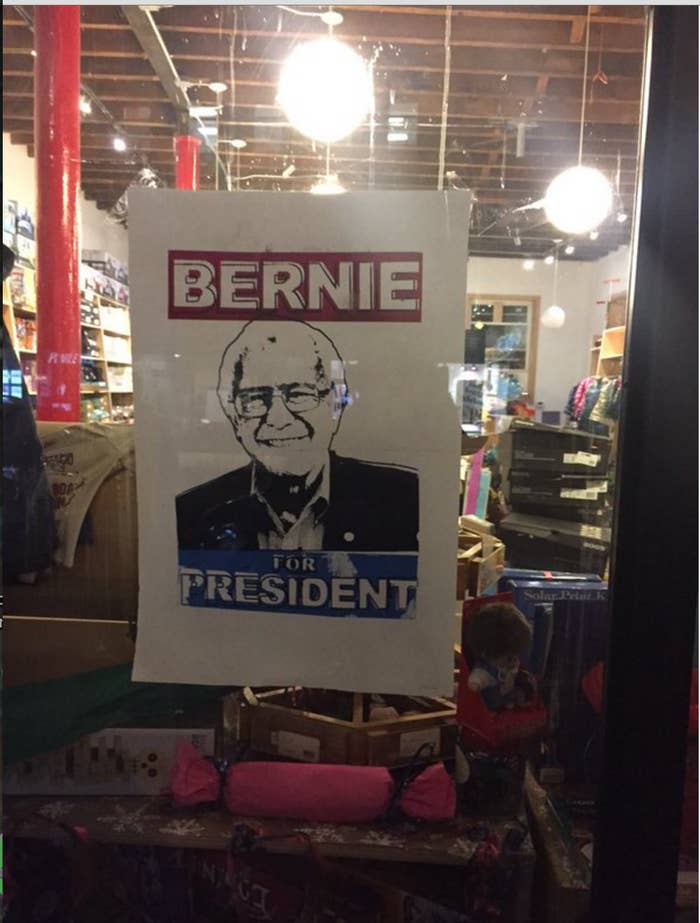 Loretta Gendville, the owner of a small Brooklyn chain of kids stores where Hillary Clinton bought her granddaughter a dress this spring, isn't going to support the Democratic front-runner just because she's a customer.
A "Bernie for President" poster, which Gendville found in the free section on Craigslist, is displayed in the front of the Park Slope location of Area Kids, a store that sells clothing and toys, and describes itself as "a proponent of creativity, play, and sustainable living." They ask customers to "BYOB" (bring your own bag).
"I mean, Hillary Clinton came into my store, but I don't have Clinton signs," she told BuzzFeed News on Monday. "I guess I would say that I, as the owner of Area Kids, am supporting Bernie Sanders."
Gendville at first said she was still "on the fence" and spoke admiringly of the "magnetism" of Hillary and Bill Clinton, but also offered a strong critique of the former first lady.
"He's more, you know, anti-corporation," Gendville said of Sanders. "Hillary Clinton is, you know, more in the game with all of the corporations, which I'm against. She's bankrolled by the corporations, all the funding and stuff."
"But I do like Hillary Clinton," she added. "I think she's a really smart lady."
Gendville said she was told beforehand that Clinton was coming to her store this past May, but she wasn't in the store when the former secretary of state visited the location in Brooklyn Heights to buy her granddaughter a $29.50 dress from the "Tea Collection" line. An employee of that store, who wasn't there either at the time, said her colleague on duty was "a little freaked out" when the Secret Service came through the front door. There are no Sanders posters to be found at the Brooklyn Heights location.
Despite her preference for Sanders, Gendville's greatest wish this election cycle is that a certain New Yorker is kept out of the nation's highest office.
"We just don't want Trump," she said.