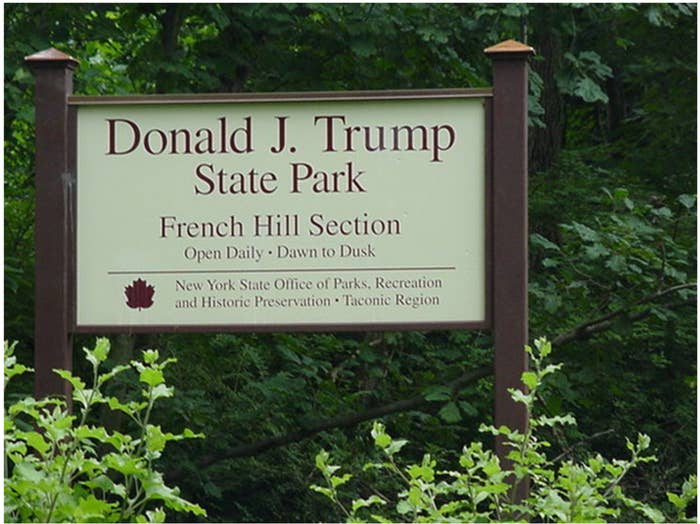 Donald Trump donated over 430 acres of land to New York State on the condition that his name be "prominently displayed," according to a 2006 letter from Trump's lawyer obtained by BuzzFeed News.
But the state legislator fighting to strip the park of its name, State Sen. Daniel Squadron, says the agreement isn't binding, and that he'll continue to push for a change to the abandoned park, known mostly for signs that advertise its presence along roads in New York City's northern suburbs.
The Feb. 24, 2006 letter from the lawyer representing Trump, Henry Hocherman, says that one condition of Trump's donation of the land in Putnam and Westchester counties to the state was that the property "bear a name which includes Mr. Trump's name, in acknowledgment of these gifts." The letter, which is addressed to New York State Deputy Attorney General Henry DeCotis, further says, "The name will be prominently displayed at least at each entrance to each property." The letter contains a signature showing that it was acknowledged and accepted by the state.
Squadron, who started the movement to change the name by introducing legislation in December, said the agreement only makes him more determined to re-name the park.
Squadron said that his office has been in touch with the state parks commissioner and that nobody from that department had disagreed with the assessment that the name could still be changed. The parks office declined a request for comment.
Since Squadron began his push to rename the park, he has been joined by Assemblyman Charles Lavine, who introduced a bill in the state assembly, and by New York Congressman Sean Patrick Maloney, who circulated a petition to rename the park after folk singer Pete Seeger.
Trump insists that the state keep his name on the park. A spokeswoman for his presidential campaign in December cited an agreement between Trump and New York State, telling the New York Times, "The state cannot remove his name."
Squadron argues the state isn't bound by those emails.
"I reject the argument that a public-spirited donation should require a transaction," Squadron said. "That's the purpose of a donation. So we absolutely should say thank you for the land but we should not be handcuffed for accepting it."