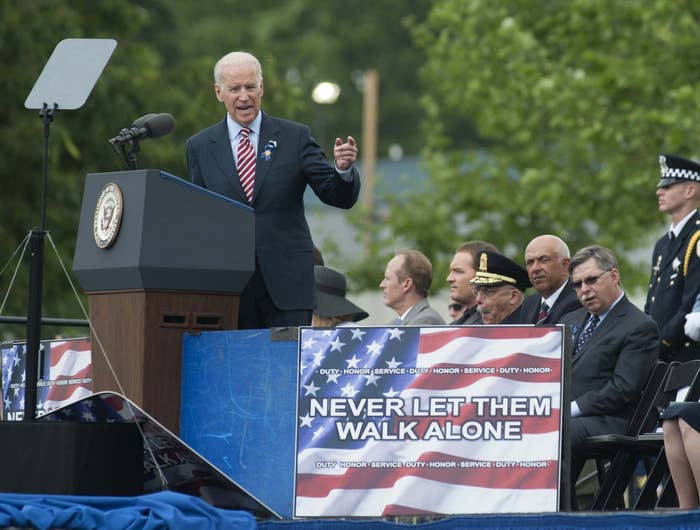 In 2002, the FBI reported that the crime rate in the United States had increased for the first time in a decade. Weeks later, in a op-ed for the Delaware State News, then-Senator Joe Biden wrote that the solution for rising crime was simple: more police on the street.
"We can fight terror and fight violent crime at the same time, but we need to keep focused on what works," he argued. "And what works in the fight against crime? It's simple -- more police on the streets. I've fought to help local law enforcement make our streets safer throughout my 30 year career in public service."
He continued, "Put a cop on three of four corners and guess where the crime is going to be committed? On the fourth corner, where the cop isn't. More cops clearly means less crime."
As Biden mulls a run for the Democratic presidential nomination in 2016, his past positions on criminal justice are potentially one of his greatest vulnerabilities. A series of well-publicized deaths of people of color at the hands of white cops have significantly shifted the conversation on crime, and spawned a national movement, Black Lives Matter. Hillary Clinton, who in her role as first lady also advocated for tough-on-crime measures, devoted her first major policy speech as a presidential candidate this year to what she called "hard truths about race and justice in America."
Biden's criminal justice positions were not out of step at the time with most in the Democratic party, but for Biden, the issue is one of the hallmarks of his legislative career.
"We are safer and more secure today than we have been in decades, thanks to your hard work and dedication," Biden told a group of police officers in January 1999, citing their presence, funded by the 1994 crime bill he authored, as the reason for a decrease in the murder rate.
For years after its implementation, through his 2008 primary defeat, Biden ferociously advocated the benefits of that bill, sometimes called the Biden Crime Law, which added 100,000 officers to the police force and offered federal money to states to build new prisons, on the condition that they agreed to force inmates to serve out their whole sentences.
"I am proud that with Biden Crime Law funds we have attacked crime the smart way--putting more officers in more than 20 local police departments statewide," Biden said, according to a February 1999 press release posted on his Senate website, which BuzzFeed News accessed through the Web Archive, a site that stores old web pages.
Biden often touted the Community Oriented Policing Services (COPS) program, which allocated funds to state and local police forces to hire and train more officers, as one of the law's main successes, saying in July of 1999 that "you can't find another program as meaningful as the COPS program that has worked so well."
"Now we must continue our work to keep more police on the beat and our streets safe," he added.
Biden's Senate website markets his proposal to add "up to 50,000 more officers nationwide." It was an idea he reiterated during his 2008 presidential candidacy, as he continued to trumpet the benefits of the law he wrote.
"In the 1990s, the Biden Crime Bill added 100,000 cops to America's streets," his 2008 campaign website reads. "As a result, murder and violent crime rates went down eight years in a row. George Bush's cuts to the program have put America at risk and crime rates are back on the rise. Joe Biden wants to put 50,000 more cops on the street and add 1,000 more FBI agents to address the rise in crime and threats of terrorism."
Biden repeatedly criticized the Bush administration in the 2000s for seeking major cuts to COPS and other law enforcement programs.
"Our police officers who walk the beat in every city and town across America are the backbone of homeland security," he wrote, pegging the issue to that of terrorism in a May 2002 press release. "Whenever we need them, our police officers never hesitate to respond. Now they need us, and we should not hesitate to respond to law enforcement by giving them the tools they need to protect our communities. Let's save the COPS program, and, in so doing, say thank you to every cop on the street."
Biden also boasted of his support for "making criminals serve their full terms."
"Joe Biden has written legislation that provides funds to states for building prisons if they agree to keep their violent offenders behind bars for at least 85 percent of their sentence, currently state prisoners serve only 40 percent of their sentences behind bars on average," his 2008 campaign website said.
Some of the provisions of Biden's crime bill are not completely out of step with the current day Democratic Party. The law bill provided funding for drug courts, which, as he said in an October 2000 statement, used "a mix of sanctions and incentives" to help nonviolent drug offenders "get their acts together," "rather than just churning people through the revolving door of the criminal justice system."
Yet Biden's overall attitude towards crime was that more policing was the answer to rising crime.
"Cutting crime is like cutting the grass -- just because you cut it down, doesn't mean it's going to stay there," he wrote in the August 2002 op-ed. "You can't cut your grass on Saturday and expect it to look good a month later. Nor can you watch crime drop one year and expect it to keep going down for a decade."