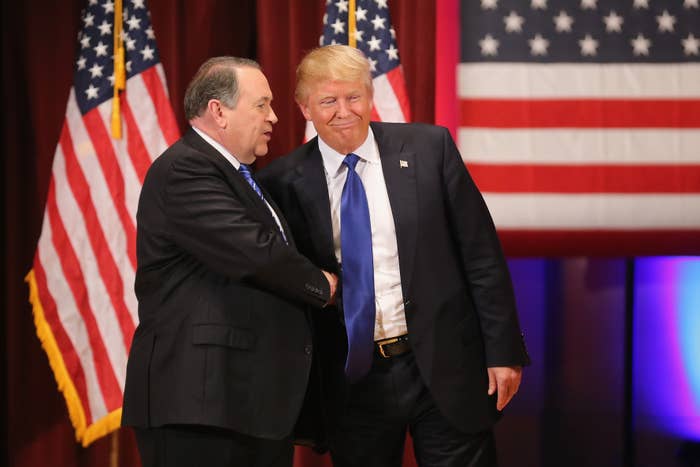 Former presidential candidate and current Donald Trump supporter Mike Huckabee said on Monday that the presumptive Republican nominee hasn't thought through every policy issue and won't have to if he's elected president.
"Donald Trump has never run for office before," Huckabee said on The Bernie and Sid Show on New York radio. "I think a lot of people are expecting him to be this professional at politics where he has thought through the details of every issue. He hasn't. You know what? As president, he doesn't have to."
Huckabee made the comments while downplaying the significance of Trump's shift on the question of raising the minimum wage. After having opposed the movement to raise the minimum wage during the primary campaign, Trump said over the weekend that he's open to it.
"He surrounds himself with people who have thought through," Huckabee continued of Trump's policy knowledge. "But his goal as president is to keep his eye on the big picture. Make the main thing the main thing. And I believe that's why Donald Trump will be a good president is because he will keep his focus on the big things. It's these interviews that get him off on minutia and details that, frankly, he's gotta negotiate it through Congress anyway."
In the interview, Huckabee argued that Speaker of the House Paul Ryan should step down as chair of the Republican National Convention in July if he doesn't first pledge support to Trump. He also expressed disappointment in Mitt Romney for opposing Trump's candidacy.
"I'm really just disappointed that Mitt now is leading the #NeverTrump movement," said the former Arkansas Gov. "And I'm thinking, he took Trump's contribution, he took Trump's endorsement, he had Trump making robo-calls for him, and a little bit of loyalty in this business goes a long way."
Asked about Trump's personal attacks on Bill and Hillary Clinton, which have focused largely on the former president's sexual history, Huckabee said, "There's a lot to what he's saying."
He then explained why Trump would defeat Clinton by comparing her campaign to the British army in the Revolutionary War.
"There'll march in red coats, vivid red coats in an open field," he said. "And they will believe that because of their numbers that they cannot be defeated. What they don't understand is that Donald Trump will hit her in places she's never been hit before. He will come after her in ways she's never known. She does not handle the unexpected very well."