Mike Huckabee On Free Trade: From Evangelist To Populist Critic
Huckabee said this year that workers would "take it in the backside" under President Obama's trade deal. As governor of Arkansas, he went to Japan and Mexico to foster trade ties and wrote columns touting the benefits of free trade.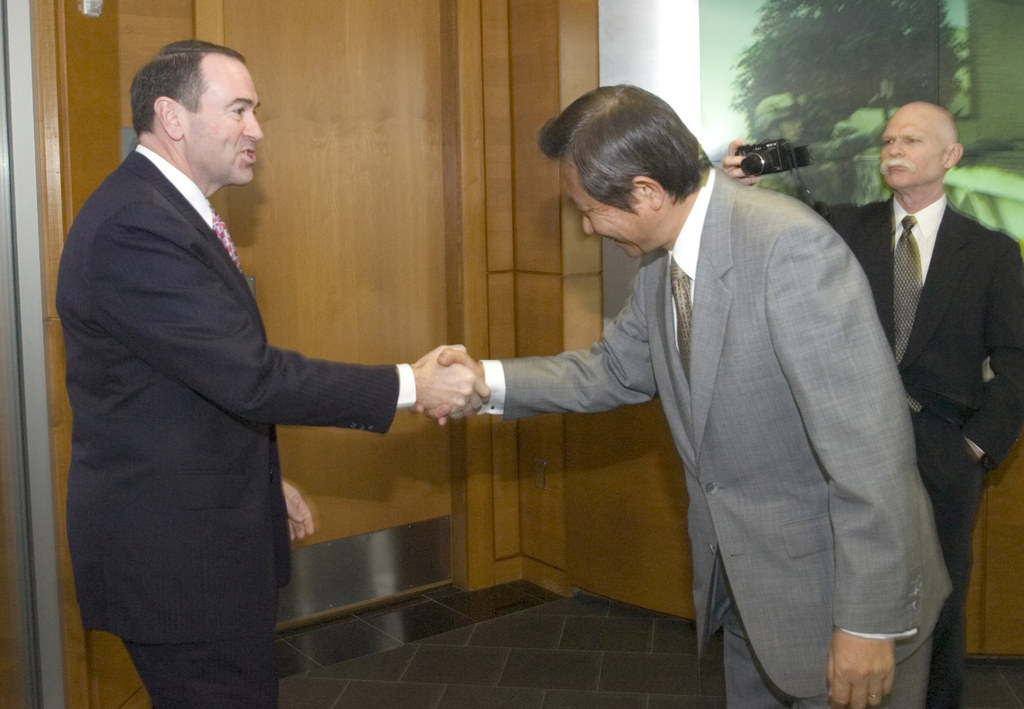 When Mike Huckabee announced that he was running for the Republican presidential nomination, he also declared his opposition to President Obama's trade agenda.
"We don't create good jobs for Americans by entering into unbalanced trade deals that forego Congressional scrutiny and looking the other way as the law is ignored so we can import low wage labor, undercut American workers, and drive wages lower than the Dead Sea," he said.
Though the exact terms of the deal, called the Trans-Pacific Partnership, are still being negotiated, it is expected to reduce tariffs on a variety of goods and includes countries from Mexico to Japan.
Huckabee writes on his campaign website that he supports "free, fair trade" but says he is sick of "America's workers getting punched in the gut."
Speaking to reporters earlier this month, Huckabee said American workers would suffer from a bad trade deal.
"When there's a cronies involved in getting a special deal, and when other countries are cheating, and Americans lose jobs, I'd like to think the U.S. government would stand up to the U.S. worker rather than let them take it in the backside and somehow just have to tough it out," Huckabee said.
As governor of Arkansas, however, Huckabee's message on free trade was much more positive. He wrote columns espousing its benefits and went on missions to Mexico and Japan to establish relationships between Arkansas and foreign businesses.
Huckabee wrote a column in 2003 after a trip to Mexico about the "global impact" Arkansas businesses have had on the Mexican economy and the positive contribution Hispanic migrants have made to the Arkansas economy.
"Percentagewise, Arkansas has the fastest-growing Hispanic population in the country. Arkansas industries, especially our burgeoning poultry industry, have offered jobs that often are filled by immigrants from Mexico. The rapid growth of our state's Hispanic population has led to complex social issues. Heavy migration can increase the demand for state services. But most of those who've moved to the state in recent years are hard-working people with strong family ties. They've made a contribution to our economy and revitalized parts of numerous Arkansas towns that previously were dying. I was reminded again during the trip to Mexico of how proud I am of the way the majority of Arkansans have received these Hispanic immigrants. We respect hard work in Arkansas. We respect those who want to provide a better life for their children and grandchildren. For decades, we treated our state's African-American population poorly. The Hispanic influx gives us a second chance to prove what kind of people we really are.

"I looked into the eyes of rural Mexican children, and my heart was moved. These children often don't have enough to eat, don't have good clothes and don't have a dry place to sleep at night. They have little chance of ever breaking out of the cycle of poverty. I was humbled at the thought of how much Americans have. And I was reminded we can give something back by offering a helping hand to those who follow the American dream along Interstate 30 and Interstate 40 into Arkansas. I also was reminded of the global impact our small state and the companies based here have had."
In the column, Huckabee touted the success Arkansas companies were having in Mexico, and pointed out how many workers Tyson Foods employed in the country.
"There are almost 150 Arkansas companies now exporting $250 million worth of goods annually to Mexico. Arkansas' exports to Mexico have almost tripled since before the North American Free Trade Agreement took effect in 1994. Wal-Mart entered into a joint venture with Cifra with the opening of a Sam's Club in Mexico City in 1991. Mexico became the first country in the company's international division. Wal-Mart acquired a majority position in Cifra in 1997. In February 2000, the name of the company was changed to Wal-Mart de Mexico. Wal-Mart now operates more than 600 units with annual sales of $10.1 billion. The Wal-Mart stock is the second most traded stock on the Mexican stock exchange. The Bentonville company is represented in 31 of the 36 Mexican states. Tyson Foods of Springdale, meanwhile, began operating in Mexico in 1994 through a joint venture. Tyson now processes millions of chickens and turkeys annually in the country. The company has almost 4,900 employees in Mexico and has invested more than $50 million there during the past three years.

"Companies such as Wal-Mart and Tyson Foods cause Mexicans and others around the world to realize Arkansas truly is the Land of Opportunity. These companies began in small Arkansas towns and became global leaders in changing how people shop, eat and live. I also had a chance to spend time with representatives from a number of smaller Arkansas-based businesses that sell their products and services in Mexico. We're doing everything possible to expand the market for Arkansas products in other countries."
In 2006, Huckabee wrote a column while on a trade mission to Taiwan, arguing that the economy was global and Arkansas was competing with countries around the world.
"Our state doesn't just have to compete with Iowa or Indiana for economic development and revenue. Today's economy is global and we're competing with different countries across the world. I don't have any unrealistic expectations of what this trip might mean for Arkansas, but I am excited at the possibilities and encouraged by the friendships we've already made."
"Any relationship we can foster in the international business climate will be important in securing the economic future of this state.This trip is intended to build deep, strong relationships with our friends in the East and hopefully encourage these friends to consider Arkansas as a prime location for companies. We need to let them know Arkansas is interested and open for business!"
Huckabee's message on trade began to shift when he left office, focusing instead on some of the challenges a free trade environment created for American workers.
In his 2007 book, From Hope to Higher Ground, Huckabee wrote that the biggest challenge to free trade was making it fair, and pointed to regulatory burdens in the U.S. as factors that drive jobs overseas.
At a 2007 campaign stop in Iowa, Huckabee talked about the loss of American jobs and the unfair trade environment.
"If somebody in the presidency doesn't begin to understand that we can't have free trade if it's not fair trade, we're going to continually see people who have worked for 20 and 30 years for companies one day walk in and get the pink slip and told 'I'm sorry but everything you spent your life working for is no longer here.'"
Today, Huckabee says trade needs to be expanded, but his argument against the TPP is much more focused on the negative effects often ascribed to free trade agreements.
"Lastly, on immigration and currency manipulation, a poorly crafted TPP could make serious problems worse. It could give this Administration the ability to increase unilaterally the number of foreign workers. Given President Obama's failure to tackle existing currency manipulation issues, artificially cheap imports will continue to undermine American manufacturing. We cannot allow any new deal-making unless the TPA sets basic and nonnegotiable ground rules that protect American workers.

"We need to expand trade and work with partners across the globe to grow our economy. However, this Administration cannot be trusted to negotiate a deal that makes sense for American workers. Congress needs to wake up, hold President Obama accountable, slam on the brakes, and do this right."
A Huckabee spokeswoman did not respond to an emailed request for comment.