Fiorina: Blaming Me For Iran Sales Is Like Blaming Radio Host For Listeners' Actions
Fiorina added that the HP subsidiary responsible for sales to Iran was named "Wholesaler of the Year" after she left the company. It earned the title in 2003. She was fired in 2005.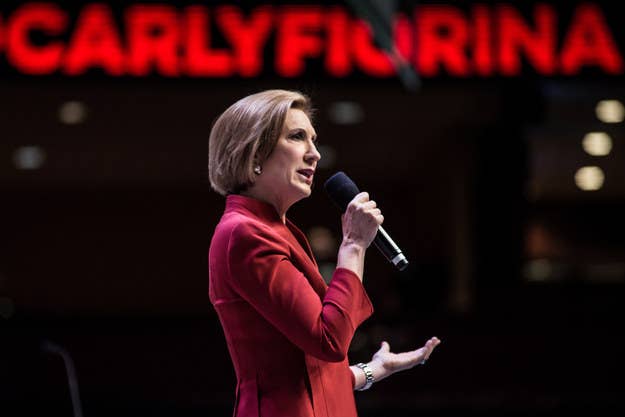 Republican presidential candidate and former Hewlett-Packard CEO Carly Fiorina told an Iowa radio host Tuesday that saying that she should have known and done something about a European subsidiary of Hewlett-Packard making sales to Iran was like saying the same about the host "if one of your listeners does something wrong out there in your name."
"We sell products to a customer," Fiorina said to Iowa radio host Simon Conway. "And that customer was then doing business with another company. Both of those customers were doing something wrong. It would be a little bit like saying if one of your listeners does something wrong out there in your name, you should know about it and you should do something about it."
The Republican presidential candidate was elaborating on comments she made on Sunday, when she told Fox News that HP had "a larger budget than any one of our 50 states" and that it was "impossible to ensure that nothing wrong ever happens."
She said then that "neither I nor anyone else in management knew about it and the facts of the matter were the European subsidiary apparently was doing business with another company in the Middle East. That company was doing business with another company that was doing business with Iran. And when the company discovered this three years after I left, they cut off all ties with those companies."
On Tuesday, Fiorina bristled when Conway said her answer reminded him of President Obama "talking about various issues, saying, 'Yeah, I found out about it when I saw it in the newspaper just like you."
"No, no, no, Simon, that is a completely unfair comparison," Fiorina responded, adding that the subsidiary, which is called Redington Gulf, was "like a customer" and that blaming her for its wrongdoing would be like blaming the host for the wrongdoing of a listener.
She went on to argue that comparing her claims of ignorance to those of President Obama made her "disappointed" in Conway.
"President Obama, on the other hand, has an Attorney General running a Fast and Furious gun-running program and he'd darn well better know about it," Fiorina said. "These are very different comparisons and frankly I'm disappointed in you, that you would make that comparison."
Conway went on to ask about the subsidiary being named "Wholesaler of the Year."
"That was after my time," Fiorina said. "So I actually am not aware of that. I mean, apparently they were named that, but I don't know that. You know, it was after my time there. I can't speak to that."
Redington Gulf was named "Wholesaler of the Year" in 2003. Fiorina was fired from her post at HP in 2005.