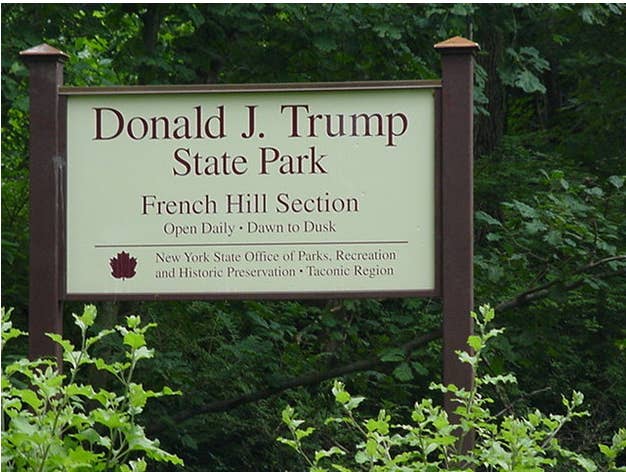 New York Gov. Andrew Cuomo Tuesday avoided a small but symbolic question facing his administration: Whether to keep high-profile signs celebrating Donald Trump on New York roadways.
State legislators led by Senator Daniel Squadron are trying to change the name of a 436-acre park north of New York City, and Assemblyman Charles Lavine pushed Cuomo to take action in a letter.
"Oh, I don't know. I don't get into signage," Cuomo said in response to a question about Trump and the park, according to The Journal News.
One potential obstacle to renaming the park could be a 2005 agreement between New York State and Trump, reported by BuzzFeed News, in which the state agreed that the park would bear and prominently display the name of the real estate tycoon. George Pataki, the governor at the time of the agreement, has said of the park, "I wish it didn't have name on it."
Squadron, who said that the agreement would not deter him from seeking the name change, said in a statement to BuzzFeed News on Tuesday that he appreciates Cuomo's "continued strong condemnation of Mr. Trump's divisive rhetoric."
"I'll continue to push my legislation to rename Trump park and remove the signs, along with Assemblymember Lavine," he added.