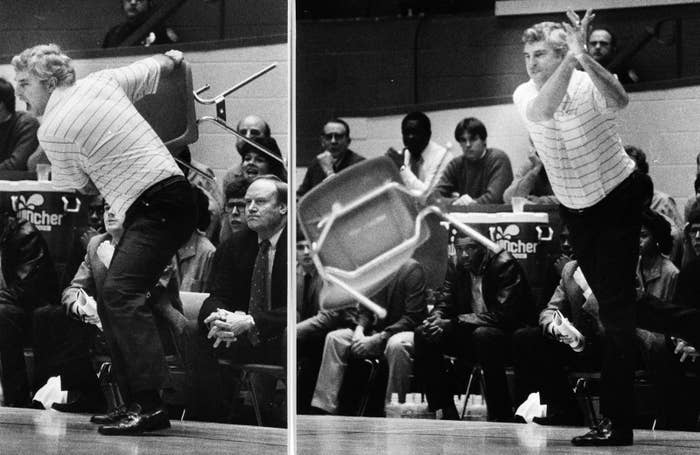 Former college basketball coach Bobby Knight said on Thursday that he's been trying to get Donald Trump to settle down.

Knight, who once famously threw a chair onto the court in the middle of the game in anger, was asked by host Dom Giordano on 1210 WPHT Philadelphia radio whether the fact that he was advising Trump to moderate himself meant that Trump was "pretty far out there."
Knight replied, "Yeah, but that's what I'm working on right now. I get a
kick out of it. From my mother to people that I've known in my lifetime,
they've tried to settle me down a little bit. Now I'm trying to do the same
thing to my man Trump. Because there's nobody even close to being as prepared
for this job as he is."
Knight, who spent much of his career coaching the Indiana Hoosiers and endorsed Trump before this year's Indiana Republican primary, also said in the interview that Trump "probably talks too much."
"Sure, he probably talks too much sometimes or he gets too upset sometimes, but so did I," Knight said. "But what he brings to the table no one else has. Trump is not national, he's international. He's known all over the world. He has established businesses all over and he has given jobs to thousands and thousands of people all over the world with these businesses that he has put together."
Knight also criticized the phenomenon, led by San Francisco 49ers quarterback Colin Kaepernick, of professional athletes kneeling during the national anthem to protest racism in America, saying that he "wouldn't tolerate that approach on my team."
"Everybody has an opportunity in America," he said. "I don't care if guys whine and complain about this or that. You know, no country affords its inhabitants the opportunities that the USA gives to its people. And that kind of thing really bothers me. Were I a coach, an owner or whatever, I wouldn't tolerate that approach on my team."