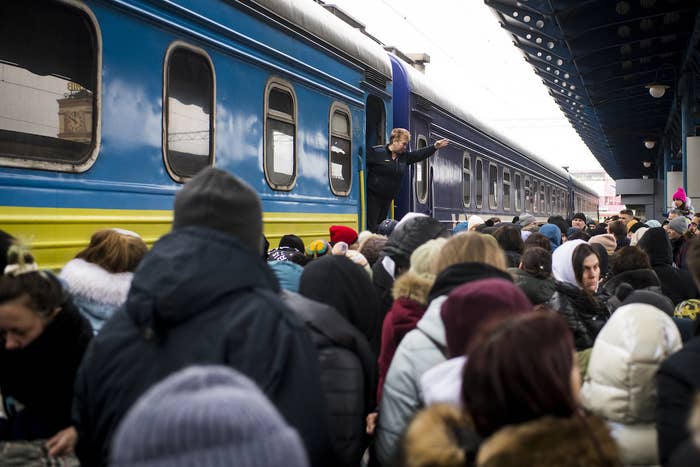 KYIV — They threw themselves, and whatever possessions they were able to take with them, onto the departing train Monday at Kyiv's central railway station as Russian forces continued to inch closer to the capital city.
In the chaos, a young mother was separated from her daughter when a police officer hoisted the girl onto the train, but it began rolling away before the woman could jump on. As she let out a blood-curdling howl, the woman ran alongside the moving car until she was able to grab the outstretched arm of another man who yanked her on board. A pink unicorn backpack the mother had slung over her shoulder didn't make it and tumbled to the tracks.
Thousands of other Ukrainians and foreigners desperately trying to flee Kyiv on Tuesday were left stranded in the freezing cold, largely without food and water, and wondering whether they would be lucky enough to secure a few square inches on some of the last trains out of the Ukrainian capital before Russian forces encircled the city and prepare to pound it with missiles and artillery fire.
In fact, as they gathered, Russia was threatening to fire missiles on government buildings and installations, including one belonging to the Security Service of Ukraine. Just two hours after BuzzFeed News' visit to the station, Russian missiles struck the Kyiv TV tower, killing five civilians and wounding five others.
The United Nations said that more than 660,000 Ukrainian civilians have fled to neighboring countries since Russian President Vladimir Putin launched his latest invasion six days ago. The international agency warned that the flood of people leaving the country could quickly become "Europe's largest refugee crisis this century."
Beneath the golden chandeliers and delicate mosaics adorning the baroque walls of the Kyiv station, many thousands more scrambled to join them. But nobody knew when trains would arrive or depart or who would be let on or be turned away, although it was mostly older people, women, and children who were given priority.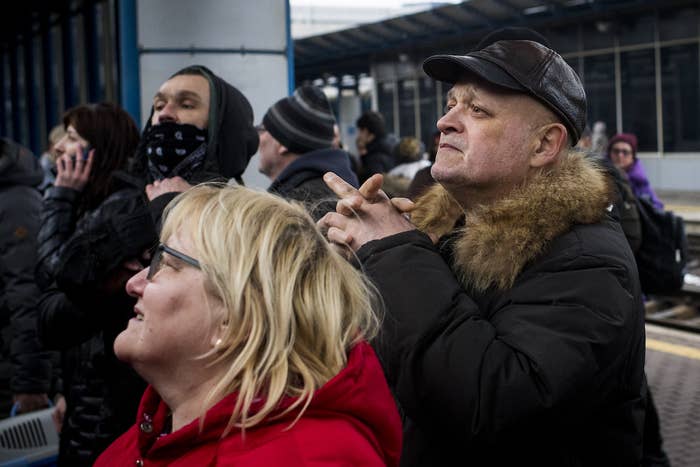 When a man tried to muscle his way on board, two police officers shoved him back and shouted at the group. Amid a skirmish on another track, a man in plain clothes held a pistol in the air in an attempt to control the crowd.
People frantically inquired with those around them about which train on which track would go to Lviv, Rakhiv, Kamyanets-Podilskiy, and other western Ukrainian cities that might provide safe haven and passage to European Union countries. Some had their questions answered and dashed to where they needed to be. Others were left stumped. Tickets couldn't be found, bought, or traded, but nobody working at the station seemed to care whether anyone actually had them.
An older woman fainted from exhaustion and had to be carried away. Pets that weren't let on board due to space were handed off by their crying owners to friends staying behind. A police officer consoled a man standing with a stroller that didn't fit inside as he waved to his family who were pressed against the window in a train car aisle. After Ukrainian President Volodymyr Zelensky ordered a general mobilization of the population to fight against Russian troops and declared martial law, men between the ages of 18 and 60 were barred from leaving the country.
Outside the station entrance, huddled against the building's stone wall, Serhiy pondered what to do as his wife, Veronika, rocked their infant daughter, Sofia, to sleep. The couple had come with their neighbors to find a train that would take them south to Odesa, where they had family and friends.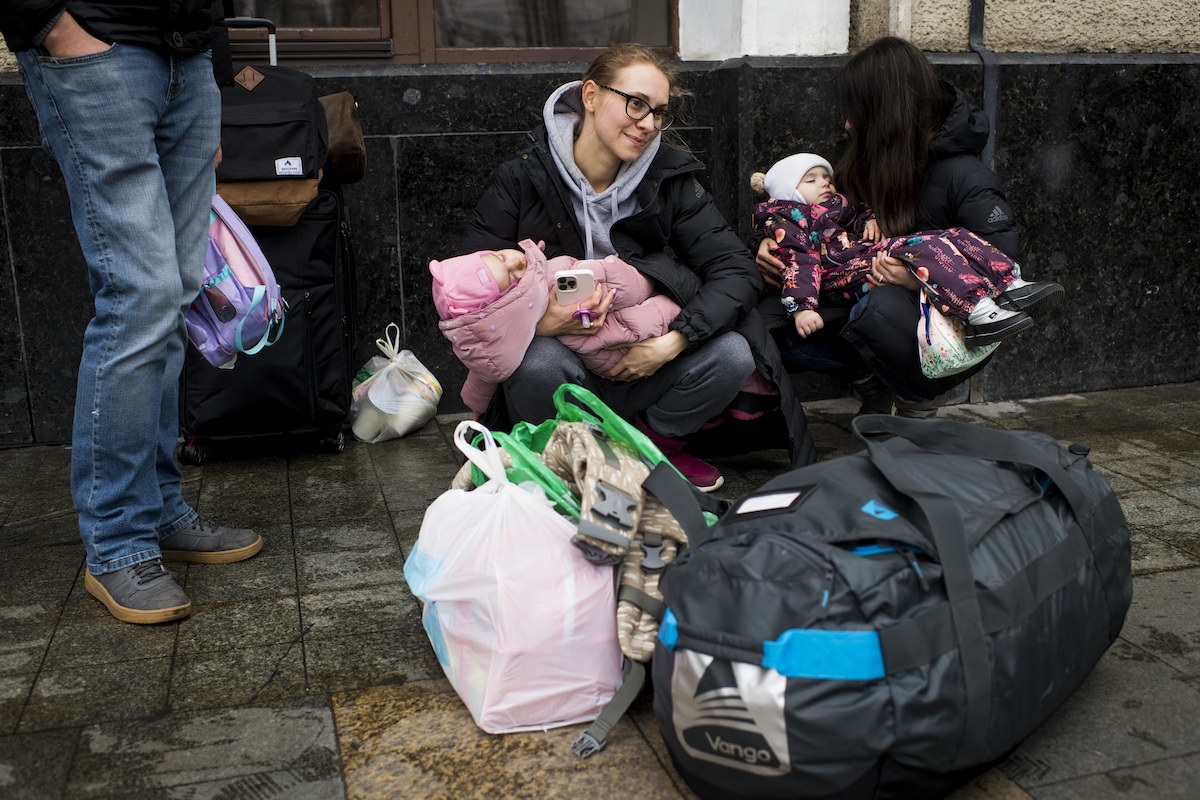 They said they were aware of fighting also in and around the Black Sea port city, but they believed it would be safer there than in their Kyiv apartment, where they had spent four nights sleeping in the hallway of their home behind solid walls and one night in a bomb shelter because the artillery fire was so close and loud.
"It's an absolute nightmare," Veronika said of the situation, adding that they didn't have tickets but would try to fit onto a train seven hours later.
Muhammed Ali, a student from Turkmenistan who had been studying programming at Kyiv's Drahomanov National Pedagogical University until it closed its doors earlier this month, said he and five other friends were attempting to get to Romania, where they hoped to find flights home. He said the group didn't expect to get seats, but were praying for standing-room-only spots in the corridor between cars.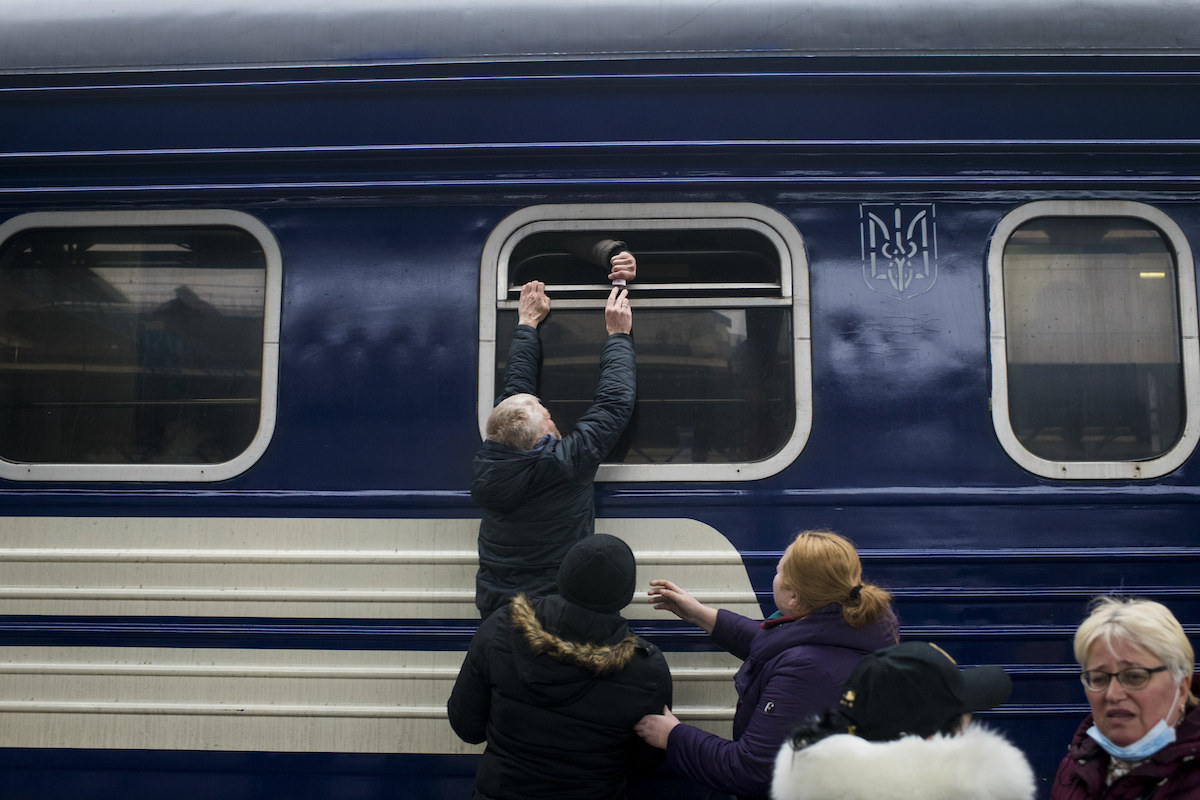 Emmanuel and Sylvester, IT professionals from Nigeria, said they were heartbroken to leave Kyiv, a city they've come to love during the last four years. After not leaving their apartments for five days and sleeping last night in a bomb shelter, they were hoping to find a train that would take them west, where they could cross into the EU and catch a flight home.
"My mother told me she would kill me before [Putin] if I didn't leave," Emmanuel said.
They chose to try to reach Hungary, they said, after reading reports that Ukrainian police and border guards have harassed Nigerian citizens trying to flee, and that Polish authorities are denying entry to people like them.
Nearby, Molvina, a mother of two daughters, ages 10 and 5, wept on the floor of the international hall of the train station. Along with their small terrier Kompot, named after the homemade fruit juice that's popular in this part of the world, she hoped they would be able to make it to Poland.
"We don't know what to do after that," she said. "Everything we have is here now."
All she could manage to take were three small bags of possessions and the dog.
"We hope we will be back soon. We will be back soon," she said defiantly.
She said she left Georgia for Ukraine after Russia invaded her home country in 2008. She spent the last 14 years building a new life, only to have Putin destroy it yet again.
Behind her, people queued at the international room's France café, which typically serves buttery croissants and steamy cappuccinos. On Tuesday, it sold simple Lipton tea in plastic cups and slices of white bread. Around 2:30 p.m., the tea ran out, so the café handed out hot water to keep people warm while they waited.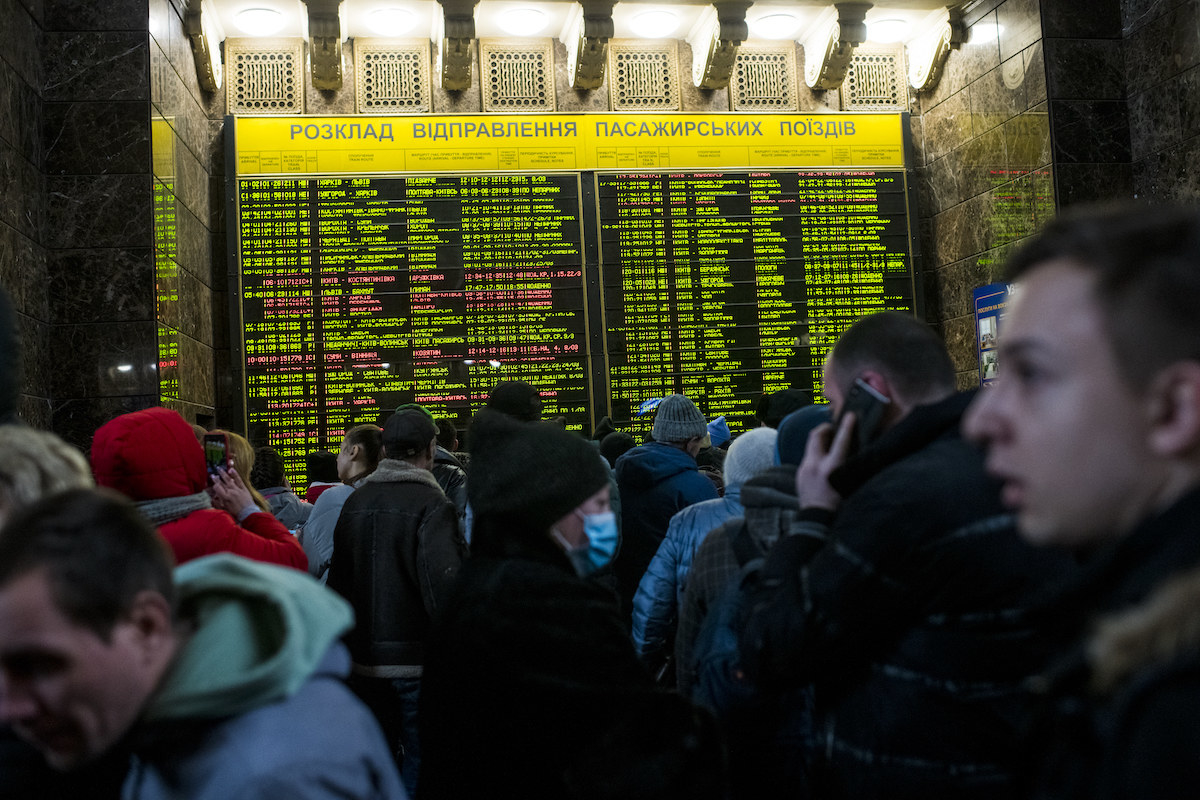 Natalia, a retired teacher, was among those waiting for something warm to drink. She was hoping to travel to her daughter's home in Ivano-Frankivsk, she said, as she nibbled on a homemade bun filled with mashed potatoes. She said she had given the rest of the buns to the Ukrainian soldiers and Territorial Defense Force fighters who were busy fortifying positions and manning checkpoints around Kyiv in anticipation of an attack.
"It's important that they are strong. They're defending our country," Natalia said. "I'm an old woman. I'll be dead soon. But Ukraine will live on."