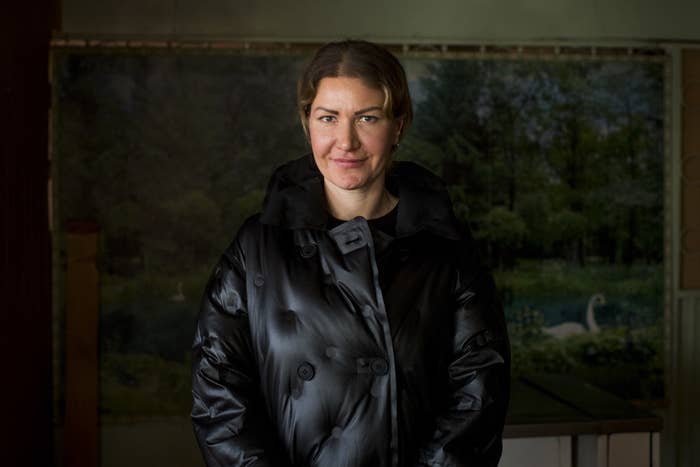 VASYLKIV, Ukraine — When Natalia Balasynovych was elected mayor here as an independent at the start of the pandemic, she believed the biggest challenges would be the health crisis and the modernization of this historically military town. In her first year, she opened a high-speed train route to Kyiv and one of Ukraine's first shelters for survivors of domestic abuse.
Now, she is a wartime leader, with her country under siege by Russian forces and her city targeted with airstrikes and paratroopers parachuting in by plane and rappelling by helicopter. Her town includes a strategic military airbase that President Vladimir Putin hopes to seize and use to bring in more troops in order to encircle the capital, Kyiv, just 22 miles away.
But, just days into Russia's full-on assault, the airport remains in Ukraine's control.
When BuzzFeed News visited the city of 37,000 on Monday, it seemed that nearly every person had a Kalashnikov slung over their shoulder. Windows were taped to prevent the glass from shattering from explosions. Long lines formed outside groceries, banks, and pharmacies. Checkpoints manned by jumpy volunteers were erected at Vasylkiv's entrances and exits.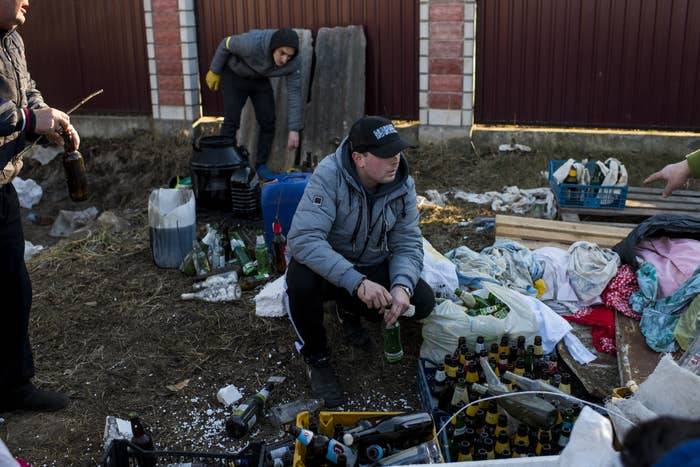 A group of more than 20 men worked to fortify a newly built checkpoint. They dug trenches and used the dirt to fill bags that were stacked around cement blocks. Some made Molotov cocktails, filling bottles with gasoline and bits of styrofoam, an ingredient that helps the burning liquid stick to targets.
A van marked "Gruz 200" — military code used in post-Soviet states to signify the transport of soldiers killed in battle — trundled through town.
"This is our new reality," Balasynovych, 37, told BuzzFeed News in an interview.
That new reality arrived on Thursday at 5:13 a.m., when Putin launched a brutal full-scale war against Ukraine that included an assault on Vasylkiv. Balasynovych immediately coordinated her city's response.
Like many Ukrainians, Balasynovych said after a sleepless night, she didn't believe a new Russian invasion would happen until explosions rocked her city.
"I pulled myself together and went to work."
"I had 10 minutes of panic when I was running around the house and I had no idea what to do," she said, recalling the early morning attack. "Then I pulled myself together and went to work."
In the days following the bombardment, Russia attempted to drop paratroopers and armor into Vasylkiv using two Ilyushin transport planes, according to the central government. Kyiv said the aircraft were downed by surface-to-air missiles in the area but that Russian troops managed to land in the city.
Balasynovych said she had been informed about the downed planes but declined to provide more specific information, citing military secrets. She said that Ukrainian forces had driven out most of the paratroopers from the city, but she believed some were hiding nearby in the woods.
Andriy Melnyk, head of the Vasylkiv Territorial Defense Brigade and an adviser to Balasynovych, said he had fought in the streets against the Russians before they vanished.
Balasynovych said 10 people, including soldiers and civilians, were killed and another 28 people were wounded.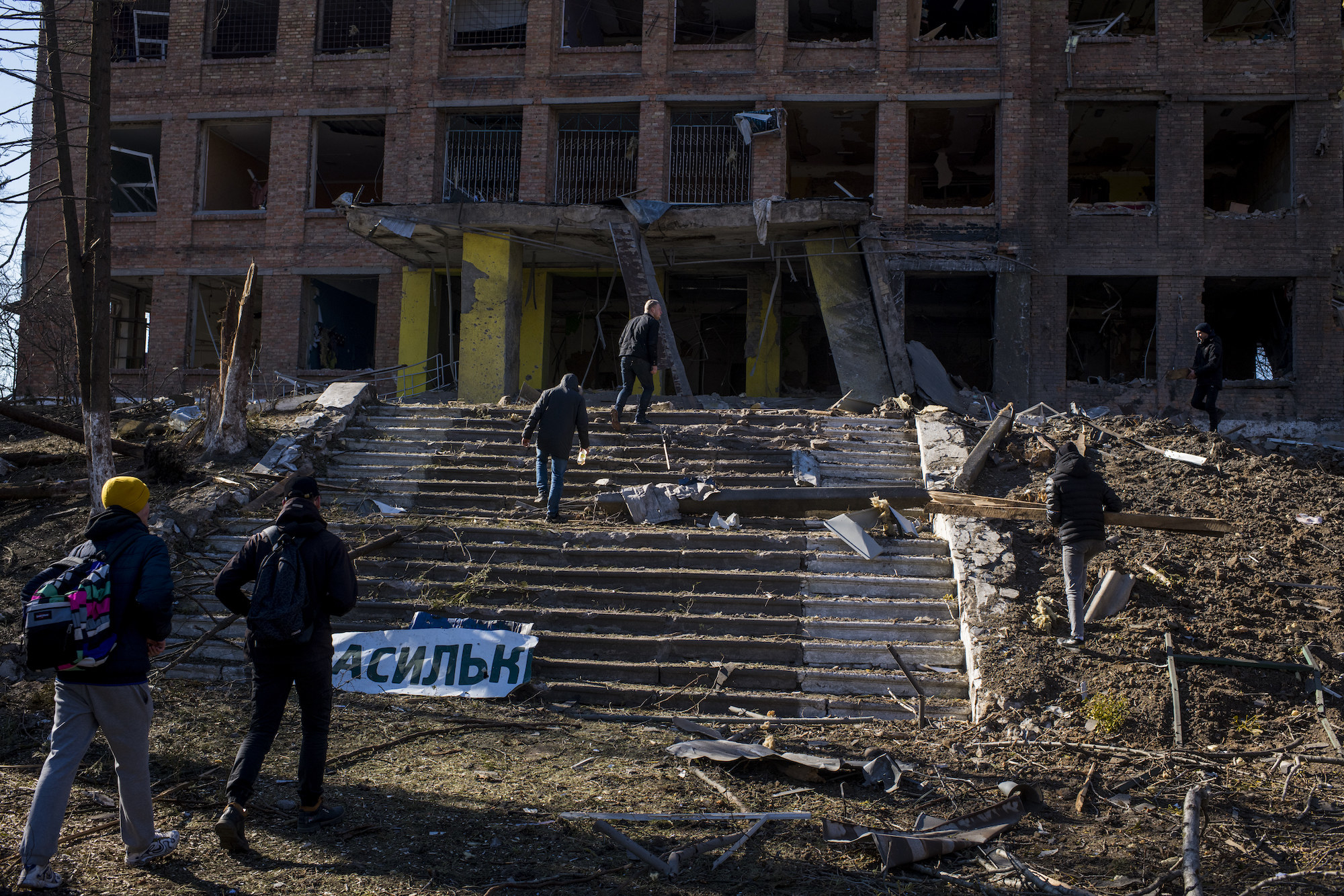 Luckily, she said, nobody was killed when a missile struck a technical college across from a military base early Saturday. The attack left the building a hollowed-out wreck — three floors completely collapsed where the missile hit. Debris from classrooms was still strewn about the ground on Monday. The blast was so powerful that it snapped trees in half and shattered the windows of buildings down the block. The only thing that appeared to be in its right place was a photograph of national poet Taras Shevchenko hanging on a wall.
"It was a huge explosion. People started leaving immediately. They were just throwing things in their cars and going," chemist Maksym Dekhtarenko told BuzzFeed News outside the ruined college. "We were completely peaceful before this. Then war came to us on the wings of Russian cruise missiles."
Dekhtarenko had plans to fly to Paris on Tuesday to begin a new postdoctoral program. Instead, with all commercial air traffic to and from Ukraine halted, he remains in Russia's crosshairs in Vasylkiv.
"War came to us on the wings of Russian cruise missiles."
The fighting intensified on Saturday morning, when a missile struck an oil depot, causing an explosion that was seen from Kyiv and spewing acrid black fumes into the air. Balasynovych said the blast was terrifying and shook the walls of the bomb shelter she was huddled in with 70 other people. The group called a priest and together prayed that they would make it through the night.
On Monday, smoke was still rising from the scene.
Balasynovych counted the oil depot as one of several important sites in Vasylkiv and she said the Russian military knew to hit it because of a network of covert agents present in the city. She said Russian agents had been active for a "minimum [of] one year," blending into the community and posing as contributing members of society while compiling information on residents and "preparing maps" of strategic targets.
"He built a life" in Vasylkiv, Balasynovych said of a Russian operative, whom she said Ukrainian intelligence was aware of, but she declined to name him for security reasons. "He would bring bread to old people and worked hard to fit in and seem normal."
When Russia launched its attack last Thursday, she said, the agent network was activated.
While her story could not be verified, it aligns with how Russia has operated in Ukraine for years, in an attempt to destabilize the country.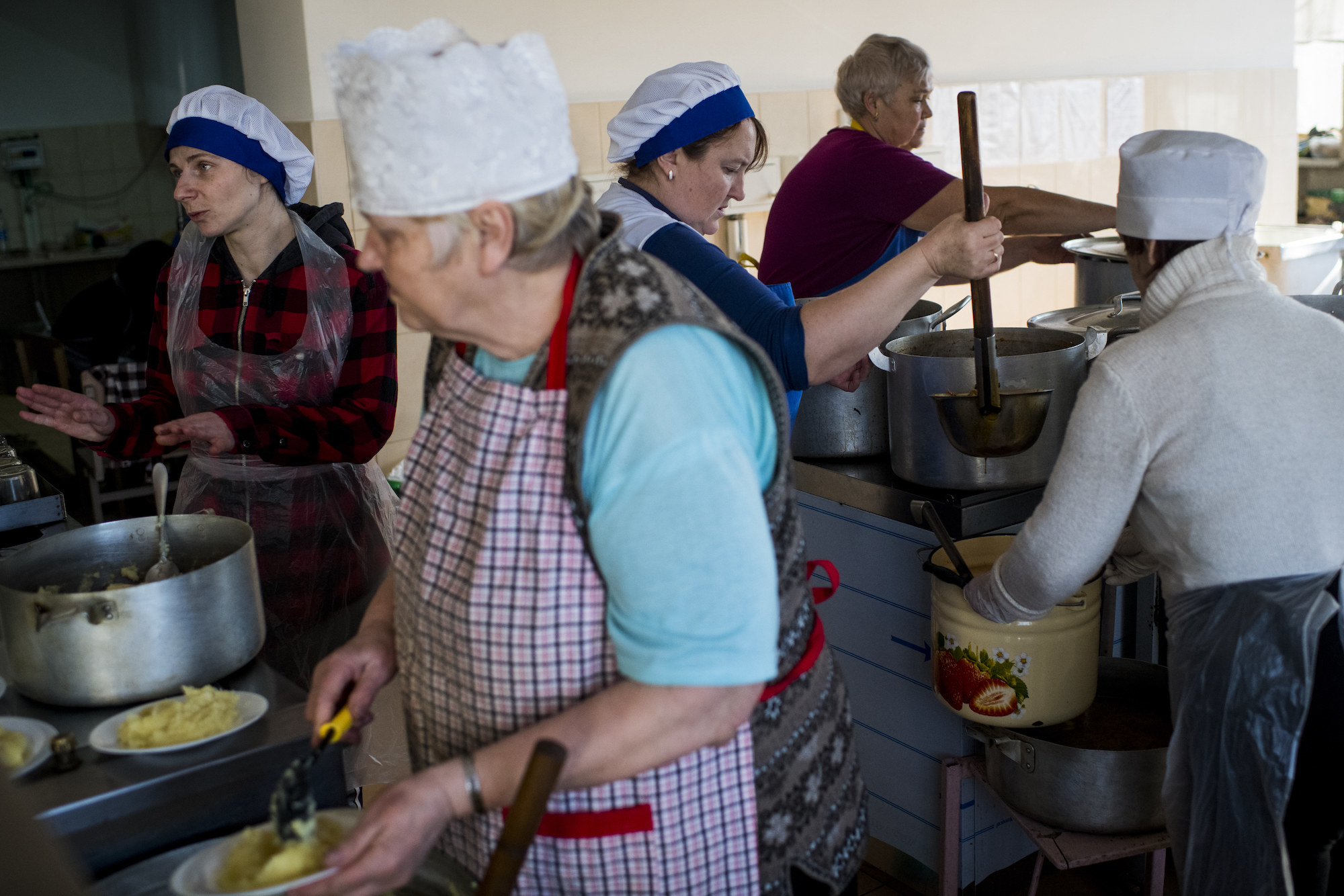 The strikes have unnerved everyone in the city. There was a loud rumble inside the kitchen where Balasynovych sat on Monday for an interview, flanked by her staff and a team of heavily armed guards. She froze, her breathing ceased, her eyes widened, and her back straightened like a board.
"Is it…?" she asked in a low voice, concerned that it might be another missile attack.
The sound was just the industrial dishwasher thumping along.
Just as the interview was coming to a close, Melnyk received a call about a group of Russian saboteurs that local volunteers had allegedly caught and killed at a checkpoint. Balasynovych threw on a bulletproof vest for what she said was the first time in her life and drove to the site, inviting BuzzFeed News along. "I want to look him in the eye and talk to him," she said.
While en route, though, she received a call from the National Guard forbidding a visit to the site.
Balasynovych said the war has changed her city. "When people always wished each other peace and health, we didn't know what it meant," she said. "Now we know."
Hours after BuzzFeed News left Vasylkiv, there were loud explosions heard emanating from the area. Surface-to-air missiles were seen shooting through the sky over the city, signs that peace was still a long way off. Olha Klochko, another adviser to Balasynovych, said the Russians were back at it.
"Right now we are being bombarded with rockets," she said.