For six straight days in the middle of March, a small twin-propeller plane flew over Phoenix. Each evening, it picked two or three spots and circled for hours, flying at more than 17,000 feet. The plane was loaded with sophisticated surveillance equipment, including technology developed by the National Security Agency to track cell phones.
In June of last year, that same plane spent three weeks circling daily over Wilmington, North Carolina, carrying a state-of-the-art "persistent surveillance" camera that can monitor a large area continuously for hours at a time.
The Phoenix and Wilmington flights are among dozens tracked by BuzzFeed News that were flown by companies run by an obscure, Oklahoma-based private equity fund called Acorn Growth Companies. Acorn's planes serve as the US military's "A-Team" for aerial surveillance in Africa, including tracking suspected terrorists' phones from the air. In the US, the planes sometimes take part in military exercises — as they were in Phoenix — helping troops practice raids on targets using the same phone-tracking technology.
At other times, Acorn serves commercial clients. The Wilmington flights, according to the company that made and operated the persistent surveillance camera, were run for two reasons: to demonstrate the technology's value for traffic surveys, and to track vehicles going to and from retail outlets. This "commercial intelligence" would allow businesses to understand where their customers are driving from. The idea was to give retailers clues to help their marketing, so they can target mailings or other efforts to lure in customers from neighborhoods where people tend to shop at competing stores.
Acorn's diverse activities in these and other cities raise questions about how much data is being gathered from ordinary people who come under the visual and electronic gaze of sophisticated spy planes — and how that information is being used. Although the city of Phoenix agreed to the military exercises and knew that the planes would carry out some sort of surveillance, officials did not know specifics about which technologies were used. And because there's no requirement to inform cities when recording aerial imagery, the city of Wilmington wasn't told about the June 2016 flights.
Acorn declined to discuss its operations with BuzzFeed News. Civil liberties advocates say there is a lot to talk about, from the circumstances under which data collected during military training can be shared with police to the ethics of tracking people visiting shopping malls.
This is the cutting edge of aerial surveillance.
"We, as a society, should be having a conversation about where to draw the lines," Nathan Freed Wessler, an attorney with the American Civil Liberties Union's Project on Speech, Privacy, and Technology, told BuzzFeed News.
Most people have little idea of the technologies' potential reach. If cell phone tracking and persistent surveillance cameras were used together, a single plane could could track thousands of people simultaneously in real time.
Acorn does not seem to have done this on flights tracked by BuzzFeed News. But this is the cutting edge of aerial surveillance, being developed for the military and intelligence agencies.
And in many states, there are no specific legal protections to prevent local law enforcement from combining the two technologies.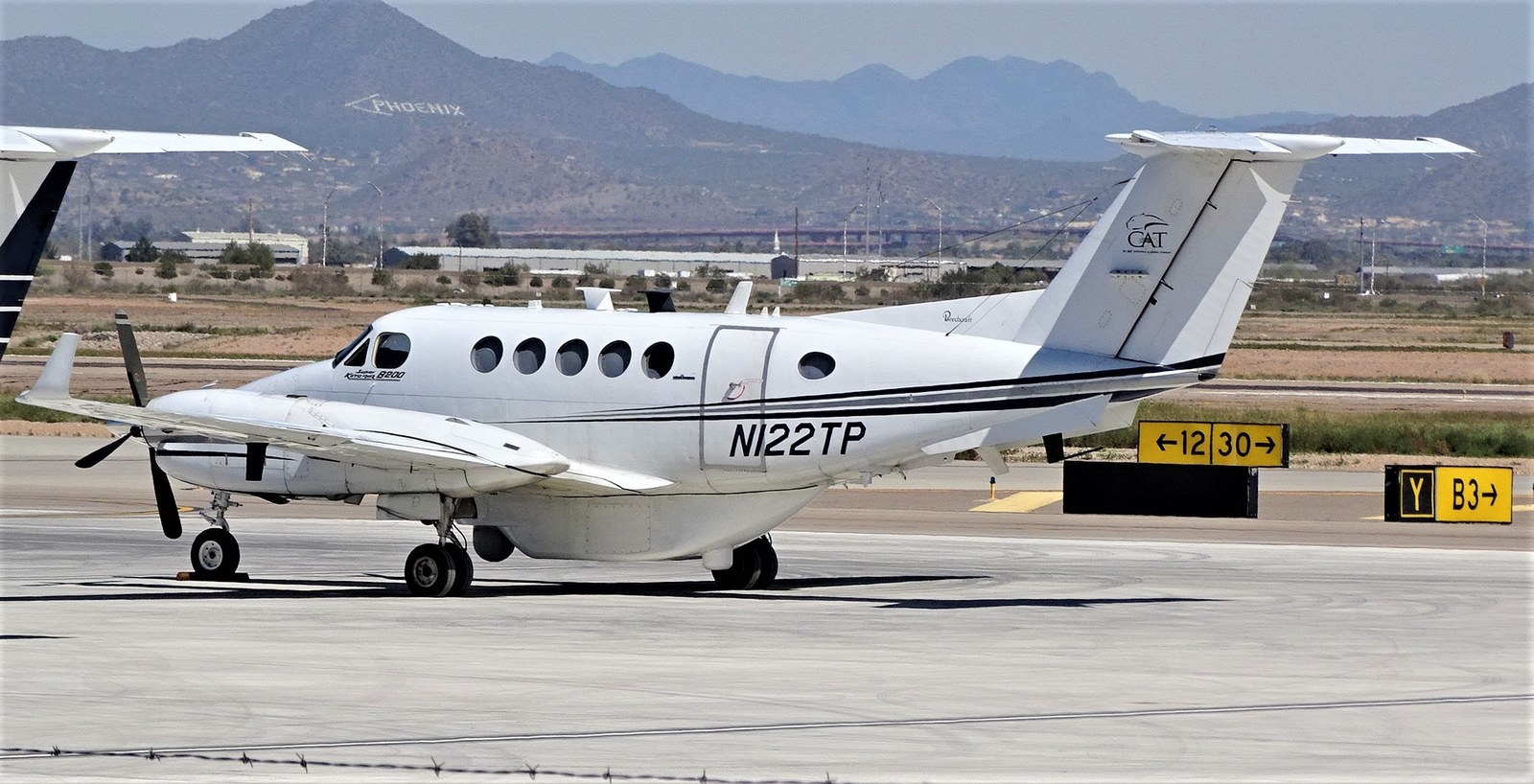 In recent years, the US military has increasingly turned to private contractors to provide aerial surveillance in Africa, where it is battling terrorist groups including Boko Haram, al-Shabaab, and al-Qaeda in the Islamic Maghreb. Acorn and other contractors fly civilian light aircraft — typically Beechcraft King Air models — that come and go from African airports and makeshift airfields without attracting attention.

The planes also operate more cheaply and nimbly than drones, which require extensive backup teams. But it is potentially hazardous work. As US Africa Command told the Washington Post in 2012, civilian pilots and sensor operators can't expect special treatment if they get into trouble. Instead, they "would be provided the same assistance that any US citizen would be provided by the U.S. government should they be in danger."
Acorn — through its daughter firms Commuter Air Technology, Mission Transportation, and Aircraft Logistics Group — has been in the vanguard of the US military's African surveillance operations. In March 2015, one of its planes was spotted circling above a mountain in western Tunisia, apparently searching for members of the terrorist cell that had days before attacked the Bardo National Museum in Tunis, killing 22 people. BuzzFeed News has also tracked Acorn's planes flying over countries including Libya, Burkina Faso, Kenya, Uganda, Djibouti, and Somalia.
In 2016, the US military paid Commuter Air Technology more than $20 million to provide intelligence, surveillance, and reconnaissance in Africa. This surveillance "is conducted in full coordination with the host nations," Robyn Mack, a spokesperson for US Africa Command, told BuzzFeed News by email. "However, because of operational security concerns, we do not discuss specifics."
Describing itself as a private equity firm that "invests exclusively in aerospace and defense companies that strive to keep our nation safe and enable global mobilization," Acorn has strong connections with military special ops and in the corridors of power in Washington, DC.
"There are still fairly high security clearances involved."
Its leaders include Bill Coultrup, senior vice president of Commuter Air Technology, who is a legend in the world of special operations. A former Army Special Forces colonel, Coultrup took part in the 1993 Battle of Mogadishu in Somalia, dramatized in the movie Black Hawk Down. In 2003, he led the team that captured Saddam Hussein in Iraq, and from 2007 to 2010 he commanded US special operations in the southern Philippines, helping train that nation's military to combat Islamist insurgents. Before joining Commuter Air Technology in 2013, Coultrup spent two years representing the interests of special ops to Congress as legislative director for US Special Operations Command.
Acorn's pilots and sensor operators tend to join the firm directly from military service, often with special ops experience. "You're not talking about any Joe Schmo walking in off the street," one former employee, who spoke on condition of anonymity, told BuzzFeed News. "There are still fairly high security clearances involved."
That's not surprising, given the sensitive technology deployed from Acorn's planes. BuzzFeed News found out about this gear from documents submitted to the Federal Aviation Administration to certify that a plane is still safe to fly after structural alterations.
The plane that flew over Phoenix in March, for example, was modified to carry a device called Nebula, which mimics a cell phone tower, causing phones to connect to it. Nebula can then be used to locate and track a target phone from the air, or intercept its communications. A surveillance catalog leaked to The Intercept in 2015 suggests that the device can also connect to and track satellite phones. "The NSA is leading system development," says the section on Nebula, noting that approval for its use rests under "Title 50" of the US Code, which covers espionage and covert operations.
Nebula is also mentioned in documents first reported in 2013 by Der Spiegel and leaked by former NSA contractor Edward Snowden. There, it is listed as part of the ANT Catalog, a register of tools available to the NSA's elite hacking unit, known as the Tailored Access Operations group.
Acorn planes that fly for the US military in Africa also carry Nebula, FAA airworthiness documents reveal, along with devices including Windjammer, which can track and disable satellite phones; "dirtboxes," which simulate cell phone towers; and Lanshark, which can survey Wi-Fi networks from the air.
Phoenix and its suburbs, with a population of more than 4.5 million, is one of several cities to have fallen under Acorn's watch over the past two years. Using data collected by the websites Flightradar24 and ADS-B Exchange, which track signals emitted by aircraft transponders, BuzzFeed News spotted planes registered to Commuter Air Technology and Aircraft Logistics Group flying surveillance patterns over cities including Brawley, California; Charlotte, North Carolina; and multiple locations along the Gulf of Mexico in Louisiana, Mississippi, and Alabama.

Acorn's planes also circled regularly over Oklahoma City, flying from their home base of Wiley Post Airport. In 2013, when the FAA was considering closing the airport's air traffic control tower, the city's Department of Airports cited the company's "classified defense contracts" to argue against the plan: "The defense contracts with Commuter Air Technology require 4 - 6 daily flights in and out of Wiley Post Airport," it wrote in a memo to the FAA. "The closure of the control tower may prohibit these operations and cause the loss of these defense contracts."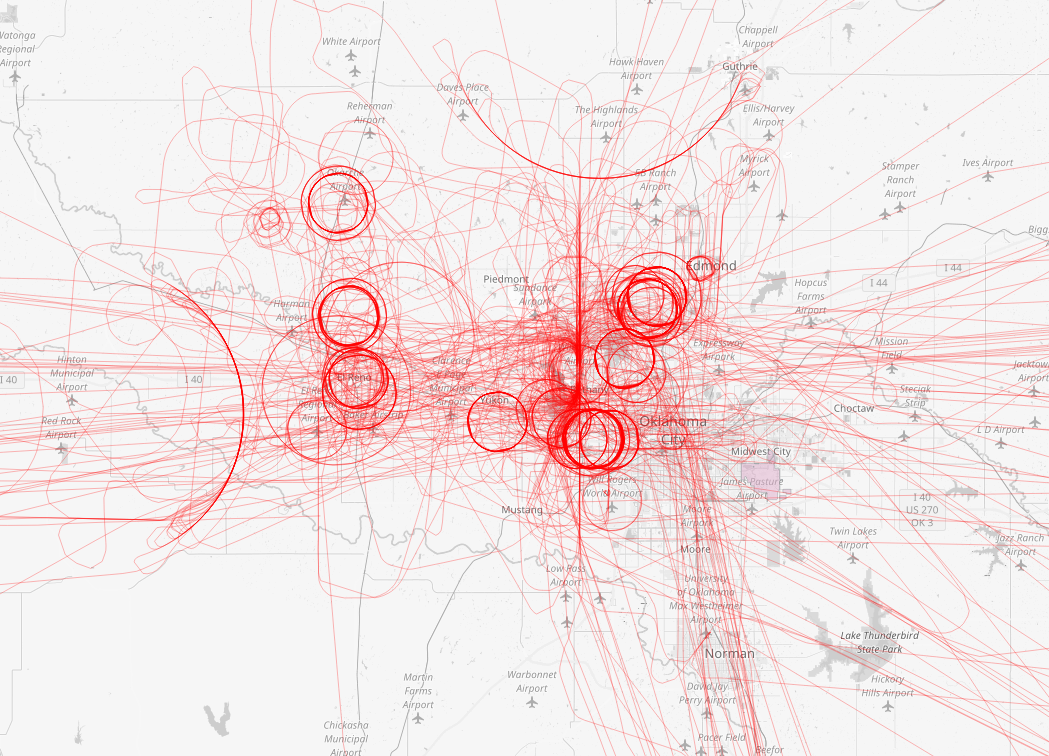 Many of Acorn's domestic flights supported training exercises for the US Marines, including for special ops units. Some flights circled over and near to the Marines' base at Camp Pendleton, north of San Diego. Those along the Gulf of Mexico, meanwhile, were part of regular exercises known as Raven, completed by Marines special operations raider teams before they deploy overseas.

These exercises reflect the US military's mission since 9/11 — as counterterrorism operations, guided by electronic intelligence gathering, have expanded across the globe. Troops hunting suspected terrorists hidden in civilian populations abroad must be trained to work with surveillance technologies, including cell phone tracking.

In Brawley, a city of about 25,000 people just north of the US–Mexico border, Acorn provided regular Marines units with "imagery and airborne signals intelligence," a contract solicitation reveals — using military jargon for monitoring radio and other communications technologies. Specifically, Acorn was asked to mimic one of the military's own MC-12 spy planes, described by the US Air Force as "not just an aircraft, but a complete collection, processing, analysis and dissemination system."
In Phoenix, intelligence from the Acorn plane guided Marines on the ground as part of a weeklong realistic urban training exercise, according to an agreement with the city. The document adds that the training would require Marines and Navy personnel to "plan and execute urban raids at locations throughout the Phoenix, AZ metropolitan area."
Many of Acorn's domestic flights supported training exercises for the US Marines.
Agreements with civilian authorities are standard when the military trains away from its own closed facilities. "We would never conduct training off base without the proper legal authorization," Nicholas Mannweiler, a spokesperson for Marine Corps Special Operations Command, told BuzzFeed News.

Training in real urban environments is necessary, Mannweiler added, because some conditions can't be replicated on military bases — like the radio signals produced by a city full of cell phones. "I'm not going to discuss the exact tactics, techniques, and procedures," Mannweiler said. "But there's a lot more to an urban environment than just the people and objects that take up its space."
Still, authorities in Brawley and Phoenix seem to have been unaware that the aircraft flying overhead were fitted with cell phone surveillance equipment. BuzzFeed News reviewed hundreds of pages of Brawley city correspondence, obtained via a public records request, and found no indication that the Marines discussed signals intelligence equipment.
"To my knowledge, the technology component was never described as anything other than radio communications," Rosanna Bayon Moore, the Brawley city manager who coordinated the exercises, told BuzzFeed News.
The agreement with Phoenix states that Marines units "may collect overhead imagery and remote sensed data of buildings and property" during the exercises. Jonathan Howard, a spokesperson for the Phoenix Police Department, told BuzzFeed News that police were not aware of the specific surveillance equipment that was deployed.
The use of cell phone tower simulators is controversial because, to track a target phone, the devices need to connect at least temporarily to the phones of potentially thousands of innocent bystanders, reading their unique ID codes.

Ken McGraw, a spokesperson for US Special Operations Command, which is responsible for the Raven exercises, told BuzzFeed News by email that training involving cell phone tracking devices would only target phones operated by the military or its contractors. Any data collected from nontarget phones would also be deleted or destroyed after the exercise. "Each exercise has an intelligence oversight officer who supervises proper handling and destruction of all exercise materials," McGraw added.
The agreement covering the training by Marines units in Phoenix states that data collected by the plane "will not be utilized to support local, state, or federal law enforcement investigations." But McGraw told BuzzFeed News that under some circumstances — such as if a spy plane witnessed a crime during a training exercise — the military may share information with police.
Wessler of the ACLU argues that this sharing should be restricted to serious offenses, given restrictions on military involvement in civilian policing. In general, the military is barred from participating in domestic law enforcement (with some exceptions, such as for counter-drug operations). "I don't think we want to be living in a society where the military are in a position to easily share information with law enforcement," Wessler said.
Fake cell phone towers on planes can also disrupt phone service on the ground, because phones disengage from the regular network when they try to connect. "In a combat situation, you may want to deny service," Heath Hardman, a lawyer who formerly operated cell phone tower simulators for the US Marines, told BuzzFeed News. However, he believes the military and its contractors would try to minimize any interference with normal phone service during training. "The cell phone companies would be all over them," said Hardman, who has written on the technology and its legal implications.
US Special Operations Command declined to discuss how it minimizes disruption to normal phone service when using fake cell phone towers from aircraft. "Because of security classification and for operations security reasons, we cannot provide information on specific devices," McGraw wrote.
Acorn's planes also carry powerful cameras. FAA documents reveal that, between November 2015 and September 2016, the plane that would later circle over Phoenix was fitted with a wide-area motion imagery camera. Unlike conventional surveillance cameras, which focus on individuals or small groups of people, WAMI cameras are designed to monitor a large area for hours at a time.

From about 10,000 feet, the altitude maintained by the Acorn plane as it circled over Wilmington in June 2016, the WAMI camera could watch an area roughly 2.8 miles long and 2.4 miles wide, according to a promotional flyer posted on Commuter Air Technology's website.
WAMI was borne from the need to combat insurgents in Iraq and Afghanistan who were hitting US troops with roadside improvised explosive devices. A WAMI camera's resolution isn't good enough to recognize people or read car license plates, but it allows the military to retrospectively look for evidence of insurgents planting an IED, and then use the recorded images to track them to their homes, hideouts, and stashes of explosives.
Combine WAMI with other evidence, such as footage from security cameras on the ground, and it's possible to identify individual suspects. That has encouraged one of the developers of a military WAMI system called Angel Fire, a physicist named Ross McNutt, to market WAMI for law enforcement. McNutt's company, Persistent Surveillance Systems, cut its teeth in Mexico's drug wars, where in 2009 its system was used in Ciudad Juárez to track down cartel death squads.
But tests of McNutt's technology above American cities have proved controversial. In 2014, residents of majority black and Latino Compton, California, reacted angrily to the news that more than a year earlier, the Los Angeles County Sheriff's Department had hired PSS to run a nine-day test of the system over their city. In August 2016, when Bloomberg Businessweek revealed that the Baltimore Police Department had conducted the most extensive trial of McNutt's system to date, there was a similar backlash. And in June this year, the Miami-Dade Police Department abandoned efforts to seek US Department of Justice funding to use PSS's airborne cameras, after the Miami New Times reported on the plan.
McNutt, who believes his technology can cut crime and enhance public safety, is frustrated that his law enforcement clients have so far mostly operated under a veil of secrecy. "We would like to be upfront and very open," he told BuzzFeed News.
PV Labs in Burlington, Ontario, the Canadian company that made and operated the camera flown on the Acorn plane, says that it isn't interested in using the technology for policing. "We've specifically stayed away from law enforcement because it's fraught with difficulties," Declan Keogh, PV Labs' vice president for business development and programs, told BuzzFeed News.
The company's collaboration with Commuter Air Technology, Keogh said, began with tests over Charlotte in November 2015, involving both circling flights to monitor one area, and also operating the cameras in a survey mode, flying back and forth to gather aerial imagery. He said that this survey approach was later used on a second Acorn plane for a client in the insurance industry, to monitor for signs of wind damage in northern Florida in October 2016, after Hurricane Matthew made landfall. Keogh declined to identify the insurance company involved.

The flights over Wilmington, Keogh said, were conducted to explore other commercial opportunities, including traffic surveys for city governments, and to track vehicles visiting retail outlets to help stores know where their customers are coming from. The flights gathered data and video that "would allow us to market to large organizations," Keogh said. The service has not yet been sold to any retailers, he added, and PV Labs is now concentrating on its military clients.

"It was a broad net, but truth be told, we didn't get any bites," Keogh said. "At the end of the day it was a technology looking for a home."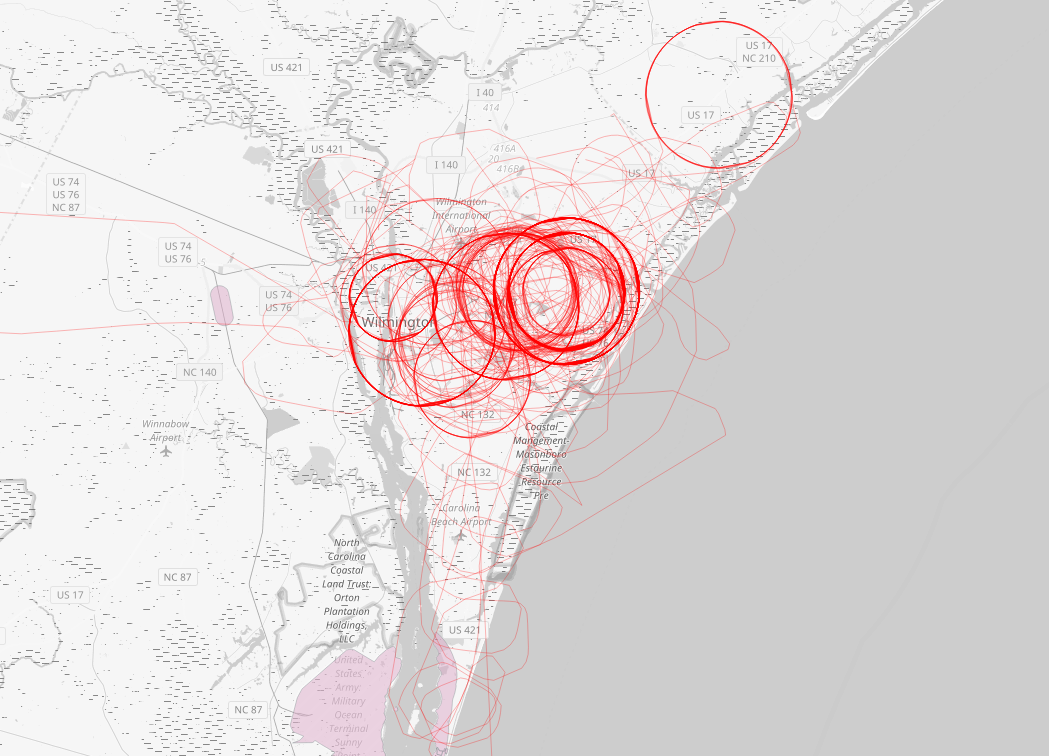 As is usual when planes take photos or video from the air, PV Labs did not inform the authorities in Wilmington about what it was doing. "Well, it's public airspace," Keogh said. "We got clearance through FAA to fly in those flight patterns and locations. But ultimately it was for marketing purposes and there's no private information in there." The goal of the retail experiments, he added, wasn't to track individual cars back to people's homes, but rather to observe larger traffic patterns to and from stores.

But privacy advocates are suspicious about the idea of offering surveillance technology developed for the military to businesses to boost their bottom lines.
"The aggregation of private information about us is already a serious problem," the ACLU's Wessler said, referring to efforts by companies to integrate information about our online browsing, purchases, credit histories, and more to hone their marketing strategies. "The idea that there might be the addition of pervasive aerial surveillance is really concerning."
Promotional materials for the camera show that PV Labs and Acorn were also interested in selling the technology for security applications. The flyer posted on Commuter Air Technology's website bills it as "the absolute best solution for your security or surveillance needs." It describes how the system can switch to a conventional surveillance camera for a zoomed-in view to "ensure that no activity is missed or valuable intelligence overlooked."
What's more, a PV Labs product data sheet describes fusing electronic signals intelligence, such as the IDs of tracked cell phones, with the video recorded by the persistent surveillance camera. This would allow the system's operators to tag and track "thousands of vehicles and dismounts," the data sheet says.
Acorn isn't talking about these flights.
Keogh told BuzzFeed News that these capabilities were not used on any of the Acorn flights. The software mentioned in the PV Labs data sheet was acquired in 2014 by BAE Systems, a major defense contractor that has also developed advanced WAMI cameras.
While currently intended for military use, combining WAMI cameras with cell phone tracking would also provide a powerful tool for law enforcement — which already makes use of cell phone tower simulators. Under most circumstances, federal law enforcement policies require a warrant to track each target phone, which should rule out mass cell phone tracking superimposed over persistent video. But most states have not explicitly considered the issue. According to the ACLU, only 16 states have laws or court decisions that require a warrant for real-time cell phone tracking by law enforcement.
"In a large number of states, we don't have statutory or case law guidance," said Hardman, the lawyer and former US Marines signals intelligence expert.
Meanwhile, Acorn's flights over US cities continue. Over eight days starting on June 5, the same aircraft that flew over Phoenix circled Atlanta for reasons that BuzzFeed News has so far been unable to establish. "We don't have any information," said Jenna Garland, press secretary for Atlanta Mayor Kasim Reed.
Acorn isn't talking about these flights, or any others. The company's executives failed to respond to repeated phone messages and emails. Eventually, BuzzFeed News got put through to Coultrup, the former Army Special Forces colonel, who was in no mood to talk.
"Don't contact me again," he said, and hung up. ●