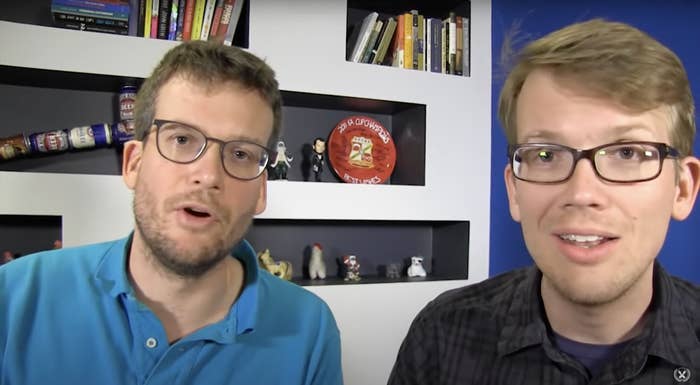 Hank Green and his brother, John, the bestselling author of The Fault in Our Stars and other young adult novels, have posted endless hours of educational content on their Vlogbrothers YouTube channel, which has more than 3.5 million subscribers. Now they're expanding their mission: Yesterday, the Green brothers announced a new initiative, Study Hall, which allows users to gain college credit, for a very reasonable rate, by taking classes on YouTube.

Study Hall is a partnership between Crash Course, a YouTube-based educational channel produced by Complexly, a company set up by the Greens; Arizona State University; and YouTube. The video program guides users through key questions, like whether college is even right for them, and if it is, helps them learn what they can major in and how they can enter the work world afterward.
More significantly, Study Hall allows users to take courses online in order to earn college credits accredited through ASU. That means those credits can be counted toward a degree at ASU, or hundreds of other colleges that recognize programs developed by ASU.
"We'd looked a lot at what we do at Crash Course and felt really good about that," Hank Green told BuzzFeed News. "We had intentionally said, 'We make content, and that's what we do.' But the idea presents itself when you're creating high-quality educational materials. You start to have those thoughts about providing credentials for people."
The project got going more than three years ago, at an educational content creators event where YouTube connected Complexly and ASU. The idea crystallized when the Crash Course team realized that 43 million Americans hold some form of student debt, totaling $1.75 trillion. Of those 43 million people, 40% don't have a degree, because they never graduated. Some might realize partway through their studies that a college education isn't for them; for others, life simply gets in the way.

"We decided to look at what the hardest parts are for students, and one of them was the barrier of cost and the barrier of bureaucracy to higher education," Hank Green said. He pointed out that pretty much anyone can take the courses, including high school students.
Viewers can watch the educational videos on the Study Hall YouTube channel for free. Then, if they want to attain college credit, they can go to the Study Hall website and purchase access to the full class, where they'll be given coursework and get feedback from faculty. The program's initial cost is $25, which gains a person access to faculty and assessments.

Once someone completes the assessments and attains the grade they want, they can pay $400 to receive college credit. Users can choose not to take the credit, meaning they've only ever spent $25.

"Fear is a big barrier," Green said. "Having a little bit of skin in the game is good with $25, but not an amount that anyone thinks is a large amount for a college course. But lowering that initial barrier of paying $1,200 for a course that I might fail is important." Doing four courses and getting at least a B in each would give a learner the right to enroll at an official ASU campus or online program.

Green said he appreciates the fact that ASU doesn't game the college ranking systems in the US by aiming for a low acceptance rate. "A long time ago, they turned that on its head and said, 'We're going to judge our school not by who we exclude but by how many people we actually help.' That philosophy is really inspiring to me, and one of the reasons why I felt excited to work with them." Such collaborations are rare, said Green, who added, "I'm pretty precious about my baby."
"If Study Hall can provide an actual learning community at scale for cheap, that would be transformative."
For its part, ASU is looking forward to welcoming potential students from Study Hall, said Maria Anguiano, executive vice president of learning enterprise at the university. The school, she said, is always "thinking about innovative ways that we can keep adding to our inclusion mission." The Greens' program offered just such an opportunity. "We thought, What if we combined forces and really use each of our superpowers to come together to be able to reach more learners?" she said.
In a statement provided to BuzzFeed News, Katie Kurtz, YouTube's head of learning, said, "YouTube learning creators are passionate about making educational content accessible and engaging. They inspire and motivate learners every single day. We're excited to help create new pathways for these learners to turn their learning journey on YouTube into formal education and real-world recognition for their learning."
So far, the playlists on Study Hall's YouTube channel cover topics like data literacy, chemistry, algebra, writing composition, human communication, rhetoric and composition, math, and US history to 1865. The introductory videos are hosted by ASU college students, Green said, in order to make the idea seem less intimidating to those traditionally scared of college.
The number of courses will gradually increase to the point that students could complete their whole first year of college using the program, said Anguiano. She said that ASU is hoping for "thousands" to take up the offer, but added that "capacity is limitless." Green said he hoped thousands of students would participate this year, and tens of thousands would be using the program in five years. "Though I have no idea what I'm basing this on," he admitted.

The ability to sign up for classes where you interact with instructors is what separates Study Hall from previous attempts to promote online learning, said Derek Bruff, a higher education consultant and visiting associate director at the University of Mississippi's Center for Excellence in Teaching and Learning. "Without an instructor and classmates, this is just Coursera and edX all over again," Bruff wrote via Twitter direct message.
Bruff is intrigued to see how Study Hall's learning community works. "The students who struggle to start and succeed in college need a lot more than good videos and auto-graded exams," he said. "If Study Hall can provide an actual learning community at scale for cheap, that would be transformative. But no one has squared that circle yet."
Bruff, however, is hopeful that the high-profile parties involved will mean the project stands a better chance than most of succeeding. "It's a super-interesting development, and I'm not surprised ASU is involved," Bruff said. "They're pushing envelopes left and right. And the Green brothers are treasures."