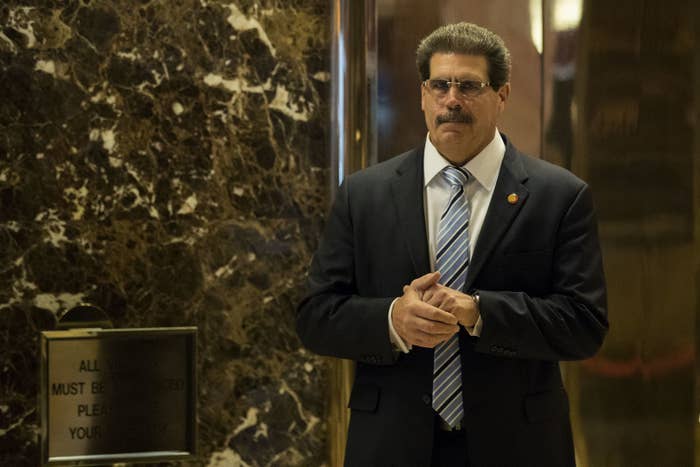 Donald Trump's security guards once shoved, threatened, and held a 12-year-old boy and his mother against their will after her husband promised to go public with damaging allegations against the Trump Organization, according to the family's account in FBI records and court filings.
The incident is one of several in which Trump surrogates have been accused of going to extreme lengths to protect him.
A bankruptcy attorney who represented Trump Entertainment Resorts investors once received a phone call warning him "if you keep fucking with Mr. Trump, we know where you live and we're going to your house for your wife and kids." A New York City housing commissioner told the NYPD his life was threatened for refusing to grant a $20 million tax abatement for the construction of Trump Tower. Trump's personal lawyer, Michael Cohen, told Daily Beast reporters that he would "mess your life up" before they published a story saying Trump made his first wife feel "violated" during sex.
This time, it was September 1995 and Daut Bajrushi, a superintendent at one of Trump's buildings, claimed he could prove "financial improprieties" and other misconduct by the Trump Organization. Bajrushi, then 46 years old, worked at Trump Palace, a skyscraper on Manhattan's Upper East Side. After four years on the job, Bajrushi believed he had evidence the Trump company had ripped off homeowners of about $300,000.
Days before he was to reveal this information to board members at Trump Palace, Bajrushi fell ill and sent his wife and 12-year-old son to retrieve items from his office. They were gathering paperwork, according to a suit Bajrushi later filed, when someone used a screwdriver to bust the lock. The door burst open and a team of Trump security officials poured in.
According to the lawsuit, four men prevented Hatixbe Bajrushi and her son from leaving. Matthew Calamari, the hulking head of security, shoved the boy. Trump's brother-in-law, James Grau, barked questions, demanding to know why they were there. Michael Nicoll, another guard, pushed them back when they tried to leave. Grau snatched her purse and passed it to Calamari, Nicoll, and Domenic Pezzo to rifle through.
The boy started to cry and his mother fainted, they claim. Daut Bajrushi, informed by his wife in a phone call of what was happening, had a friend call the police.
Calamari threatened to harm the family if they spoke to police about what happened, according to the lawsuit. After 90 minutes, the police arrived and the Bajrushis were freed.
The White House declined to respond to a request for comment, referring questions to the Trump Organization.
"The allegations, from over 20 years ago, are completely inaccurate, ridiculous and utterly false," a Trump Organization spokesperson wrote in a statement. "This individual was rightfully terminated following a thorough investigation."
After the confrontation, Calamari continued to climb the ranks at the Trump Organization, working his way up to his current title: executive vice president and chief operating officer.
Got a tip? You can email tips@buzzfeed.com. To learn how to reach us securely, go to

tips.buzzfeed.com

.
None of the security guards were charged in this case. Even though its officers were called to the scene, the New York Police Department has refused to turn over records about the case, citing privacy concerns. The incident was cited in an FBI document obtained through the Freedom of Information Act by BuzzFeed News and Ryan Shapiro, an MIT doctoral student. The document was compiled as part of a racketeering investigation. The FBI would not disclose what became of that probe but two agents with knowledge of the case told BuzzFeed News Calamari and Pezzo were questioned by the Bureau as "persons of interest."
A lawsuit filed by the Bajrushi family says the altercation arose out of Daut Bajrushi's claims that he had damaging information about the Trump Organization. Bajrushi said in court papers that he had evidence that the Trump Organization was using Trump Palace employees to do "punch list work" — post-construction maintenance — on condominium units owned by the company. Trump Palace, which was controlled by the tenants, was owed about $300,000 by the Trump Organization, Bajrushi estimated.
He said he planned to reveal his findings at a Trump Palace board meeting that was just days later.
In response to the false imprisonment lawsuit filed by the family, the Trump Organization countered with claims that Bajrushi was disloyal, committed fraud, and embezzled money. Hatixbe Bajrushi was attempting to destroy evidence of these alleged schemes, according to the Trump Organization, when security guards showed up to stop her. In their response to the lawsuit, Calamari and Nicoll said that they told the woman and her child they were free to leave, but that they couldn't remove any Trump Palace property.
Trump Organization attorneys also accused Bajrushi of installing an "electronic device" that allowed him to illegally eavesdrop and record telephone calls made by Trump Palace workers between 1991 and 1995.
BuzzFeed News has reported that the Trump Organization has an extensive surveillance system at homes, hotels, and golf properties that former workers say was used to spy on employees.
BuzzFeed News tried to reach the Bajrushis at an apartment building in Manhattan and two homes in upstate New York. They did not return multiple letters and phone calls seeking comment.
In court documents, the Trump Organization and the security team denied any wrongdoing, although they concede that the police were called to the scene. Calamari and Pezzo did not return multiple messages seeking comment.
The lawsuit never went anywhere, and the legal bills piled up for Bajrushi. His attorney met with Trump and his attorney, Jay Goldberg, to discuss a settlement. Bajrushi's attorney, Jonathan Mark, said Trump made no offer.