Texas Appeals Court Halts Yet Another Execution
The Texas Court of Criminal Appeals stayed another execution after concerns over the mental competency of an inmate. This year will have Texas's fewest executions in more than two decades.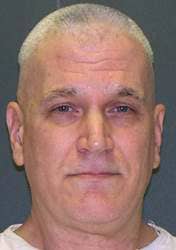 The Texas Court of Criminal Appeals halted another execution on Friday — one that had been scheduled to take place next week — making it the seventh Texas execution stayed or delayed in recent months.
The inmate, John Battaglia, has claimed that he is mentally unfit to be executed. As with some of the other called-off executions, the court's ruling was brief and asked for more briefing on the matter.
His attorneys say that even before his original trial there were questions about his mental deficiencies. Three experts examined Battaglia, who was eventually sentenced to death for killing his two daughters.
"All three experts diagnosed Mr. Battaglia with bipolar disorder, a severe mental illness that can include psychotic elements," his attorneys wrote earlier this year. "One expert opined that Mr. Battaglia exhibited psychosis with his other bipolar symptoms."
Battaglia was originally scheduled to be executed in March, but a federal appeals court stayed it to allow him more time to develop his claims.
This marks the seventh Texas execution that has been halted since late April, around the time when the state was due to perform more testing on the lethal drugs.
Attorneys representing death row inmates argue it implies there is a problem with the state's drug supply.
The state called off inmate Perry Williams' July execution after it said it didn't have enough time to perform testing on the drugs it would use on him. The inmates provided evidence that the testing takes just a few days to do, and allege the state may have instead received testing that was not favorable.
"There is a strong inference that the State obtained tests results that indicated that its inventory of compounded pentobarbital had degraded or was contaminated," attorney Michael Biles wrote in an October court filing.

"This is not idle speculation; the State had the opportunity to explain why it could not obtain the test results ... or why it will not test the drugs prior to Plaintiffs' executions, but the State refused to answer because it was 'confidential.'"

In response to an open records request by BuzzFeed News, the Texas Department of Criminal Justice provided successful testing results on the drugs intended for Williams' execution, roughly a week after he was scheduled to be executed. The TDCJ insisted they were not withholding any other lab results.
In a court filing this past week, Attorney General Ken Paxton's office argued that claims about the drug, which is mixed by an anonymous compounding pharmacy, amounts to "baseless speculation."
The inmates "cannot demonstrate that the pentobarbital being used is any less potent or sterile than what was used in the prior thirty-two executions using the compounded form of the drug," his office wrote.
Texas currently has no other executions scheduled. If that holds true for the rest of the year, Texas will have carried out just seven executions this year: the fewest executions in the state in 20 years.