Ohio Insists It Can Import Execution Drug Legally, After FDA Said It Couldn't
The FDA warned Ohio in June that importing the execution drug, sodium thiopental, would be illegal. Friday, Ohio pushed back, saying there should be a legal way to do it.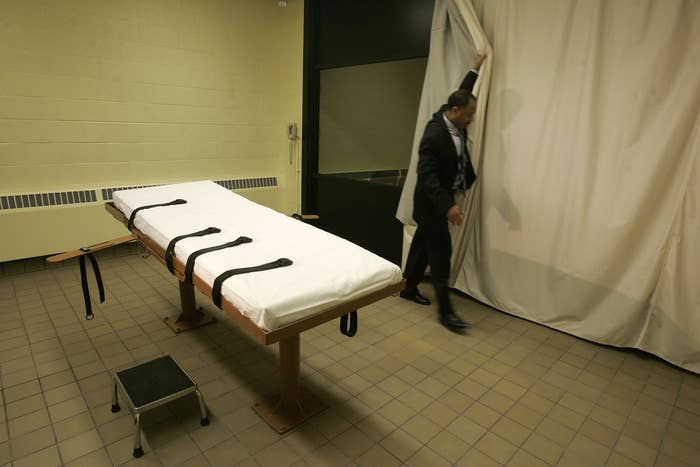 Ohio insisted on Friday that it should be able to import an execution drug that federal officials have warned the state it could not import.
A lawyer for the Ohio Department of Rehabilitation and Correction argued in a latter to the Food and Drug Administration that it would not be illegal to import the execution drugs that it, at one point, intended to order. BuzzFeed News first broke the story that the FDA warned Ohio in June that it could not import sodium thiopental, an execution drug that is no longer used in the United States.
"Please note that there is no FDA approved application for sodium thiopental, and it is illegal to import an unapproved new drug into the United States," wrote Domenic Veneziano, the director of FDA's import operation, at the time.
Now, four months later, DRC General Counsel Stephen Gray wrote back to Veneziano, insisting that there is a legal way the state can import the drug.
"Contrary to the implication in your letter that the importation of sodium thiopental is currently prohibited, there is a legal framework for a state, if it so chooses, to import sodium thiopental in accordance with" the law, Gray wrote.
Gray added that "Ohio has no intention of breaking any federal laws or violating any court orders in an attempt to procure the legal drugs necessary to carry out constitutionally approved and court-ordered death sentences."
Ohio is not the only state looking to import the drug overseas. Nebraska has purchased $54,000 of execution drugs from a supplier in India named Chris Harris. The FDA warned Nebraska, like Ohio, that importing sodium thiopental would be illegal, but Nebraska is moving forward anyway.
So far, the drug has not been able to leave India. An exporter told BuzzFeed News that it was held because the drug is not FDA-approved.
So far, it is unclear where Ohio intended to buy the drug. A Drug Enforcement Administration letter obtained by BuzzFeed News shows another state purchased drug from Harris. When first asked whether Ohio also purchased sodium thiopental from Harris, spokesperson JoEllen Smith would only say that it had not communicated with Harris's company.
But when asked if Ohio had purchased drugs directly or indirectly from Harris, Smith would only say that "DRC continues to seek all legal means to obtain the drugs necessary to carry out court ordered executions. This process has included multiple options."
She refused to answer whether Ohio had already ordered the drug.
Ohio said it should be able to import the drug if five provisions are met. Among the provisions is that the source is registered with the FDA, and that the source has submitted sodium thiopental on its list of drugs it distributes in the United States.
In a 2012 court case, the FDA argued it could selectively enforce drug importation laws and allow drugs in that are for executions. But it lost that case, and the courts ordered the FDA not to allow in any more shipments of sodium thiopental.
In Gray's letter to the FDA, he wrote, "The responsibility to carry out lawful and humane executions when called upon by the courts to do so is enormous, and it is a responsibility that ODRC does not take lightly."
He continued: "In fact, when Ohio has been able to procure the drugs necessary to carry out its constitutionally approved method of capital punishment via lethal injection, it has a history of doing so humanely and efficiently."
Ohio's most recent execution took place in January 2014, when inmate Dennis McGuire gasped, choked and clenched his fists in an execution that lasted 26 minutes.
Read Ohio's Letter To The FDA:
Download PDF