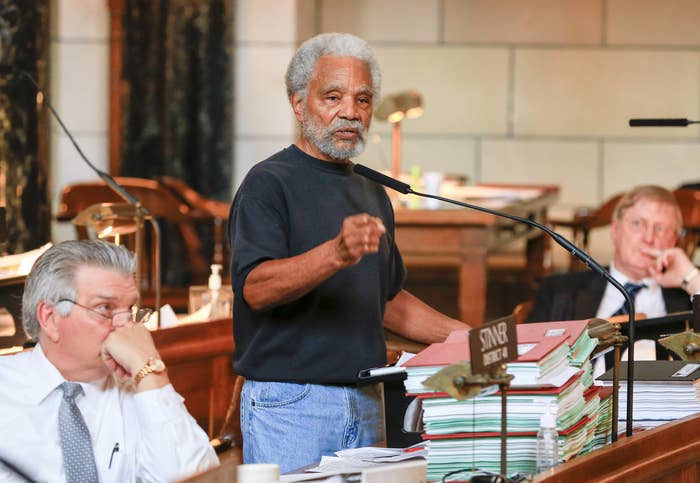 The Nebraska legislature voted overwhelmingly — with a veto-proof majority — to repeal the death penalty on Wednesday, a step toward becoming the first conservative state in decades to do so.
Although Nebraska Gov. Pete Ricketts has pledged to veto the proposal, the unicameral body would have enough votes to override him if Wednesday's vote holds.
"The record should be crystal clear on what it is we are doing. It is historic," Sen. Ernie Chambers said during debate. "We have the opportunity to take one small step for the Legislature, a giant leap for civilization."
Ricketts is expected to make an announcement on a veto in the next several days. Of the consideration of repeal, he has accused the legislature of putting "the safety of the public and Nebraska families at risk."
The repeal vote came just a week after the Republican governor announced the state had purchased a massive quantity of lethal drugs — which he said was part of his promise to "resolve" issues with "the functionality of the death penalty" in the state — although the drugs come from a questionable source.
Rickett's office said the drugs were purchased from a distributor in India called HarrisPharma, a source that shouldn't be unfamiliar to Nebraska officials. The state purchased drugs from a broker named Chris Harris, who now runs HarrisPharma, several years ago, but Nebraska was never able to use them after questions over whether the purchase was done legally.
In 2011, the manufacturer claimed the drugs were free samples given to Harris for tests in Africa, but were "wrongfully diverted" to Nebraska's execution chamber.
"The agreement with Mr. Harris was that he would use these vials for registration in Zambia," the drug's manufacturer wrote to Nebraska. "Mr. Harris was authorised specifically to take the product to Zambia and get it registered there. He was not authorised to sell the product to the Nebraska Department of Correctional Services or to anyone else in the USA. Mr. Harris misappropriated our medicines and diverted them from their intended purpose and use."
Nebraska Solicitor General James Smith told the Fremont Tribune that he wasn't familiar with the details of how the purchase was made this time, but had been told it was done legally.
This time, the state purchased 1,000 units each of sodium thiopental and pancuronium bromide, according to KETV. The amount of sodium thiopental is enough for thousands of executions, although the state has only 11 inmates on death row.
The state paid Harris $54,400 for the drugs. So far, the governor's office has not responded to a BuzzFeed News open records request for the invoice.